In a few short months, Global Girls will turn 20 years old. January 18, 2000 was the day we were granted organization status in the state of Illinois. We've accomplished quite a lot since then including taking girls to Ghana twice, traveling to Kenya four times, to India, London and Grenada once. In all, over 40 African American girls from the south side of Chicago have traveled abroad and worked with hundreds of girls in other countries thanks to Global Girls. Since 2000, we've engaged over 5,200 girls and a few boys in arts education programming. We are currently conducting a research project to reach all girls who have ever participated in our programs and determine our impact in a variety of areas so that we can our model and share it with others.
So far, 2018 has been a banner year. Here is a snapshot:
This summer, 63 girls ages 3 to 14 and eight boys, ages 5 to 8 participated in our Youth Performance Camp.
This year marks our 13th year partnering with After School Matters. 32 teen boys and girls took part in our summer program. Thanks to "A Marvelous Creation," they had their own meeting/rehearsal space.
We ran twelve school-based arts education programs during the 2018-19 school year and engaged 727 youth.
We now have seven committed, hard-working board members.
The Hamilton Chicago partnership with Global Girls continues.
We have 10 on-going partnerships.
If you know a former Global Girls participant, send us her info so we can include her in a long-term impact research project.
It's only August! We've got four months of programs and activities before our birthday. Lots more to come!
Attachments: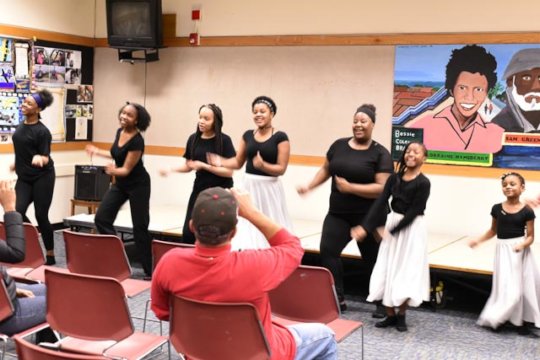 Global Girls now runs programs in eight Chicagoland schools, five elementary and three high school. We still host two after school programs at the Global Studio, one for girls ages 6 to 13 and the second one for coed teens. For almost 20 years, Global Girls has collected and staged African American female stories. Those stories capture the trials, challenges, victories, loves, losses and everyday comings and goings of average people in their own voices. The Global Theatre Collaborative adult company is now recognized for its cutting edge take on adult subjects. While we debuted two new productions in the last season In This House and Brighter Days, we still get requests to perform My Vagina. My Voice, our signature piece. The ensemble took the play to South Bend, Indiana and East St. Louis, Illinois in 2018. We've been asked to bring it to four other cities this year. In July, we will perform for a national audience at the Sexual Health conference at the Marriott Hotel on Michigan Ave. We have also been asked to stage the production and host workshops for high school juniors and seniors and their mothers.
The production opened many doors and opportunities for collaboration. Global Girls will soon partner with eta creative arts foundation. We also no have a partnership with the Logan Center through the University of Chicago Accelerator program. We have been invited to perform at the University of Chicago's new black box theatre "the Greenline" and to consider a residency. The meeting to discuss details is set for next week.
Our next major youth production will highlight 10-year-old Destiny who has blossomed during the three years she has participate in Global Girls to become one of the principle youth company dancers and actresses. Destiny is in 4th grade at one of the neighborhood schools where she is also on the principal's honor list each semester. Working with the older girls and under the tutelage of caring and talented teaching artists, Kiara and Ryonn, Destiny gladly accepts challenging roles and dance choreography. She even coaches some of the other girls between rehearsals when they are having trouble with steps or routines.
One new project involves soliciting young dramatists to bring their works to us and stage them in our theatre as part of our "Budding playwrights" series. The theatre program includes evening and Saturday acting, movement and writing workshops. Our goal is a troupe of 12 consistent ensemble members who can be called on to perform in productions as well as lead workshops. Lastly, we want to grow our audiences by performing in the community and enticing them to become patrons of the arts not just single show ticket purchasers. A distant dream is a state-of-the-art theatre where we can train youth and adults in all aspects of theatre and provide a beautiful facility right in our community for our community.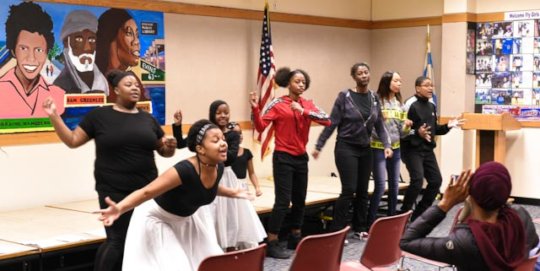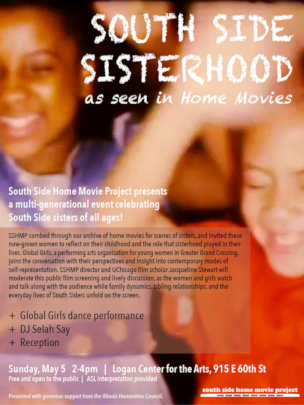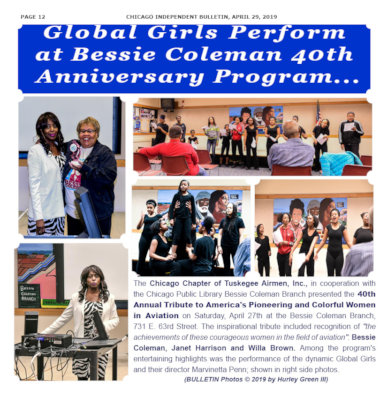 "I never thought I could dance. My mom always told me I had no rhythm. But, in Global Girls I'm dancing, and I love it!" Angela is a 7-year old special needs child who recently joined our afterschool program, Young Women on the Move. She misses session when she has emotional outbursts in school, and her mom has to leave work to attend to her. Now that Angela is learning dance and acting techniques with staff and other girls who accept and appreciate her just the way she is, her disruptive bouts in the classroom have lessened. Her mom is happy. Angela is glad to be in the holiday performance, and we are thrilled with her progress.
Angela's story is one of many where the girls we engage are learning, making better choices and striving to be their personal best everyday in our afterschool program, in four school partnership programs and two programs in collaboration with other community-based organizations.
Thanks to donations from friends and supporters, known and unknown by us, we are now impact 42% more girls compared to this time last year. We've hired two new teaching artists and will add a resource assistant and an office manager in February. A team of interns from the University of Chicago will lead our five-year strategic planning initiative starting in January.
We are huge fans of Lin-Manuel-Miranda's "Hamilton". The youth company performs several choreographed musical numbers from the show. It has been their dream with for months to see it live and onstage. Finally, after much planning and deliberations, 25 youth and family members saw "Hamilton" live on the CIBC theatre in downtown Chicago. The youth sold popcorn, held dance party fundraisers and did chores for friends and family members to raise money for the tickets. Two of our team members met people from the cast after the show. They've stayed in contact. We're keeping our fingers crossed that cast members might come to our little studio on the south side of Chicago to work with our girls in a couple of weeks!
The Grenada girls will be in Chicago over Easter break in 2019. Stay tuned for updates and pictures. For now, the teaching artists and youth are very busy preparing for holiday performances and lots of fun. Happy Holidays to everyone!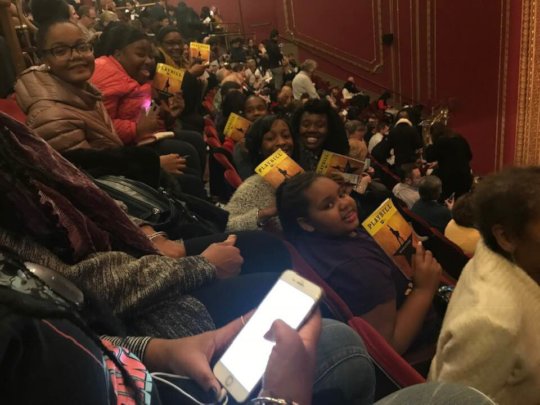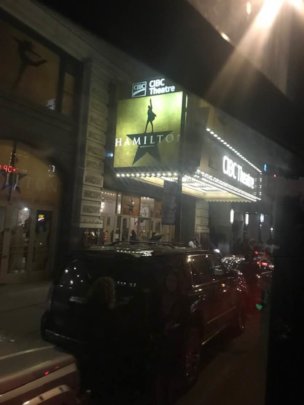 Links:
WARNING: Javascript is currently disabled or is not available in your browser. GlobalGiving makes extensive use of Javascript and will not function properly with Javascript disabled.
Please enable Javascript
and refresh this page.