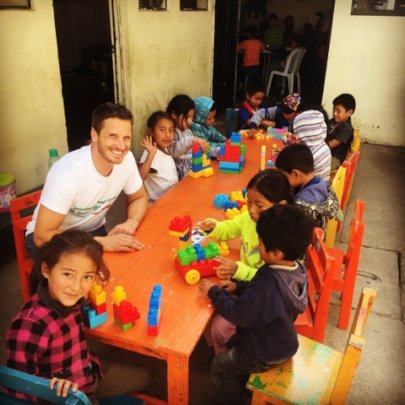 After the holidays, we started up our afternoon program Monday 15 January. It is great to have the children back, and they make it clear to us every day that they love being back as well. The year 2018 is a year that in our organisation represents big changes, both internally in the personnel but also in our activities. The basis is the same; the afterschool program keeps functioning as before, however; where we earlier had an average attendance on around 55 children a day, it is now rare if less than 70 boys and girls between the ages of 5 and 14 show up. This is positive! We take it as a sign of contentment and satisfaction with the activities that we offer and carry out. Also, it increases the impact we have in the community where we work. For this reason, we have contracted an assistant: His name is Daniel Pac. He is a psychology student at the San Carlos University and last year he did his internship with us and later he stuck around as a volunteer. The children love having him around and he fits perfectly into our team.
One of the other changes that Caras Alegres recently has implemented is an extension to our afterschool program; a Community Lunch Room. It opened 22 January and the structure is as follows: From Monday to Thursday, 52 of the children also enrolled in our afternoon program, come and eat a nutritious lunch cooked by our newly contracted cooks; two women from our community, both with children that attend the program. They serve typical Guatemalan dishes, but with some moderations in order to increase the nutrition value. During the year, as part of the same project, we will organise some parent training in nutrition as well. The children eat during two rounds. First, the small children from prepa to 2nd grade, while the bigger children do homework. After the smallest children have eaten, they switch places and go do their homework while the bigger children eat. After 2 weeks of functioning, we can already tell that it is functioning smoothly and we are getting into a routine. This project is financed with a donation of larger scale that we received last year, and we decided to prioritise this project over other ideas mainly because of the high levels of malnutrition in our community. As part of the same project we will be facilitating 3 parent workshops during the year in order to increase their knowledge about nutrition as well.
Finally, the administrative team is undergoing some changes. Allan stays as General Director, but Irma has just finished her work here. After more than 4 years, she is leaving Caras Alegres and Guatemala in order to move back to her home country, The Netherlands. She has done amazing work here, and there is no doubt she will be missed. However, every ending is also a new beginning: Jenna Pohjonen (Finland) is our new Program and Volunteer Director, and she is taking over for Irma. Jenna started just before Christmas, and Irma has thoroughly trained both Jenna and our newly contracted Development Director. Her name is Randi Kallestrup (Denmark), and her working area is mainly with donor contact, fundraising, sponsorships and external partnerships. This last position is new in our association and we have great hopes that it will result in increased sustainability and less pressure on the Program and Volunteer Director and the General Director.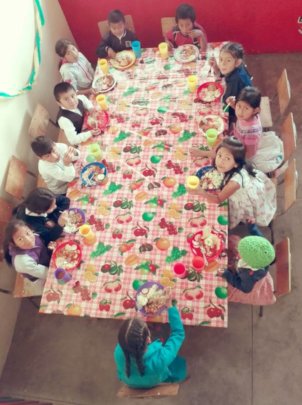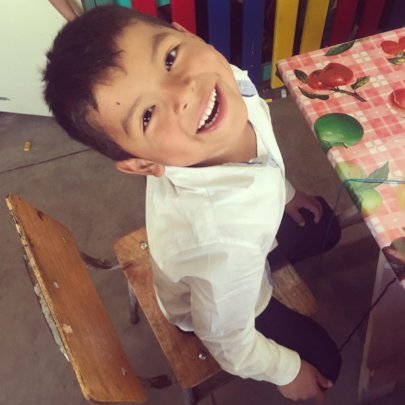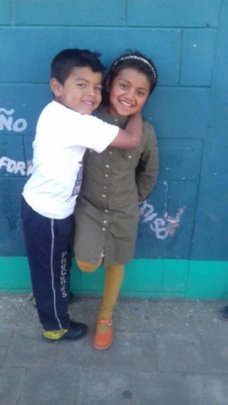 Links:
Since half October, all of the children are on summer holidays. Which means a more constant group of children take part in our afterschool project. Also older children, that are not supposed to come to our afterschool project anymore, enjoy the afternoons. Most of those 16 and 17 year old young adults help the teachers out during the activities. They really enjoy being part of the organization, but don´t want to take part in all the activities. A great way of receiving extra help and keeping even the young adults from the streets!

Unfortunately we were not able to organize any field trips, such as a day to the pool or the zoo, this year. Any support for this kind of activity is more than welcome. We might be able to do something extra in January or February.
But we are very thankfull for the fact we are still able to keep working with the children during 4 afternoons every week. With national and international help we will be able to keep the children from the street and educate them through our activities. It´s very rewarding to see the change: Children on their first day in the program or after they have been participating for 3 months. They are able to show their emotions, better motoric skills and share things with their friends.
Thank you very much for making this possible.
Links: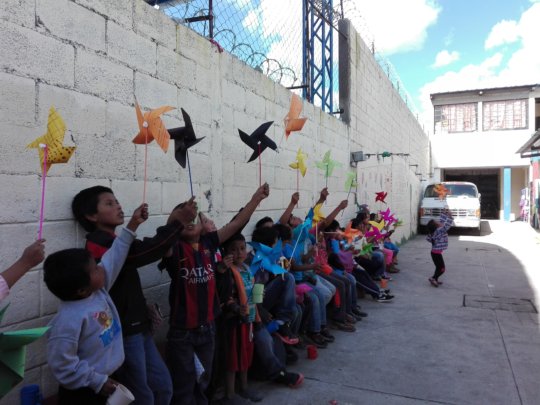 We are very happy to keep you updated about the increase of our afterschool project.The children seem to come to the project on a more frequent basis, which means we host more children every day. With lots of local support, such as donations of fruit, eggs and oats we have been able to provide the children with a even more nutricious snack.
In the last couple of months we also hosted over 20 volunteers from the local public university of San Carlos. The volunteers have helped us out during the afternoon activities, but also with homework for the kids. They even created a great coat rack for the sweaters of the chlidren.
One group of University students came over to work with the kids on themes such as self confidence, family problems and friendship/ team spirit. This activity took place on a Saturday, and even though we do not usually have activities on Saturdays, a record of 68 children came to learn and share.
For us as an organization this confirms that the children like to come to Caras Alegres to learn, educate themselves and have a good time.
The last couple of months we also hosted 2 psychology interns. They have been working one-on-one with the smallest children to strengthen their reading/ writing and motor skills.
We are very grateful for all the donations we receive international as much as national. Thanks!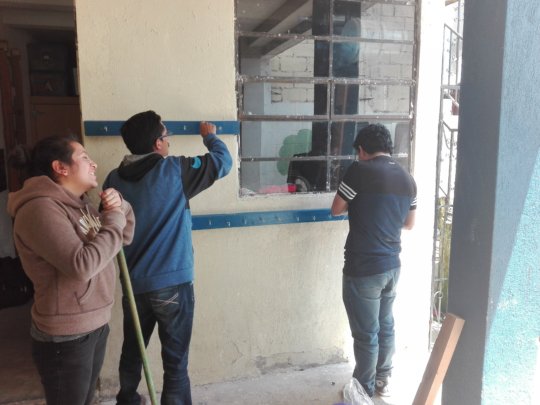 Links:
WARNING: Javascript is currently disabled or is not available in your browser. GlobalGiving makes extensive use of Javascript and will not function properly with Javascript disabled.
Please enable Javascript
and refresh this page.