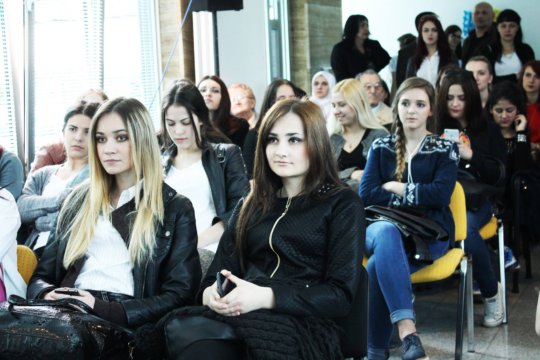 Information and communication technologies are a chance for women around the world for the realization of a successful career. Activities organized every fourth Thursday in April, as International day of Girls in ICT, aimed at raising awareness of the opportunities offered by this profession and encouraging girls to the orientation towards these professions based on their own interests and talents. For them, this is an opportunity to learn about the field of ICT which could be educated, to acquire the first contacts for their future careers, and find inspiration in successful women leaders.
Through its Mentoring program for women CCSP, a non-profit organization based in the Bosnia and Herzegovina, is working to support young girls in remote areas of B&H by giving them an education support combined with mentoring, practical business and life skills. Special focus is given to networking and workshops on new technologies, health, education and self-education.
During 2016, it was planned to organize a workshop for 20 girls from remote rural areas of Bosnia. That plan is implemented, by organizing a two day workshop in premises of CCSP in Sarajevo (27th and 28th of April 2016). Participants were five girls from the elementary school "Hamza Humo" from Zenica suburban area, five girls from Elementary School "Medium" Ilijaš, five girls from Mixed Secondary School Buzim, and five girls from SSC "Milorad Vlacic" Vlasenica. Girls were accompanied by their teachers, since they are under 18.
Workshop topic delivered on 27th of April was "Self-esteem is important for girls. Girls had an opportunity to discuss IT career with Ms. Elmana Pelko from IT Company Authority Partners. On 28th of April, CCSP organized final event, where 60 girls in total participated at two workshop sessions (40 girls from Sarajevo and 20 from rural areas of Bosnia). Mr. Ismar Kasapovic delivered lecture and practical work on coding, while Mr. Adi Salcinovic delivered lecture on IT skills and education options. Through the workshop, girls had the opportunity to meet with IT experts, and through their lectures gain knowledge in these areas. It was also a unique opportunity to girls from different backgrounds meet and encourage the professional orientation in the field of ICT. They have created friendship, and their teachers agreed some form of communication and cooperation after the workshop. Girls will express their satisfaction with the workshop, and they are willing to become leaders and promotors of Hour of Code in December 2016 in their schools and communities.
Elma (16) from Buzim had a dream meet a real journalist, and to learn how to present her great ideas to others. "I will try to be less shy then before – I have learned that my ideas are worthy and I have big plans to tell to my parents back home" she said just after the self-esteem workshop session with Ms. Selma Sehanovic, journalist at FTV.
Girls and their teachers were accommodated in the Hostel, some of them for two nights. They had all meals and snacks, dinner and site seeing tour organized during their visit to Sarajevo.
It was planned that girls will receive education packages containing books and small gadgets, but due to insufficient amount of funds collected, it was not possible to implement this part of the plan.
At the solemn event organized 04.28.2016. The International Day of girls in ICT attended by 70 girls and guests from schools, institutions, associations of citizens and companies, as well as representatives of the Communications Regulatory Agency of Bosnia and Herzegovina, JICA, the American Embassy, the Spanish Embassy, the UN, and Microsoft BiH. Participants were delivered and gratitude for the support provided by the CSPC in working with youth.