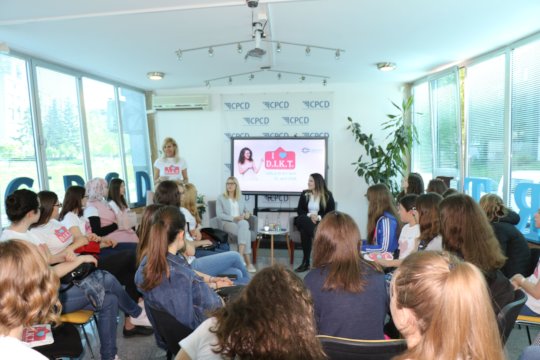 Centre for Civil Society Promotion (CCSP) through its SMART Resource Center (SMART RC) for the fourth year is continuously is carrying out a major educational effort with the aim of involving as many girls from elementary and high schools in Bosnia and Herzegovina in information communication technologies (ICTs).
The international day of girls in information communication technologies is celebrated on the fourth Thursday of April every year and this year we have celebratedon 26th of April.
International Girls in ICT Day was inspired by the International Telecommunication Union (ITU) and is being implemented in more than 140 countries worldwide. SMART Resource Center has also enabled this program in Bosnia and Herzegovina. With this unique action, we want to raise awareness of the importance of involving girls in the field of information and communication technologies and promoting the benefits of ICT careers.
The CCSP, through the SMART Resource Center, organized this year's series of educational activities related to this international initiative. SMART RC has so far included more than 1,000 participants from all over BiH, and has invited many experts to support this activity through a thematic program, with the aim of motivating young girls towards orienting and improving ICT.
This year's program was combination of informative and educational workshops that brings young girls closer to the world's best trends and future affairs. This year, the goal was to include as many girls from all over BiH as good examples of successful women from the ICT industry.
During the program implementation on April 26, 2018, we organized an educational workshop at our premises.
The following schools took part in the workshop:
Elementary School

"Umihana Cuvidina", Sarajevo;

Elementary School

"Saburina", Sarajevo;

Mixed High School

"Buzim", Buzim;

Gymnasium

"Mustafa Novalic", Gradacac;

Elementary School

"Stijena", Cazin;

Elementary School

"Istocna Ilidza",

East Ilidza;

4th

Gymnasium

, ilidza.
The workshop atCCSP premises was led by young female experts from "eMedia PATCH" Almedina Aganovic, Business Development Manager andAmra Sadikovic, Business Development Manager.
Experts made a workshop where they presented their experiences during the conversation with girls and explained how they became successful in the work they are doing. Goal of the workshop was to motivate girls to direct their careers in the field of IT.
All the girls were delighted by workshop and stated that they are planning to continue their education in the field of IT.
After the workshop at the CCSP premises, all the girls were taken to visit the company "MistralTechnologies" and"HUB387 / ACADEMY387 / NEST71" where they together with employees, got acquainted closely what is ordinary day at IT company like and what are the advantages of working in this field.
In addition to the workshops that we organized in Sarajevo, many schools have organised "Girls in ICT" Day in their schools.