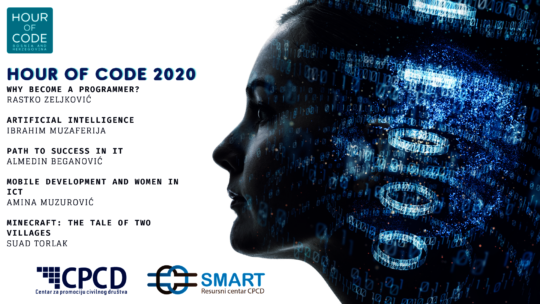 The Centre for Civil Society Promotion (CCSP) proceeded with supporting girls in Information and Communication Technologies, despite the COVID-19 crisis.
After a successful online event which marked the International Girls in ICT Day on April 23rd 2020, CCSP has continued on helping girls who are interested in taking up careers in STE(A)M.
The virtual discussion in April was held on the topic of Artificial Intelligence and Digital Marketing. 45 girls aged 13-18 who are interested in taking up a career path in ICT or STEM fields participated in this discussion. The speakers were Jasna Nuhic – Business Development Specialist from ZIRA company, Ena Zunic-Cejvanovic – Data Scientist at the Ministry of Programming, Amina Muzurovic – Mobile Developer at Mistral, and Latifa Imamovic – Marketing Manager of Klika company.
Due to the fact that all of the educational activities across the country were moved online, CCSP has decided to organize this year's Hour of Code in the same manner. As an official partner of Code.org in organizing Hour of Code in Bosnia and Herzegovina, CCSP has organized this global educational event in the week from December 7 to December 11, 2020. Supported by Microsoft in Bosnia and Herzegovina, five consequential workshops and motivational events were held online for elementary and high school students. Around 150 students took part in the events, while more than 50% of them were girls.
The speakers in these events, Almedin Beganovic, Ibrahim Muzaferija, Rastko Zeljkovic, Suad Torlak, and Amina Muzurovic, covered a variety of topics, such as the path to success in ICT, Mobile Development, Artificial Intelligence, and Microsoft's Minecraft Education Edition. In order to promote gender equality in this sector, CCSP decided to dedicate a whole session to women in ICT, the challenges and obstacles women face, how to overcome them and what are the benefits of being a female in ICT. Afterwards, CCSP organized a competition in essay writing on the topic of why one should become an IT professional. 6 essays were awarded, and 4 out of 6 awards went to girls from different parts of Bosnia and Herzegovina.
The goal of these events, especially the one dedicated to women in ICT, was to encourage girls to do what they like – and never give up on their aspirations. This, truly remarkable event not only inspired girls, but also provided a chance for them to ask questions, network, and make life choices according to their ambitions, not according to what the society instructs them to do.
Other than these events, CCSP has promoted the project itself on the International Day of Women and Girls in Science, as well as urged the citizens of Bosnia and Herzegovina to support this particular project and other projects alike.
Thank you for supporting us!