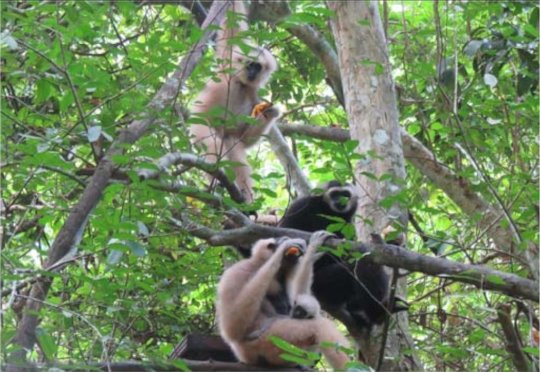 Our work to restore wildlife populations back into the Angkor Temples forest appears to be progressing better following our presentation at the International Coordination Committee (ICC) conference, also attended by UNESCO. It appears we may have allayed any fears Apsara, the ruling body in Angkor, may have had that our intentions were anything other than for purposes of conservation. Our pair of muntjac deer, which we brought to Angkor in 2015 are breeding well. A third fawn was born. Bunthoeun and I were concerned that if we could not release the deer soon they would start inbreeding and we may need to move them elsewhere. Sadly the new fawn disappeared, we feel probably eaten by a python living in the forest. The remaining four muntjac are in excellent condition and Apsara officials finally agreed to allow us to release them, which we did. The deer left the enclosure on the night of release, but the female was back inside the following morning. All are still close by and enter their old enclosure on occasions. They continue to take the food we are providing outside the release cage. We have our concerns about the dogs in the forest, which may attack the deer. If they do we will deal with the problem when it happens. We would like to release other, rarer ground-dwelling species, such as sambar deer and peafowl, and the muntjac are to some extent guinea pigs and will give us information concerning the wisdom of this idea.
I have confidence in our staff in Angkor. Sarin and his son, Rith, have been exemplary throughout. Sarin usually feeds the muntjac and is the perfect hoofed stock keeper, calling them as he approaches. The deer are unafraid of him nowadays but behave very differently when Bunthoeun and I are around. Rith is of the same mold, thinks like the animals he is working with, which helps keep him one step ahead. The two men are as concerned about their charges as we are and will do their utmost to ensure the safety of the muntjac.
Baray and Saranick, the pair of young adult pileated gibbons born at PTWRC, who we took to Angkor in Siem Reap on June 29th, 2013 and released on December 12th and their baby, Pingpeeung or Spider, born on September 3rd, 2014 continue to do well. Spider is growing well and becoming more independent, traveling confidently through the trees on her own – we feel Spider is a she – although she never strays far from her family. The second baby, Chungruth, born to the pair on July 6th, 2017 is also well. Father, Baray, and older sister, Spider are protective of mother and new infant.
The second pair of gibbons, Bayon and Tevy, which we brought to Angkor in 2014 are also well. They were released on June 30th, 2015 and are still in the immediate vicinity of the release enclosure, returning to take the supplementary food we are providing twice each day. Aping, born on June 30th, 2016 is well and growing fast.
When I visited in July I discussed Tevy's expanding condition with Rith and Sarin. Sure enough, she gave birth to her second infant on August 2nd, while Bunthoeun and I were in Siem Reap, checking on our released animals. Continuing the insect theme, we have called the new arrival Kandop (or Grasshopper). The new baby is doing well.
Banteay, Boeung and their daughter, Santamea, the gibbons we released, which proved unsuitable candidates for Angkor, we took back to PTWRC on September 6th. They happily show their dislike of our Nursery keepers, as they did in Angkor with Sarin and Rith before. They were adult when they arrived at PTWRC, having been hand raised elsewhere, their previous care clearly being the reason for their behavior and justifying our concern about releasing hand raised gibbons into Angkor.
His Excellency Hang Peou, the Apsara official in charge of our project in Angkor, has asked us for a list of animals we would like to release there. This has been submitted. I included species that we may not have in sufficient numbers at present and which FA may not agree to. I have also included species that may cause officials some concern – crocodiles? clouded leopards? It is good to know that this project, perhaps because we have shown responsibility towards our released animals or perhaps because of my brief presentation at the ICC meeting, is now being looked on more favorably. We will see what the future holds for wildlife in Angkor…