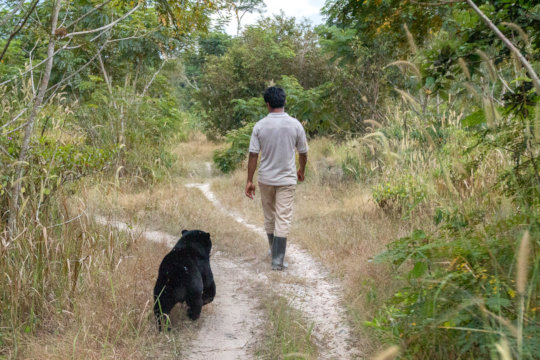 Bears have occupied a lot of our rime lately. We had been keeping young sun bear Micah, brought to us from Siem Pang in Stung Treng Province in July 2018, inside our bear house as we felt it was unwise to release him into the large 1-hectare fenced area of forest, currently holding female Soheap and male Tela. We walk Micah twice each day, he has grown and is now in great condition. We usually take him through the forest to the nearby stream which he enjoys playing in.
On January 28th we radio collared Tela in preparation for his release. We allowed him to get used to the contraption around his neck and opened the enclosure door on February 23rd. Tela made his exit two days later on February 25th. WRS staff hand track him every day and we also receive satellite data on his whereabouts. Tela seems fine so far and we believe that once the rains return and there are more water sources elsewhere, he will travel further away from his release site. Although it may be the presence of wild sun bears that are restricting his range.
Following Tela's release, Micah was integrated with female sun bear, Soheap. Initially he was very wary of her and to ensure his safety we shut him back inside the bear house each night. However, the two are now comfortable with each other, although Soheap, who is an extremely sweet-natured lady, seems more interested in Micah than he is of her!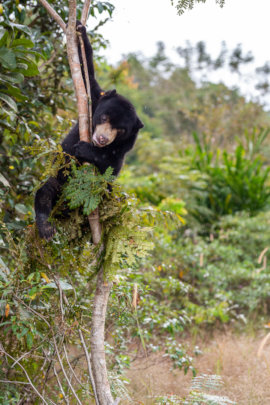 Links: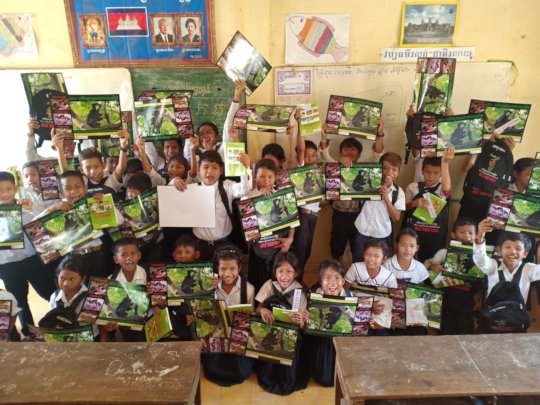 One of the key pillars to reducing demand for wildlife for meat and medicine is raising awareness of its dangers, with intervention especially needed in hot spots of the wildlife trade. On March 27, the Kouprey Express (KE), Wildlife Alliance's mobile environmental education team, gave classroom lessons to 35 students at Preah Kosamak Sihanok Primary School and held a Community Night Show in O'sandanchas village in Kampong Chhnang province. The KE is intervening in this area and surrounding villages because the region is rife with wildlife poaching and wildlife products are openly sold on the market. The KE's community event attracted 100 villagers for a night of educational entertainment. The team addressed the inherent and financial benefits of protecting Cambodia's natural heritage and protecting its wildlife. Some villagers raised concerns since they make money by exploiting wildlife, however, Ms. Yi, an audience member of about 60 years of age, stood up to address her community and urged them not to hunt, eat, or traffic wildlife and to urged them to report any illegal wildlife trafficking to Wildlife Alliance's Wildlife Rescue Hotline (012 500 094).
We're raising funds to do more interventions across Cambodia to change attitudes about eating bushmeat. Consumption of bushmeat poses a serious threat to the survival of threatened species and to the health of local people. Many endangered species, such as pangolins, gibbons, and banteng, are largely being driven to extinction due to being over-hunted. Bushmeat also puts humans in close contact with wildlife making them susceptible to disease transmission and outbreaks. If you donate to this project between April 8-12, your donation up to $50 will be MATCHED at 60%! Don't miss your chance to participate in this year's little-by-little campaign and maximize your impact to help us save rare wildlife.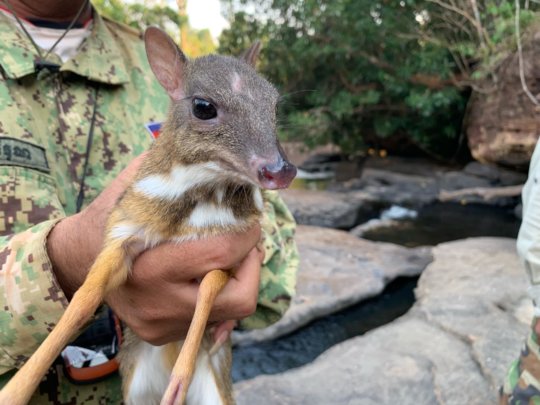 The Cardamom Rainforest Landscape forms part of a global biodiversity hotspot and hosts over 50 IUCN threatened species. Because it is so rich with biodiversity, it is a source for the wildlife trade and attracts outside hunters. Wildlife Alliance rangers from the Green Peafowl station set up a vehicle checkpoint on a road leading out of the protected area. A suspect on a motorbike failed to stop for the military police officer and a chase ensued. Without stopping, the suspect dropped a bag clearly containing wildlife. The ranger collected the bag and found a live mousedeer (or chevrotain), the smallest ungulate in the world, inside.
Watch a video of the mousedeer's release»
The lesser oriental chevrotain (Tragulus kanchil) is the smallest ungulate in the world and the most widespread mousedeer species in Southeast Asia and the only mousedeer species in the Cardamom Rainforest Landscape (Gray 2018). Although they are not threatened with extinction, they are widely hunted for their meat, a fate narrowly escaped by this mousedeer thanks to Wildlife Alliance's ranger force. The mousedeer was unharmed, so the rangers immediately released it back into the wild.
Thank you for supporting our dedicated wildlife rangers and helping them rescue defenseless animals from the hands of poachers. Don't forget: all donations up to $50 will be MATCHED at 60% from Apr 8-12! If you make a new recurring gift, your donation will be doubled! Don't miss your chance to participate in this year's little-by-little campaign and maximize your impact to help us save rare wildlife.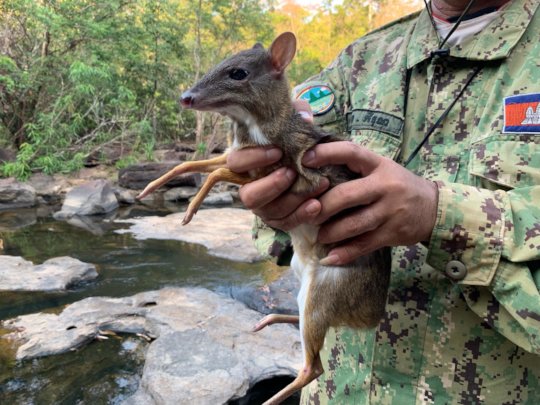 Links:
WARNING: Javascript is currently disabled or is not available in your browser. GlobalGiving makes extensive use of Javascript and will not function properly with Javascript disabled.
Please enable Javascript
and refresh this page.