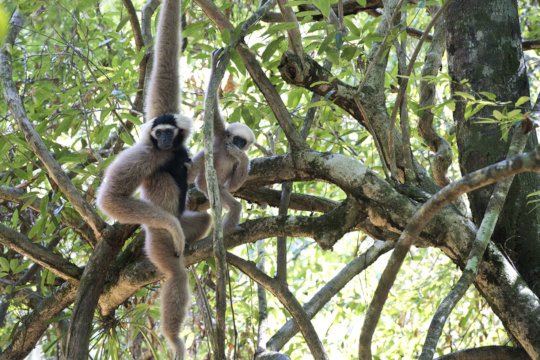 Our work to restore appropriate wildlife back into the forests surrounding the Angkor Temples seems to be progressing well, if fairly quietly. The muntjac we released in September are still around and come individually to take some of the food we put down for them on most nights. Bunthoun's camera traps give evidence that nothing has befallen them so far. We also recorded photos of other species including porcupines, civets and different species of squirrels. Nothing earth-shattering, but interesting, nonetheless.
Bayon, Tevy and their two youngsters are well. Second baby, Kandop has grown and is now more confident among the branches, although he still travels attached to mother, Tevy, when longer distances are involved. Baray, Saranick and their youngsters, Pingpeeung (Web Spider) and Chungruth (Cricket) are also doing very well. We were asked by Apsara, the authorities in Angkor, to conduct the first gibbon release near Tanei Temple, close to the recently implemented zip line, then called Flight of the Gibbon. At that time I did not feel I could argue and we proceeded. Staff 'on the ground' operating the zip line have always been helpful and any small problems have always been easily remedied. The company changed hands and is now called Angkor Zipline. The new company seems less switched on to what we are doing, although the new owners seem to enjoy the association without acknowledging us. They have cut a path in the forest for Zipline guests, which directly passes the feed site for Baray and his family. This could be unwise and if it causes any problems these should be easily solved.
Having removed most of the troupe, we were requested to capture the four remaining silvered langurs on Koh Krabie, an island that is being developed off the southwest coast. Sitheng, Chenda, and the team managed to capture a female and her youngster, leaving two monkeys on the island. Bunthoeun and I transported the two captured langurs to Angkor on October 31st and we released them at Lake Santamea, the same place we released the 12 other langurs we captured. These are wild animals, the translocation has gone very well, we have not encountered any problems and we expect this to continue. Although not directly our responsibility, I was concerned for the safety of these beautiful primates if left on the island and managed to find the funds to ensure their survival, albeit in a different forest.
We recaptured the third pair of gibbons we released at Takao Gate in Angkor, as they proved unsuitable. Mr. Savath, the Apsara forest manager, who has been so helpful in the management of this project, suggested we move their release enclosure a little deeper into the forest, which has now been done. The situation is more appropriate and on November 28th we took another young pair up to start their acclimatization. At three years old these will still be too young for release for at least another year. However, they were born at PTWRC and raised by their mothers. They are wary of people and disinclined to approach. I am sure they will do well in this remote patch of Angkor forest when their time for freedom arrives.