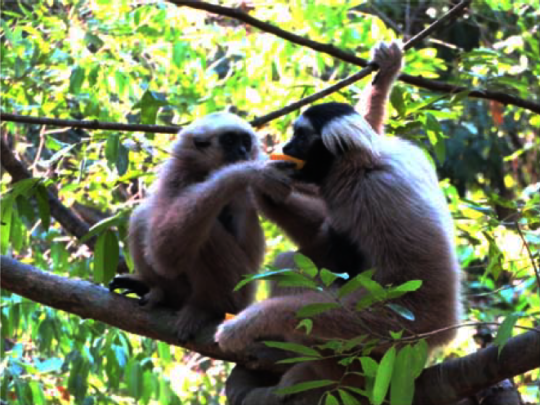 Bayon and Tevy, the second pair of gibbons we released, are well and their two babies, A-ping and Gondope are growing well. The latter is becoming precociously independent. Tevy continues to show concern at the proximity of Bayon at feed time and we have partially solved this by hoisting a second feed basket up into the trees a few meters away.
Pompoy and Borei, the youngsters we are preparing for release and well and showing less fear of people. Previously Pompoy seemed unnaturally concerned when we approached in the evenings, hiding herself away in her sleeping barrel, but is now easier in our presence.
Baray and Saranick and their two youngsters, Ping-peeung and Chung-ruth, are well. There have been minor issues with these gibbons. The release site selected by Apsara is close to the on-site office of Angkor Zipline. The arrival of zipline customers and a large mirror, which hung on one of the inside walls of the roofed area encouraged male gibbon, Baray, to approach customers, enter the building, and admire his own reflection in the mirror. My colleague, Bunthoeun, who manages our release programs, has spoken to Mr. Savath, the Apsara forest manager, who is always so helpful and this problem has been addressed, the mirror has been removed and Baray is behaving himself once again – for the time being at least.
The muntjac we released are still around, although no longer return to eat the food we give them and we have ceased providing this. They are still seen around by Angkor forestry staff, so far confounding my concerns that dogs living in Angkor may kill them. The silvered langurs we captured from an island off the south west coast of Cambodia and trans-located to Angkor last year are also surviving well.
After discussing it for what seemed like an eternity, we have at last moved the family of smooth-coated otters we plan to release, from PTWRC, to their new enclosure in Angkor. Otters are hyperactive and can quickly fade if kept confined for too long. The capture and journey to Siem reap concerned me. In the event I need not have worried. Capturing five otters is not an easy task, but I had already made arrangements with their keeper on how we should address this. We accomplished the capture without too much difficulty, starting early in the morning. The otters were loaded onto our truck in two travelling cages, which we covered in vegetation. After an initial travel period of anger and aggression, which we expected from them, the otters settled and took the journey unfazed and completely in their stride. We arrived in Siem Reap mid-afternoon and immediately released the otters into the old muntjac release enclosure which we had previously customized for them. They immediately set about exploring their new large home and have settled down extremely well. It is interesting to note, although perhaps unremarkable, the otters spend most of their time near the fence closest to the Angkor lakes, which although not far away, are not visible. Attempts have already been made to dig under the fence, which have concerned keepers, Sarin and Rith. I asked Bunthoeun to tell them not to worry. Otters are enchanting animals: intelligent and inquisitive! If our friends find their own way to freedom before we get around to opening the door, what is the problem? This is what we have in mind for them anyway!