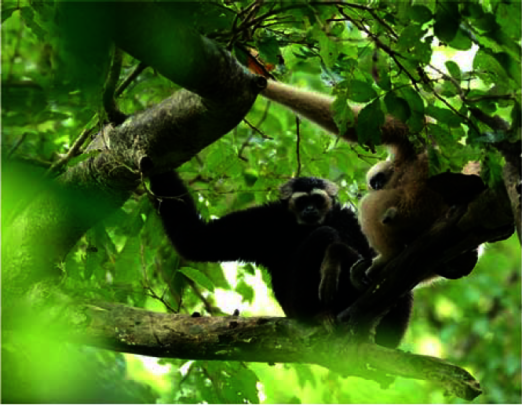 Our work to reintroduce wild animals back into the Angkor Temples forest is progressing very well. There have been no problems or events to cause us concern recently. To some this may seem a tad dull, but we are quite used to dealing with the unexpected, we understand that the tranquility could change in an instant and me and Bunthoeun are enjoying the moment of peace and quiet.
Baray and Saranick, the pileated gibbons we released in December 2013, and their two youngsters are well. Male, Baray, is spending less time at the Zipline offices, which are on the edge of the area we released the pair. Zipline boss, Mr Todd Anthony and his staff are as interested and fond of the gibbons as we are and work in cooperation with us, helping to solve any problems that might arise due to their guests or the proximity of their operations.
Pinpeeung, or Spider, the first infant to be born, is now almost as big as her mother, Saranick. We wonder when she will feel the urge to leave her family for a wider world, in search of a mate. Chungruth (Cricket), her sibling, is also growing fast!
Bayon and Tevy, the second pair of gibbons we released, still seem a little tense at feed time, despite having two separate food baskets to feed from. At other times they get along fine, there is no aggression between the pair and I feel this could be due to the slightly neurotic nature of female, Tevy. Their children Aping (Tarantula) and Kandop (Grasshopper) are both well.
Our third pair of gibbons, currently undergoing acclimatization in preparation for release are adapting to their new environment. Borey and Pompoi were a little nervous when they first arrived in Angkor. Male Borey called down, but it has taken longer for Pompoi to accept the change. Both were captive born and although they are not 'friendly', they have never been mistreated and are quite used to people. The female is now becoming less nervous and secretive. They are young and we will not release them for around another year. Their enclosure is in a quiet and secluded part of the forest and their apprehension around people is a good sign, particularly when one considers the heavy human 'traffic' in Angkor.
Releases we have conducted of other species in this very special forest have gone extremely well. Our muntjac have moved away and we have stopped the supplementary food we were providing. Forest staff still see them on occasions and they seem well. We still capture camera trap photos of the civets we released and although the wild troupe of silvered langurs we translocated from Koh Krabie, an island being developed off the coast, are seldom seen, there is no reason to think any harm has befallen them. Langurs are predominantly leafeaters and the Angkor forest is well protected nowadays. Animals that live in the tree tops, such as gibbons and langurs, are much safer than ground dwelling species, such as deer and we are glad to have been able to provide such a safe haven for these beautiful primates.
The smoothcoated otters we took to Angkor in June are well. Hyperactive and intelligent, their enclosure is taking a small beating due to their constant motion. They lived in our Rehab Area at Phnom Tamao Wildlife Rescue Center (PTWRC), which is not open to visitors, and although they are unafraid when I enter their enclosure, they are less friendly with strangers. We feed them both dead and expensive live fish, to prepare them for their life in the Angkor lakes. We also give them eels, crabs and snails to experiment with. We will release them before the end of the year and I expect them to do well, but a part of me wonders how long my peaceful life will continue once they are 'out there'…