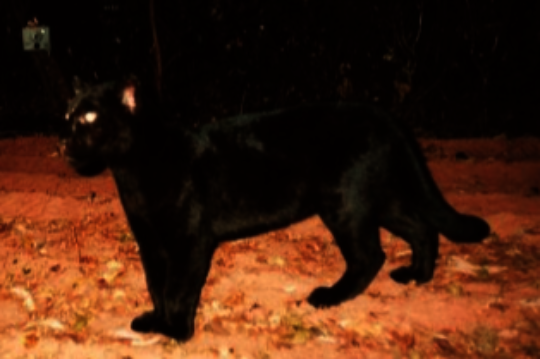 With our camera traps in the Atlantic Forest in Brazil we know for sure that different kinds of endangered animals are returning to the area.
For example the ´Potoo´ (Nyctibius griseus). This nocturnal bird feeds on insects during the night. During the day she looks like a tree trunk to avoid being seen, and it is therefore that the local names for the Potoo can be translated as ´the mother of the moon´ and ´ghost bird´.
The Potoo prefers to feed and rest on younger and more open forests where it can move around more easily, and can therefore be seen a lot in our tree plantings and naturally-regenerating forests.
Another animal that has recently been spotted by our camera traps in the "Santa Monica Reserve", surrounding the Morro do Diabo State Park, is the Black Jaguar (Panthera onca. Black jaguars belong to the same species as the "regular" jaguar. It is estimated that around 20% of the jaguars are black jaguars.
The jaguar is listed as near threatened by the IUCN and has become locally extinct and critically endangered in some areas and habitat loss and fragmentation are to blame. However, seeing them in the camera traps means that small sub-populations are surviving, giving us all the reason to remain optimistic and to continue, with your support, restoring forests in the Atlantic forest in Brazil and help more species return to their natural habitat.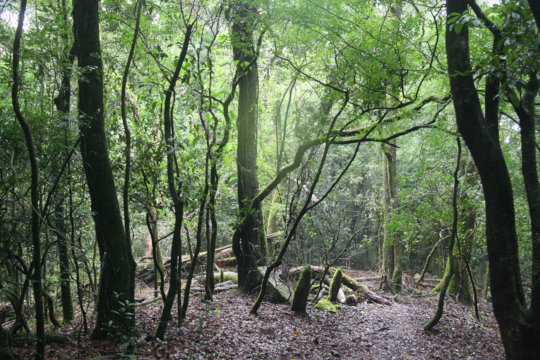 For many indigenous communities in the world, forests are much more than just trees: they store souls and spirits and are of great cultural and religious value. In India there are over 100.000 of these sacred forests, mostly existing of forest fragments in agricultural landscapes, where community members are actively involved in their protection and management, providing important refuges for conservation of biological diversity, including medicinal plants.
Sacred groves
In the WeForest project in the Khasi Hills, the local Khasi tribes have been preserving this forest for thousands of years, and believe it belongs to the local deity Labasa, who protects this forest and their community from anything bad happening to them. It is therefore entirely forbidden to hunt, cut trees or take anything from out of the forest.
WeForest, with your support, helps members of self-help groups and farmer's clubs in the Khasi Hills with activities such as training and financial support to pursue ecotourism initiatives, animal husbandry, food establishments and tree nurseries. This way we are restoring forests, protecting valuable cultural practices and providing additional income sources for the Khasi tribes.
Read more about our project in India here.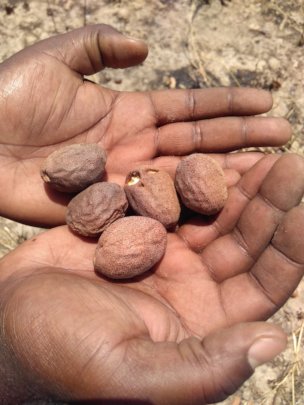 Fruit trees provide a welcome addition to the income of many families across our project site in Zambia. Through their participation in trainings they learn how to take care of nurseries and sell fruit tree seedlings, as well as graft fruit trees and they learn how to take care of mature trees and receive the best harvest possible.
For example, Mbewe B. joined the WeForest ANR trainings in 2018 and developed a keen interest in fruit tree propagation as a way to diversify income and be able to pay for his kids´ school fees. In his own words: ´we all have a part to play in protecting and growing our farm forests and we can all make a real and tangible difference: anyone can come up with his or her own nursery regardless of gender and age so we can easily forget charcoal production.´
A popular fruit is the sweet Parinari curatellifolia. During the end of the dry reason, when resources are scarce, farmers rely heavily on these and other fruit for food and income revenue. There is a wealth of nutritional and medicinal plants that can be harvested by farmers from the Miombo woodlots just like this one.
This way, the farmers in the Zambian area of Luanshya are literally picking the fruits from restoring planting trees.
WARNING: Javascript is currently disabled or is not available in your browser. GlobalGiving makes extensive use of Javascript and will not function properly with Javascript disabled.
Please enable Javascript
and refresh this page.