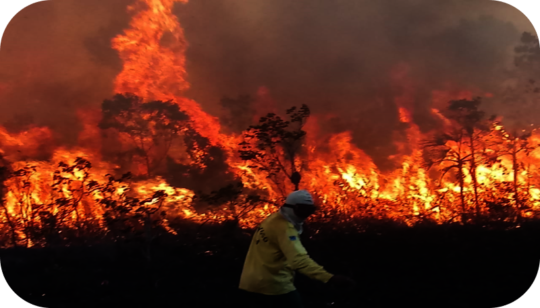 Brazil grabbed international headlines in 2019 when thousands of fires across several Amazon states were burning. We set out to support local partner IDESAM in firefighting and fire prevention activities in Apuí municipality in Amazonas State, which is ranked # 5 in the list of Brazilian cities with the highest number of recent fire outbreaks.In 2019 it had four times as many fires in July and August than than in 2018!
With this support the local fire brigade was able to increase its' efforts to fight against the fires and to prevent the emergence of new outbreaks. Teams composed of nine brigadiers carried out firefighting actions in 135 fire outbreaks in and around Apuí. By September and October there had been a significant drop in the recorded fire activity in the area. Of course, this is not only due to the work of the brigade - arrival of rain helps! – however they played a critical role in preventing fire spread when the crisis was at its peak.
Thank you so much for your support! It contributed to:
New equipment and training
Firefighting equipment (water pump, hoses) was purchased for the Apuí brigade. A training workshop was also held to support local brigade of Apuí and volunteers demonstrating the use of equipment, firefighting practices, field safety and first aid.
Fire awareness
WeForest partner Idesam worked to deliver fire awareness sessions for over 420 people including high school students, parents of students, school staff and teachers in 5 schools in the municipality of Apuí. Recognizing that fire establishment is often used on farms they demonstrated how to lower the risk of fire spreading including the best timing of using fire and how to establish firebreaks.
New Seedlings
Over 11,700 seedlings were transported, delivered and planted with over 34 families from the rural area of Apuí.
Launch of the Monitoring and Transparency Platform Alliance Apuí
WeForest partner IDESAM coordinated the launch of the https://aliancaapui.org.br/en/platform to provide monitoring updates on activities and fires in the municipality.