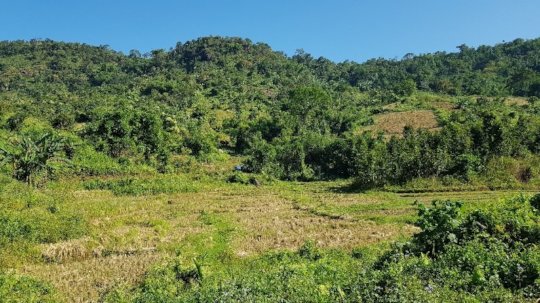 Your support for the Khasi Hills is contributing to:
Biodiversity
In 2019, 45tree species were planted across the restoration sites. This diversity contributes to the restoration of the original forest diversity of this area to support biodiversity and include tree species such as the Ilex khasiana: shrub endemic to the Khasi Hills and critically endangered as its natural habitat has declined in extent and quality the Quercus glauca: also known as the ring-cupped oak, its acorns are edible, and it is used locally for fuel, fodder and as a medicine for dysentery and Cinnamomum camphera: vulnerable evergreen tree commonly known as camphor laurel and used as a source of leaf oil and natural linalool.
The region is classified as a global biodiversity hot spot under the Eastern Himalayan Endemic Bird Area. With such high rainfall it's home to a wide range of amphibians some of which are endemic like the endangered Khasi Hill toad and the critically threatened Shillong bush frog.
Landscape transformation
300ha were brought under conservation management in 2019, bringing the overall total to 2,800ha – an area equivalent to 3,360 football pitches!
Community Engagement
75 villages are currently engaged in this project which addresses the key link between poverty and forest degradation.
Carbon sequestration
Over the next 20 years we expect to have sequestered around 476,000 tCO2 through the areas under restoration, assuming disasters such as droughts or fires do not impact the sites.
Thank you for all your support!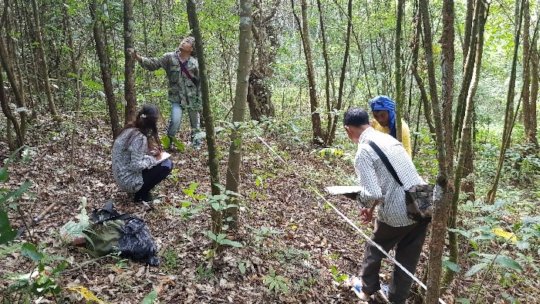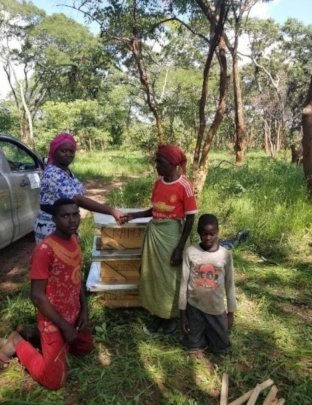 Mecca is a 74-year-old grandmother from Oposhi. She has a 20 hectare farm, part of which she uses to grow maize, beans, sweet potatoes, pumpkins, ground nuts and watermelons. Some she keeps and others she sells, while the other part of her land is left as woodland. Mecca registered for the bee keeping livelihood empowerment scheme after community sensitization meetings at which women particularly were encouraged to register. Her farm was visited to assess the condition of the woodland and when it was certified as good old growth woodland with potential to support bee keeping, she set aside 2.2 hectares of her 20 hectare farm for the ANR programme and was given five bee hives.
Like most families in the area, she has divided parts of her farm and given parcels to her grown children. Trees are cut for agricultural activities or for charcoal production and she has been facing increasing pressure from her children to open up the old growth woodland for charcoal production which she has resisted for a long time. When WeForest introduced the bee keeping programme, it was a huge relief to her because she can now earn an income and her grandchildren can see the benefits of keeping the trees standing.
Thank you for your support!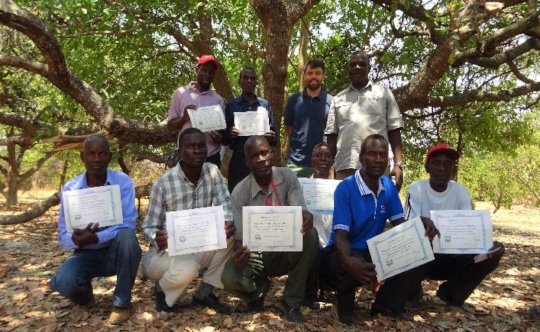 Your support in Luanshya is:
Restoring and protecting over 2,400hectares with hundreds of smallholder farms. This area is equivalent to almost 3,000 football pitches!

Supporting women to run their own nurseries where they can sell fruit trees to other farmers for a steady income

Training bee-mentors so support farmers develop alternative forest-friendly incomes

Planting 4,600 fruit trees
Thank you for your support!
Stories from the Field
Women-led tree nurseries are developed through a three-step process. On the first training day, women are trained in how to set up a small plant nursery. A month later, and after a visit to their farms by the extensionists has taken place, a second training on fruit tree grafting and budding takes place and, finally, the successful new farmers receive grafting equipment and tree stock as they complete their training.
Proud community members from the different zones of Luanshya successfully finalized a training by WeForest and the Forestry Department in Forest Law application. Certificates were handed out during this official ceremony, making them Community Forest Guards. With their knowledge and practical experience, they will support the protection of the Assisted Natural Regeneration plots in Luanshya.
Thank you for making this possible!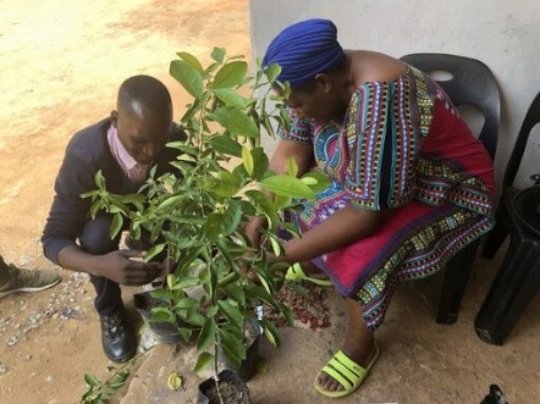 WARNING: Javascript is currently disabled or is not available in your browser. GlobalGiving makes extensive use of Javascript and will not function properly with Javascript disabled.
Please enable Javascript
and refresh this page.