In India's Khasi Hills, people are living alongside cloud forests threatened by deforestation. The Khasi are a forest dependent people who rely on the forest for food, income, shelter, medicine and more. Over recent years the forest has declined along with its potential to provide livelihood resources for these communities. Its role in carbon sequestration and the water cycle also came under threat. However, thanks to your support, we are working to stop this decline and restore the degraded lands into a healthy and productive forest. As the area is a global biodiversity hotspot and home to many threatened species, including the critically endangered Chinese pangolin (Manis pentadactyla), the Khasi Hills restoration efforts have a high conservation value as well.
The project employs 89 individuals in local working committees and youth volunteer groups to carry out the restoration and monitoring activities. A further 1,600 are engaged in self-help groups and farmer's clubs where they take part in a variety of sustainable livelihood schemes that include home-based nurseries, which serve to provide saplings for reforestation and provide income. There is a total of around 24,000 people from 62 villages across the Khasi Hills who are benefiting from the project, shifting their livelihoods towards a sustainable forest based economy, engaging directly in the restoration efforts and making changes to their most basic life choices, even adjusting what they eat. There is a move away from more damaging cattle farming to piggery and poultry and people are increasingly using low-polluting and more efficient cooking stoves.
For a closer look at how local Khasi people are getting involved, meet 59 year old Drasmina. Drasmina could grow her shop into a thriving food establishment thanks to the financing she received from the project. She is now a successful business woman living independently on her earnings and is able to make a living without cutting down trees. She's also using a low-polluting stove to cook at home and is intending to make the switch at her tea stall as well.
With your support, WeForest is joining forces with rural families and people like Drasmina to restore forests and make it possible for people and planet to flourish together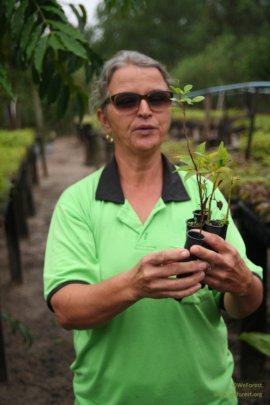 Across all WeForest projects women are empowered through income generation and entrepreneurship. At our community-based tree nurseries in Brazil's Pontal do Paranapanema women are running the show. They are equally as well represented here as men, which is so important in a county ranked 73rd out of 169 nations on the United Nations Gender Inequality Index. Research even shows that empowering women with independent incomes will often benefit the whole community.
Currently standing at 7% of its original size, the project restores Brazil's Atlantic Forest and increases habitat connectivity between the protected Morro do Diabo State Park and the Iguaçu National Park. Despite its diminished size, the Atlantic Forest is a critical reservoir for carbon. The perfect temperatures, abundant sunlight and rich soils provide optimum conditions for trees to grow quickly, absorbing an impressive amount of carbon along the way, at 317 tons of CO2 per hectare over a period of 30 years.
Our restoration efforts use saplings supplied by ten nurseries and this is where local women are having a big impact. Mother of five, Iracy set up one of the nurseries 15 years ago and has been working there ever since, propagating and supplying saplings to the project and to neighboring farmers and landowners. Iracy shared with us what her works means to hear and her family. We heard about the reasons she loves working with us, like being financially independent and being able to provide for her family thanks to the impressive ~300,000 saplings she sells every year. The nursery provides employment for other local women too. Iracy also told us what it means to her to be able to help restore the forest, admitting that it's more than a job for her. "It's become a personal ambition", she says.
To see what your support means to Iracy watch the video.
Thanks again and please share our story with your friends and family!
Links:
The forest restoration activities in the Khasi Hills in northeast India are expanding: WeForest is adding another 500 hectares (over 1200 acres) of degraded forest to its intervention site, bringing the total area of restored forest to 1500 hectares or 3700 acres. Your donation and the support of many others made this possible. Bringing back the forests to the Khasi Hills will bring back life to the tribal communities who depend on the forests for their livelihood. One of the local musicians, Mr. Pynshailang Lyngdoh, sings about the forests to educate youth about importance of the cloud forests of the Khasi Hills. You can read more about him in the attached planting update.
Over the last months we started distributing gas cookers and electric rice cookers. Simple kitchen equipment like this will help the local people to make the transition from firewood to more energy efficient ways of cooking. We expect that the demand for firewood will reduce by half when families cook with gas cookers and electric rice cookers. Please, have a look at the planting update for more information.
On behalf of the people of the Khasi Hills and the WeForest team I would like to thank you for your continued support of our work in India.
Attachments:
WARNING: Javascript is currently disabled or is not available in your browser. GlobalGiving makes extensive use of Javascript and will not function properly with Javascript disabled.
Please enable Javascript
and refresh this page.