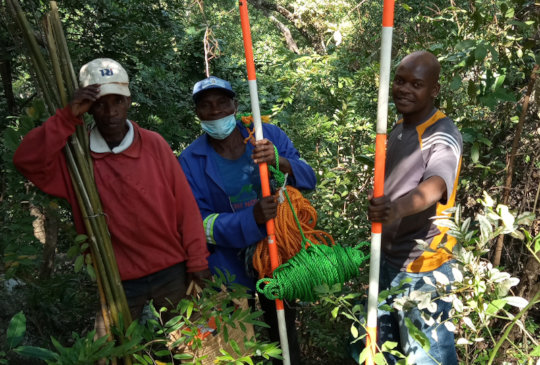 Co-management and collaboration
Sharing responsibility for forest management can be a way of encouraging local communities to be involved in protecting the forest. In Mulanje, three areas of the reserve have been set up for 'co-management' between local committees and the department of forestry. With the indispensable help of committee members, WeForest set up permanent monitoring plots within each block, measuring tree sizes and heights as well as species distribution and diversity. The plots aim to assess the state of the forest now and for the next ten years as we work on assisted natural regeneration of the indigenous Miombo woodland.
Nessa prepares for tree planting season
Nessa is one of eight community cedar nursery groups raising Mulanje cedar for restoration at the top of the mountain and as hedges at the foot. By July the nursery had 5,402 cedar seedlings all ready for planting with the early rains in 2020. 95,000 more seedlings are expected to be raised from 1.25kg of cedar recently sown. They've also raised 5,400 seedlings of other indigenous tree species by collecting saplings from the mountain and raising them in polythene tubes.
The Nessa members benefit from the sale of the tree seedlings. WeForest has purchased 14,000 pine seedlings they've raised, and the group is now aiming to raise 10,000 more after sowing 250 grams of pine.
Window of light
Uncharacteristic rains in Mulanje in the middle of the dry season: a welcome dousing on the prolific early fires on the slopes of the mountain. This view shows the clouds parting at sunset after an overcast day of drizzle, with the mountain emerging from the tea fields below.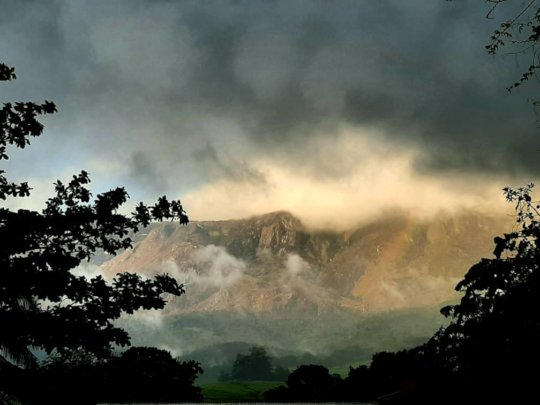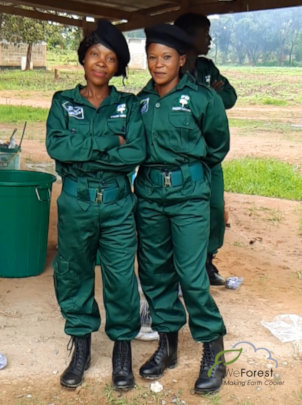 Tabetha C. is a 27-year-old single mother of two children from Chembo village in the Serenje zone of Katanino. She grew up in the big towns on the Copperbelt and would visit her grandparents in Katanino during the school holidays. She has fond memories of collecting mushrooms, fruits and wild vegetables from the Forest Reserve, but over the years, she saw the devastating impact of forest degradation and deforestation. She wanted to be part of an initiative that would spearhead the process of restoring Katanino Reserve, so when she saw that Community Forest Resource Guards were being recruited to enforce the law in Katanino and that women were particularly encouraged to apply, she convinced her friend Precious L. to go with her and register. Both were successful! Tabetha was appointed as a Team Leader and has been recommended by the Forestry Department for appointment as an Honorary Forest Officer.
Law enforcement in traditional rural communities is usually a male job, but Tabetha and Precious have challenged this stereotype. Tabetha is hoping her trailblazing will pave the way for more women to get involved in community forest governance.
Congratulations, Tabetha and Precious!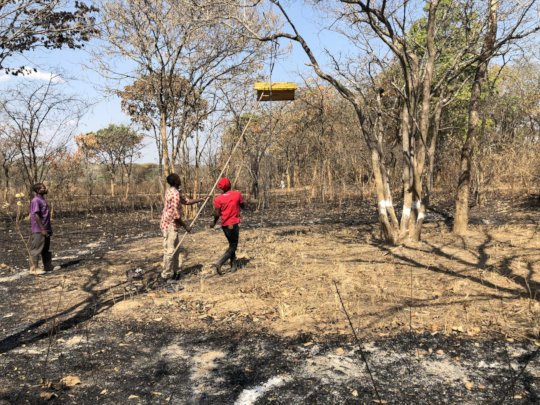 Beating the forest fires
Fires have been grabbing international headlines in Brazil and Australia, and unfortunately Zambia wasn't spared either. Robert S.'s farm might have been affected by forest fires, but thanks to properly maintaining the surroundings of his hive and the supporting trees, the farm wasn't harmed, allowing a healthy bee colony to thrive!
A pioneering participant
Evan M. is one of the first farmers to take part in the programme here in Luanshya. He grows maize and has started to grow aloe vera, and the project will see him protect and nurture wild tree seedlings on his land. In exchange, he received 10 beehives from which he harvested 68kg of honey in June 2019. Evan M. has now joined the chicken training because he wants to diversify his farm and establish a neighbourhood chicken rearing group dedicated to egg production.
Thank you for making this possible!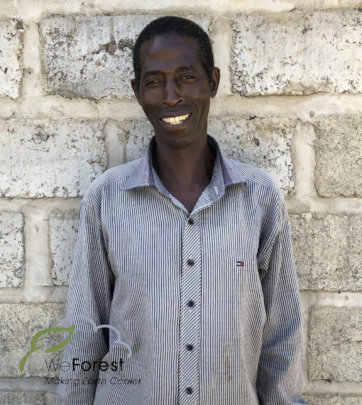 WARNING: Javascript is currently disabled or is not available in your browser. GlobalGiving makes extensive use of Javascript and will not function properly with Javascript disabled.
Please enable Javascript
and refresh this page.