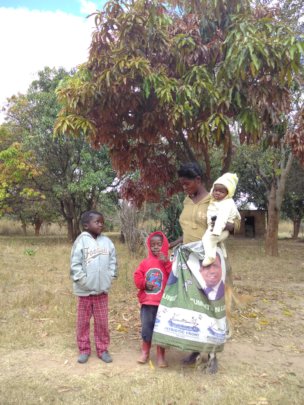 Planting trees and restoring forests only make sense if you can ensure the trees will thrive in the long term. For that, you need the local communities to see more value in standing trees than in felled forests. In the Copperbelt region of Zambia, WeForest supports hundreds of farmers in restoring plots of native woodland on their farms that have been over-exploited for charcoal production. In the short term, farmers and their families benefit from our forestry training, get access to beehives and efficient wood cooking stoves, and plant grafted fruit trees to diversify their sources of livelihood. In the long term, this project helps farmers secure ownership of land, which will ensure the conservation and livelihood outcomes are long-lasting.
Thandi* is one of the project's beneficiaries. She is 32 years old and lives together with her husband, two children and a newborn on their 9.7 hectare farm in Luanshya. Since the loss of her husband's parents, Thandi and her husband no longer had the manpower to cultivate their farm. They were struggling to get enough income to feed the family and send the children to school.
Thandi's husband participated in our two-day training covering, among other topics, the economic benefits of forestry. Since parts of his farm already started to turn back into forest, he was convinced that this was the right project for him to join. In the first year, the family can earn approximately 500 ZMW only by harvesting and selling honey from the beehives installed on trees. This represents a substantial increase to a farming family's income, which averages at approximately 3 000 ZMW per year. As Thandi explains: "The loss of my husband's parents did not only touch us emotionally, it also made us financially more vulnerable. With this project, we hope to diversify and increase our farm income, without more labour for us."
In Zambia, forest restoration and climate change mitigation go hand in hand with livelihood development. Thanks to your support, we can help Thandi and other families in the Copperbelt region implement simple, cost-efficient and effective solutions to both local and global issues.
*Name was edited to protect the privacy of the project participants.