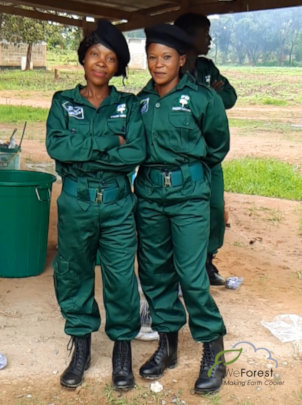 Tabetha C. is a 27-year-old single mother of two children from Chembo village in the Serenje zone of Katanino. She grew up in the big towns on the Copperbelt and would visit her grandparents in Katanino during the school holidays. She has fond memories of collecting mushrooms, fruits and wild vegetables from the Forest Reserve, but over the years, she saw the devastating impact of forest degradation and deforestation. She wanted to be part of an initiative that would spearhead the process of restoring Katanino Reserve, so when she saw that Community Forest Resource Guards were being recruited to enforce the law in Katanino and that women were particularly encouraged to apply, she convinced her friend Precious L. to go with her and register. Both were successful! Tabetha was appointed as a Team Leader and has been recommended by the Forestry Department for appointment as an Honorary Forest Officer.
Law enforcement in traditional rural communities is usually a male job, but Tabetha and Precious have challenged this stereotype. Tabetha is hoping her trailblazing will pave the way for more women to get involved in community forest governance.
Congratulations, Tabetha and Precious!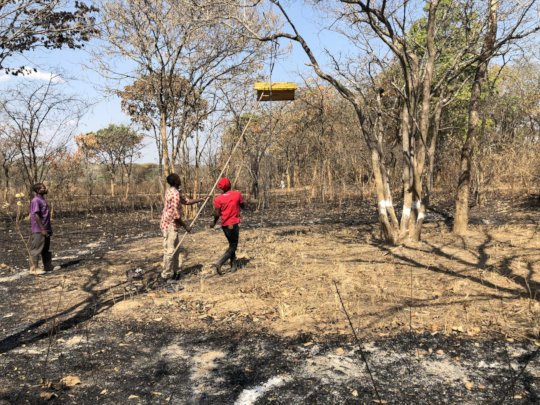 Beating the forest fires
Fires have been grabbing international headlines in Brazil and Australia, and unfortunately Zambia wasn't spared either. Robert S.'s farm might have been affected by forest fires, but thanks to properly maintaining the surroundings of his hive and the supporting trees, the farm wasn't harmed, allowing a healthy bee colony to thrive!
A pioneering participant
Evan M. is one of the first farmers to take part in the programme here in Luanshya. He grows maize and has started to grow aloe vera, and the project will see him protect and nurture wild tree seedlings on his land. In exchange, he received 10 beehives from which he harvested 68kg of honey in June 2019. Evan M. has now joined the chicken training because he wants to diversify his farm and establish a neighbourhood chicken rearing group dedicated to egg production.
Thank you for making this possible!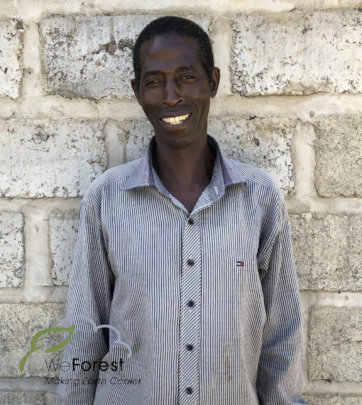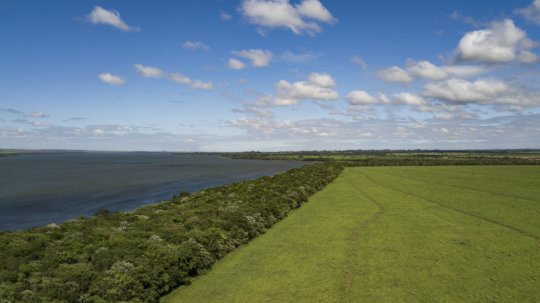 Since 2014, a total of 862 hectares - 1034 football fields - has been restored using a large variety of species and different restoration methods. To date, over 125 different tree species, including 100 native ones, are transforming these landscapes through ANR (Assisted Natural Regeneration), which accelerates the natural recovery of degraded forest areas through the protection and maintenance of young trees that sprout after disturbances such as fire or cattle grazing. Another technique is framework planting, which is used to recover highly degraded areas where natural regeneration is limited. A high-density planting of around 100 different species are chosen for characteristics such as fast growth, or because they are a food source for wildlife.
Community engagement
Eight nurseries provide seedlings for the project. They are owned and managed by local communities of settlers and small farmers, and a total of 11 women and 16 men are employed.
A great carbon sink
The total restoration area to date can expect to sequester 273,254t CO2 over 30 years, assuming there's no disturbance from fires. That's equivalent to the carbon footprint of more than 1,000 European citizens for each and every one of those 30 years.
Thank you for making this possible!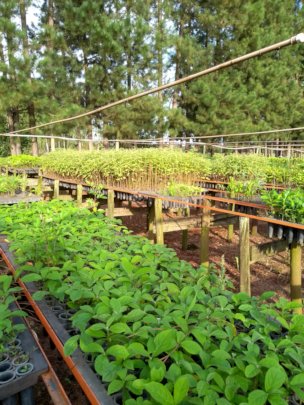 WARNING: Javascript is currently disabled or is not available in your browser. GlobalGiving makes extensive use of Javascript and will not function properly with Javascript disabled.
Please enable Javascript
and refresh this page.