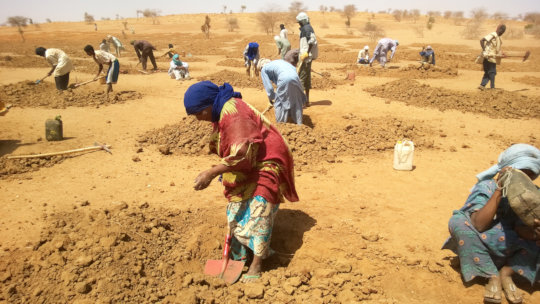 Life in county Tilia, near the Malian border in Southwestern Niger, is not easy. Due to ongoing droughts, the land is suffering from desertification which has a negative impact on farmers: Farm animals cannot feed and crops will not grow on the dry land. Furthermore, nearly 20.000 Malian refugees live in Tilia who are also dependent on food they grow on their allocated soil.
Hadizatou ''Andy'' Aly lives in the village of Garin Ali, a 100 km from the city of Tahoua. Once, she owned over two dozen sheep. "It's too complicated. A couple years ago, one could hold one to two month by selling a sheep" she explains. "Nowadays the revenue covers only a few days of our costs of living". As a widow and a mother, life hasn't been easy on her. Out of the eight children she had, only three are still alive. She looks in her late 40s despite being 35. With no means to support herself and her family, she used to rely on other people's handouts.
With the help of Aktion Deutschland Hilft, our member ASB is providing income to families like Andy's so they can buy food ahead of what is commonly known as the 'lean season,' the gap between the time people run out of food stocks (during the drought) and the next rainy season. People receive cash in exchange for part-time work. In Garin Ali, ASB has installed a land recuperation program: During a month, 1,116 persons dug 108,075 water retention basins called "half-moons". During the rainy season 40,000 endemic plants and 2.5 tonnes of forage seeds capable of withstanding long periods of drought are sowed in these retentions basins. Each worker can work for 3 months and earns around 80 Euros per month.
According to the technical coordinator of ASB Niger, Hamissou Kassoussou, this project is making multiple impacts. At first, it injects money into a community severely affected by unemployment, climatic shocks, exodus and conflicts on its border. The money the people earn boosts the trade on local markets. Secondly, the retention basins prevent ongoing desertification and secure food for the herds. This then helps families that are affected by drought to survive the lean season.
''Today, after these first rains, I am fully aware of the impact of our work on the soil of our community. We now have to protect the shrubs that we planted so that they can grow. We are having a good rainy season, and I'm glad we'll have pasture for our herds this year. I am grateful for the cash for work program; otherwise I would have depended on other people's handouts."
With your donation you help our organizations to install cash for work programs in several parts of the world which will help them to earn their living and survive the drought. Thank you for making this possible.