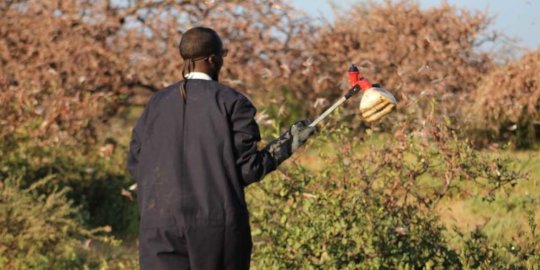 "The locusts destroy our lives," says Kurfa. The woman lives in a village in northern Kenya, where people are currently experiencing the worst infestation in decades. The Food and Agriculture Organization (FAO) has again revised the figures upwards:
In Ethiopia, Kenya, Somalia, Uganda, Tanzania and Southern Sudan alone, more than 20 million people are threatened by acute food insecurity. Eritrea and Djibouti are also affected. No reliable data have been collected there so far.
The locust infestation affects eight countries in the Horn of Africa alone."Day and night we beat the bushes, but the locusts do not leave," Kurfa continues. Especially the younger insects, the so-called nymphs, are difficult to control. "There are simply too many. They come into our houses and attack our food."
Together with its member-organizations, the German alliance Aktion Deutschland Hilft supports farmers. In the affected region of Oromia in Ethiopia, for example, many people are dependent on cattle breeding and agriculture, reports HelpAge, one of the member-organizations. Their farms are only just recovering from the extreme drought periods of recent years.
Aktion Deutschland Hilft has been active in the affected countries for many years. Through the member-organizations, the alliance is distributing food, drinking water and seeds. In addition, helpers support the affected farmers in fighting the swarms.
Thank you very much for supporting these relief efforts with your donation.