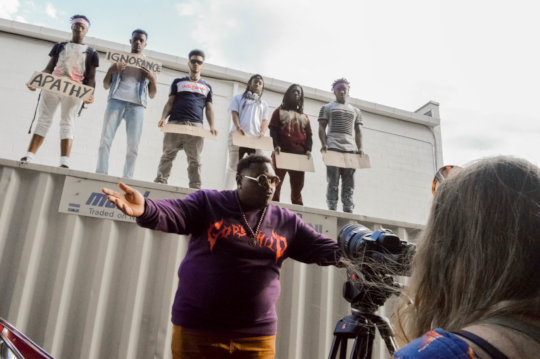 "Excellence is an art won by training and habituation. We are what we repeatedly do. Excellence, then, is not an act but a habit." - Aristotle
As 2018 progresses forward, One Common Unity has continued to do the same. After a careful vetting process, The Catalogue for Philanthropy: Greater Washington has selected One Common Unity to be part of their Class of 2018-19! Our organization underwent a rigorous review process conducted by a team of 120+ experts in the local philanthropic field, and came away having met the Catalogue's highest standards.
"People want to know where to give and they need trusted information.
Based on our in-depth review, we believe that One Common Unity is one
of the best community-based nonprofits in the region."
-Bob Wittig, Executive Director of the Catalogue for Philanthropy.
As an organization, we are so proud to receive this prestigious honor and are steadfastly committed to continuing working each day to make a positive difference in our community! Our facilitators work tirelessly to lead the youth at our schools sites throughout all eight wards of Washington, D.C. They do so not only in after-school sessions with our youth, but also with in-school programming during the school day at multiple sites and leading activities outside of school as well.
You'll be amazed to see what our youth have managed to be a part of in the past few months:
March For Our Lives
Fly By Light youth, One Common Unity staff and board members marched together to call for an end to gun violence in the March For Our Lives protest in Washington, D.C. on March 24. Fly By Light youth and facilitators met a couple days prior to the march to discuss the purpose of it, what they hoped it would accomplish, and created unique signage to carry during the massive march.
Violence Prevention Day
On May 22, we kicked off our first official Violence Prevention Day at Hart Middle School. In a thought-provoking workshop led by our Fly By Light facilitator, Rashid Hughes, students participated in a free write activity, collaborated on poems, and shared in dialogue about how they can make their community safer. Ryane Nickens, President of the TraRon Center, and leaders of the DC Government's Safer, Stronger Violence Prevention program joined us for this workshop.
Roosevelt Row
One Common Unity and The Future Project came together to support students to create a truly stunning collection of portraits of Roosevelt High School faculty and students who inspire us to be our best! The goal of this project was to build community through creative expression and highlight "what's right" in our respective communities
Roosevelt Row was a three phase project that focused on peer nominations of students, staff, and administrative members that motivate and inspire students. The nominations went through a selective criteria and only 25 nominees were selected for the unveiling ceremony. Students scheduled photography sessions and interviews with the winners and transformed the photos into hand-painted portraits. The unveiling ceremony welcomed over 100 students and faculty to honor these inspiring individuals and build community through food and musical performances.
These portraits will be on permanent display in Roosevelt Senior High School for others to see and aspire to. Einstein once said "if you judge a fish by its ability to climb a tree it will always think it is stupid." One Common Unity and The Future Project highlight what's right in our youth and support them in pursuing their goals and dreams.
The Soul Experience
Led by our facilitator Manny Salazar in partnership with the Future Project and a host of talented guest facilitators, The Soul Experience was a chance to support young people in practicing self-care and self love by developing tools to support their holistic health (mental, spiritual, physical, emotional). Roughly 20 students participated in three workshops around self-care and self-love and engaged in art-making, releasing trauma circles, dancing, and drumming workshops and left with a personalized Self-Care Kit. The day was deeply transformational, healing and inspiring for the students involved.
2018 Summer Showcase
On June 11, Fly By Light youth artists from across Washington, D.C. shared their original music, poetry and dance at our annual Summer Arts Showcase to a full house of over 200 people. With the guidance of our after-school facilitators, these tenacious young minds honed their talents for months to create a series of awe-inspiring performances which told their stories and help bring awareness to the problems they've been faced with as young people growing up in the nation's capital.
Also as part of the event, we premiered a brand new music video for the song "Unity". The song's creator, Marcus Morgan (a.k.a. IAmPoppCulture), is an alumnus of One Common Unity's youth programming, and he dedicated the song to the organization that he adamantly credits as having "saved his life". The "Unity" music video illustrates and embodies the power of D.C. youth and their resiliency in overcoming the trials and tribulations which affect not only their own communities but the world at-large.
**
All of these awesome events and more are made possible thanks to you. Your ongoing support will continue to allow us to build pathways towards a better future with the upcoming generation of leaders.