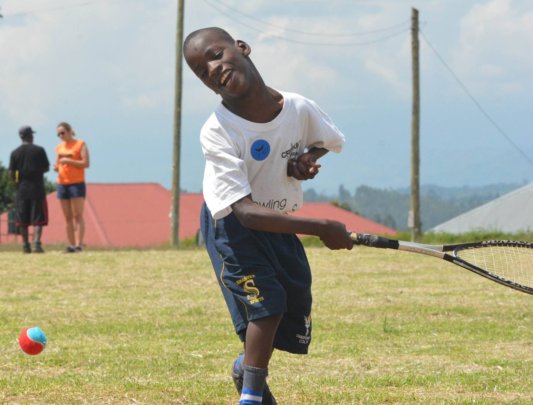 Call it a clan, call it a network, call it a tribe, call it a family. Whatever you call it, whoever you are, you need one – Jane Howard.
In Uganda, approximately 12% of children (2.5 million) are living with disabilities, and access to healthcare is extremely limited. The majority if disabilities are due to birth-related injuries, illness and congenital defects, resulting in severe disability. Many of these children are living in extreme poverty, with their families struggling to provide and support their medical needs. Most have not seen a medical professional regarding their disability, because families believe there is nothing that can be done anyway, and as there are very few rehabilitation therapists working in Uganda, it is estimated that only 18% of children (450,000) have access to services that could have a massive impact on improving their life.
Widespread local beliefs that disabilities are an untreatable curse or the presence of a demon, cause disabled children and their families to be excluded from their communities, often cause increased family stress and breakup, financial burdens and a reluctance to seek help. The poor local understanding of disability is a huge barrier to the progress, learning and independence of many children.
In the past year, Kyaninga Child Development Centre has been working to reach 100 children with disabilities living in extreme poverty in the rural areas of Kabarole District, western Uganda, through our community outreach programme. We have managed to achieve this and more, with over 140 children seen regularly (at least once a month), some of whom were identified during the 2-day community awareness activity in July, when more than 250 children were assessed, others through referrals from friends and family, or local health centres.
But it isn't just physical, occupational and speech therapy and rehabilitation that we are providing to these children and their families, we are creating inclusive communities that are no longer isolating, discriminative or misunderstood. This is done through regular home, school and community visits, community awareness activities and training workshops with healthcare and community workers in the identification, care and management of children with disabilities.
In the past year, we have generated partnerships with 5 local health centres, in addition to the 3 health centres and 3 schools that we were already working with the previous year. This has enabled us to reach many more communities and individuals, raised the awareness of disabilities and reduced the associated stigma within the medical community. We have found that many nurses, midwives and clinical officers also believe that disability is not a medical condition, but a curse, demon, or the fault of the mother for disrespecting her family during pregnancy. This has led us to create a training programme for healthcare workers in a further 12 local health centres, to be implemented in 2017.
Another important aspect of creating an inclusive community is including leisure and recreational activities, which was achieved by our recent Inclusive Sports and Family Fun day, held on November 6th 2016. This was a day of celebration and allowed more than 70 children with both physical and intellectual disabilities to come together and participate in a variety of sports activities, along with able-bodied children and adults. We were thrilled to welcome David Emong, Uganda's first silver medal winner at the Rio Paralympic games to join us for the day, and he gave an inspiring speech to the parents in attendance about believing in and supporting your children, and even challenged the parents to a 100-metre dash – he came second!!!
We were also fortunate to be supported by Special Olympics Uganda coaches, and local sports coaches from Youth Opportunities Uganda, who were fantastic at encouraging all children to try five-a-side football (soccer), tag-rugby, netball and tennis. While the children played, it was also a wonderful opportunity for parents to meet and share experiences and challenges, and to support each other, with new friendships made, and many expressing their surprise and pleasure at seeing their children, who were once thought of as useless, a burden, incapable of doing anything, kicking a football, throwing a ball and being accepted by everyone around them.
One young boy who attended, 5-year old Edward, travelled over 80km with his mother, Nyangoma, to attend the day. He is not accepted in his community because he was born with extremely short arms, which Nyangoma says make people fear him and in turn, exclude her as well. She hopes that he will one day be accepted and able to attend school, but worries about how the other children will treat him. We have sent Edward for assessment at the National Orthopaedic Hospital but they are unable to do anything to help him, as the bones are too weak. So we are working with him to learn independence in personal skills such as washing, dressing and writing with his feet.
Edward loved being around other children, realising that he isn't the only one with challenges and finding opportunities to join in the games, he was very happy kicking a football around, laughing when he scored a goal, and joining in the drum circle. In the same way Nyangoma found the supportive and caring community that she had needed so badly back home. She happily chatted with other parents on the challenges she faces, the feelings of exclusion and isolation and how she can best advocate for her son. She is looking forward to our next community event in December, the end of year party, where she can strengthen those friendships and community support.
We are looking forward to growing our community next year, reaching out to another 150 children with disabilities, and helping them and their families find the support and inclusivity that they deserve.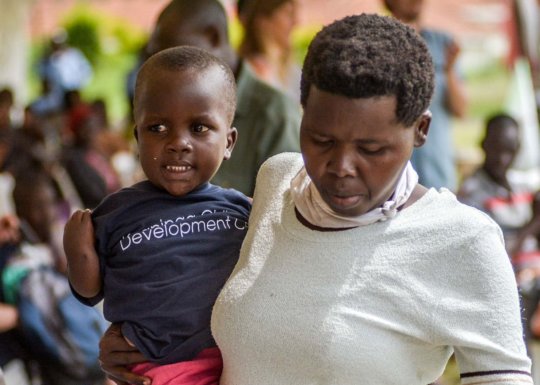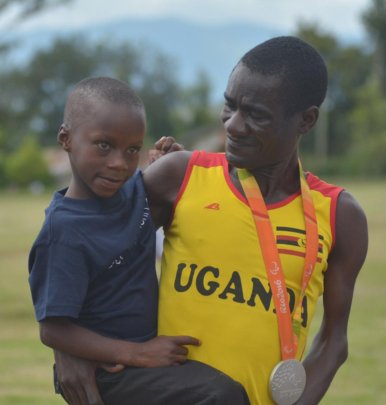 Links: