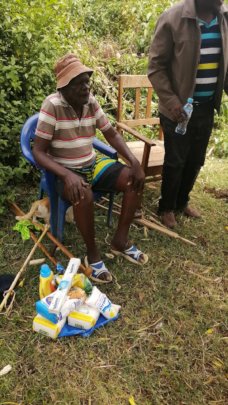 This month we managed to target and give to the most vulnarable old members of our comminity foodstuffs to sustain their livelihood since they are not able to do any work and they only depend on donations from well wishers like you, We managed to map out the most vulnerable old aged members of the community whom were seffering of savere hunger due to covid and we provided them with foodstuffs to sustain them for few days. These members do not have anyone to get any assistance from their siblings. We managed to get at least eighteen such cases in variuos house holds within the village and mapped the very old and disabled old men and women.These foodstuffs goes long way in making them have a broad smiles and happiness.
We were able to assist them with Corn flour , Cooking fat, Bar soap , Wheat flour and other food materials enough to get them going for several days as they strive to survive and beat the corona virus pendamic in our midst. It is much thanks to everyone whom donated something small to these forks whom are really finding it so diffucult to survive in this error of Covid 19 pendamic, hence we appeal for more wellwishers to help us change the lives of these old men and women in my village whom are really struggling to get at least a meal a day due to the ebject porverty facing them.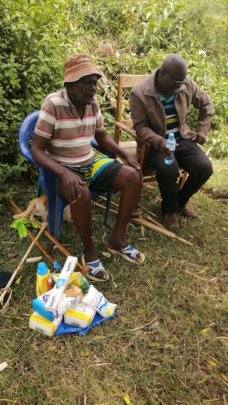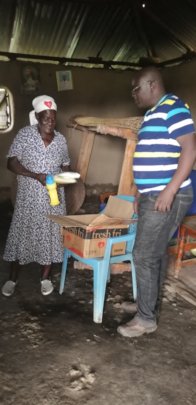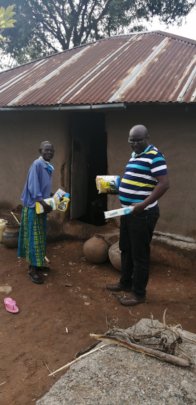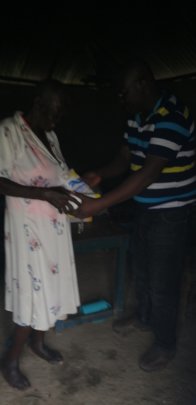 It's been now over four months since the government of Kenya closed all the schools in the country following the outbreak of this corona disease and life hasn't been so easy for most of the children staying at home with their parents including the ones that would be sitting for their last examinations latter tis year. Its been ahrd for them to stay at home without any learning going on.
This disease has brought learning in Kenya to a halt and hence the children have nothing to do at home, the school will reopen once the government gives a directive on what is to be done before the reopening of the schools herein Kenya. This has affected our learning calendar especially with the national examinations candidates whom are not certain when they would be sitting for their end of primary education examinations which was scheduled to be done in the month of November this year.
So far we are at the Fourth classroom and we still have four to go as we needed a total of eight classrooms for all our children to have descent water proof classrooms.To give you an update on the building of our new classrooms we are still mobilizing materials and resources for the faur remaining classrooms, and this month we got good news from one of the organizations in Kenya which has agreed to partner with us to build to support in buiding two nursery classrooms which went down due to the floods this year and these two classes would house the smallest children in the school. They will be used for Early childhood Development centre, the organization has agreed to fund us to the tune of $100,000 USD on conditional grant that we must also raise the similar amount so that we will be able to build these two classroom of our ECD children. This comes amid Covid 19 pandemic and the challenge on our side is how we would raise this prerequisite amount from our side so that we could access these funds for doing the two classes but we do hope for the best as we reach out to well-wishers around here in Kenya and beyond.
Its my humble oppinion that we must move with speed before the government opens the schools in their new academic calender after covid. In this way we have all the time to enable us get well prepared for the social distancing in schools which will imply we have the required numebr of children per class. Seems even children in government school would be reduced hence the number of children coming to our school would increase signiaficantly hence the demand to have all these classes ready for this eventuality.
James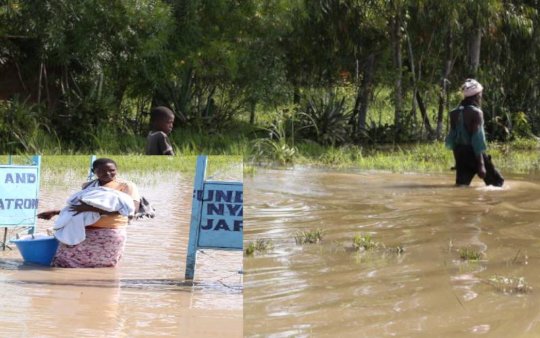 Since Janauary this year in my village it's been raining cats and dogs in my village and many houses have been swept away the most affected are the women whom are now displaced in several camps where they stay under humanitarian assistence from Red Cross and the governments. These women are now really very exposed to diseases and hunger hence are very much sffering.
The assistance by the county and national governmebnt cant be enough to sustain these families who are now numbering to thousands, all the schools in the area are now been converted into evacuation centres with some being completely submerged and it really life threatening to most families living in these camps. With no proper toilets the children and women risk an out break of diarhoea in these camps since their isnt any proper sanitations and clean water for use.
With COVID 19 Pendamic these women now are worst hit than ever since they have to balltel these two at the same time and it really a worst scenario ever. The flooding comes from both the river sondu mirui which has bursetred its banks and the Lake vicrotia shores which has swollen suddenly getting into their homes.
Right now we still dont know when the Covid 19 will end and when teh river and lake woudl subside as this scenrao keeps on deteroriating with time and its sad there isnt much to be done and only teh well wishers woudl come and assist these suffering children and women and we hope that when it will stop to rain and things back to normalcy. Untill then we try to keep safer and avoid any deaths so far very few deaths due to flooding have been reported by teh government aand we hope that everyone. The women now are in need of food and non food assistence from all the well wishers out there. It's very sad indeed at the kind of vulnerabability of these women and componded with their constant suffering and worse still in the event of domestic vilence they have nowhere to loo up to.
James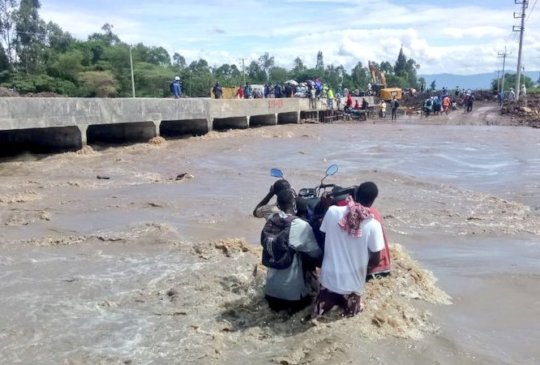 WARNING: Javascript is currently disabled or is not available in your browser. GlobalGiving makes extensive use of Javascript and will not function properly with Javascript disabled.
Please enable Javascript
and refresh this page.