From the government statistics the virus is still wrecking havoc here in kenya, the peak is still steep and its all over and many families are getting affacted every day , this is really making livelihoods unbearable for most children and women folks in the rural setups where we work. Many are not able to afford all the basic care for the families hence its been so dificult to survive. Thanks to well wishers whom have come to their rescue we are able to sustain some families albeit in smaller way we could.
We are still appealing to everyone who would love to asissit us in any way to help in sustaining these families whom are really still suffering the veirus aint going down.We intend to sustain them with their basic needs till such a time that the virus would be declared gone in africa. Please you can pledge to assist with any thing on on=ur donations page and help us a chieve this goal.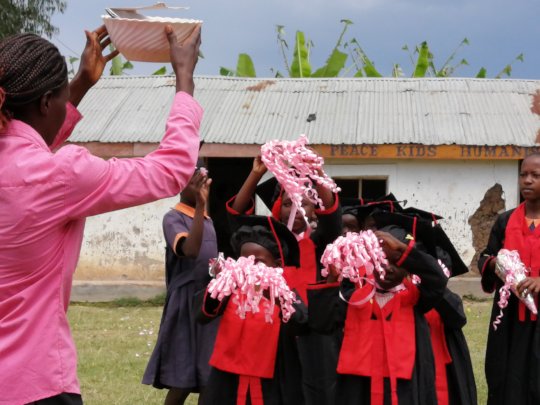 The schools have been closed since March 2020 and the children have stayed at home for all this time. this was occasioned by the Corona Pandemic. The chidlren have been with their parents for the longest time ever. Now Its good news here in kenya as teh govrenment have partially re openned schools for learners in Grade four and class eight, these are those whom are preparing to sit their national examinations and they have been allowed back to school after over seven months staying at hoem due to the COVID 19 Pandemic.
All our teachers have reported back to school to start teaching this lot of pupils and we recieved all of them and we never lost any pupils due to covid 19 or any other ailments and learning has started off so well from last month. these candidates are preparing themselves for the end of year examinatiosn which will be carried on in the month of April 2021. These lot were to sit fr the final exams in the mnth of novermber but had been pushed forward to teh month of April 2021.
We have also recieved grant from a local non governmental organization here in kenya which have partnered with us to help us build two more classes for ECD pupils. The organization known as KCDF has been able to grant us 1million kenya shillings which is a matching grant for the rebuilding of the two classes. We mobilised teh half of the total amount which they offered to match for us and in total we shall be constructing two new claases at a cst of 2 Million kenya shiling which is equivalent to 20,000 USD. Once complted the two classrooms would host all our ECDE pupils since their classroom went down last year and thesze children have been learning outside on the shades of the trees. We do hope by the time schools fully opens in january these two classrooms would host our small children learning in ECD.
The teenage pregnacy has escalated in kenya and this is a very worrying trend in that many school going girls are now left towonder on their next course of actions when the schools fanaly opens, The adult girls have been at home for more than ten months and have been suceptible to abuse by either their wn relatives or fellow teenage boys. The trend is so serious in Nyanza that the government really would want to curb the menace through the provincial administrators in every village.
The fact that these are children whom are not yet ready to have their own babies its becoming so difficult to assist them and the trend has been made worse due to the lockdowns due to covid 19. These girls have been wonering in the village and mixing with boys and the consiquences have been so dare indeed and it needs quick interventiosn when it would be not too late. As an Organnization we have been able to help in the smallest way possible to teach them on hwo to take good care of themselves and tell them the dare consiquences awaiting them we have also provided the young girls Physoho social support that they much needed at thsi particular time.
With the building of safe house for girls we hsall be able to asisst them in a big way hence this is the major project we are toiling to keep it alive ane enhance its reality check so that we have it like yesyerady to help us assist and secure a place for these vulnarable girls. Once completed such cases would be handles at the girls safe house where they whould be helped both socially and economically. This would really reduce the impact of such vies in the society. Lets jin our hands togeher to see this happen sooner. Thanks
James
WARNING: Javascript is currently disabled or is not available in your browser. GlobalGiving makes extensive use of Javascript and will not function properly with Javascript disabled.
Please enable Javascript
and refresh this page.