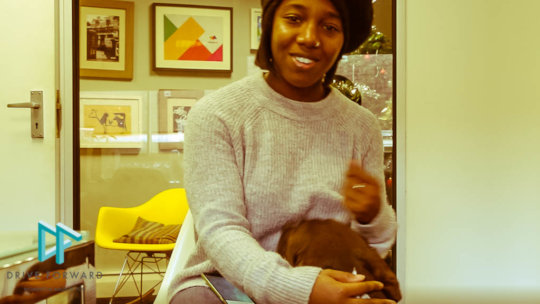 Happy 2019!
January is almost over and most of us will have, either comfortably settled back into our daily routine or are still battling through our ambitious New Year's resolution. What a blast!
For many of the young people working with us, 2019 is a ticking clock. They may turn 18 soon and have to move out of their foster parent's home; they may finish university and look for the next step in their careers; they may only be at the early stages of preparing their application to the university of their choice; they may be getting their first independent accommodation this year; they may look to progress in their career and much more.
No matter what ambitious goals our young care-experienced people have set themselves for 2019, together, we can support them and help them succeed! Thank you, for believing in their potential and for being a part of their journey.
Akira, 22 – Ambition, ambition, ambition
"[…] from when I stepped into the building and I spoke to my employers I knew that this could possibly be the place for me."
When Akira met Heaven, an Employment Consultant at Drive Forward Foundation, at a career's fare last year, the 22-years old had recently lost her foster mum, quit university, moved into independent living and was struggling to get back on track, emotionally as well financially.
Living on your own is "a very bitter-sweet experience and financially it has taken a toll on me; emotionally that has an effect on you and mentally kind of breaks you."
Before dropping out, Akira studied for a Master's degree at the London College of Fashion. Despite all the challenges and setbacks in her life, she never lost hope and was determined to succeed within the creative industries. Even when she had to deal with the loss of her foster mum, just a couple of year after her birth mother passed away, she knew that sitting around waiting for the perfect opportunity wasn't an option. So, Akira indulged herself in her advocacy work, blogging and freelance work to broaden her portfolio. And for the extra push into the right direction, she got in touch with Drive Forward.
When Heaven first suggested an opportunity with one of our corporate partners, Akira was sceptical. She had gone for jobs before and received lots of rejections, which made her wonder whether this time things would be different. Impressing our partners in the interview, Akira completed a two-weeks internship before being offered a fulltime position.
Now, Akira is a Junior Design Manager at Module Media Studios in the City.
"I oversee the clients and all the work that comes into the office, distribute it and make sure that everyone is on task; have a say in how stuff is designed, how stuff is developed, and really look at the progression of the company and building client and work relationships. And I really enjoy it because it's a really comfortable environment."
Without your generous support, Akira's transition into fulltime employment and a career she genuinely enjoys would have been much harder. You allowed her to fully focus on the job and the task at hand, instead of having to look for the money to cover the cost of travel into the city every day.
Jake, 20 – taking the first step
Jake has only been with Drive Forward for a couple of months. However, his drive and determination to move forward in life, have enabled him to progress quickly.
It's a series of unfortunate events that lead to Jake spending the past 2 years in prison. Now that he is out, he can't go back to where he grew up; he doesn't have a GP or a bank account; and he doesn't have a regular income.
Jake's goal for 2019 and beyond is to rebuilt his life, from scratch. He just moved into an area that is completely unknown to him; he doesn't have any friends and the only people he currently trusts are his Personal Advisor from the Leaving Care Team, and Felix his Employment Consultant here at Drive Forward. From the first meeting onwards, Jake has been keen to engage with Drive Forward and take up as many opportunities as possible. He has been a regular guest at our weekly lunch club, where he met professionals from various corporate partners, who he made a good impression on.
Regarding his career, Jake's interests lie in construction, security, fitness and healcare. He is very realistic and knows that in order to succeed in life, he needs to put in the effort and work hard. Him and Felix looked at many different options available and found an opportunity that immediately caught Jake's attention: a traineeship in Fitness Instructing and Personal Training.
The main aim of the 12-weeks program is to give young people vital skills needed to work within the health and fitness industry whilst also giving them hands on experience through work placements.
It is thanks to your vital support, that Jake was able to take up this fantastic opportunity and get to the course on time every day. He is in the final stages completing the course and will soon be ready to take the next step in his career.
For more stories and updates about events and volunteering opportunities please sign up to our mailing list!
Links: