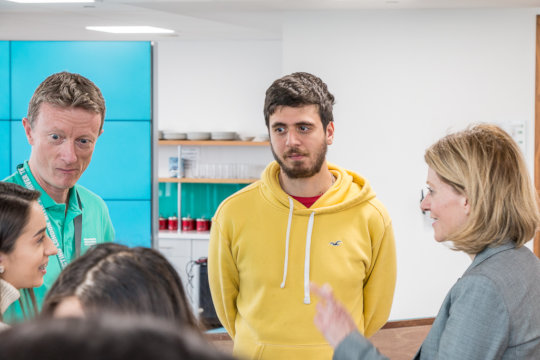 It has been an exciting couple of months here at Drive Forward with 47 young people moving into employment, 22 continuing their education or training, and 50 individuals developing their skills during internships and work placements since the beginning of the year.
Without your vital support, many of these young people would not have been able to take this next step in their lives. Thank you for believing in them!
Karlon, 21
Karlon is one of many young people accessing Drive Forward in one of our service Hubs across London. Most of the care-experienced individuals working with us live quite a distance away from central London, and coming into our offices in Waterloo would cost them valuable time and money. That's why, since 2014, our Employment Consultants have offered 1-2-1 employability and career support alongside Leaving Care Teams, Social Services and Job Centres across Greater London.
Two years ago, Lambeth Council decided to integrate our work into their own programme aimed at supporting care leavers into independence. The Step To Success Programme supports young people leaving care in Lambeth into sustainable employment, education and training. That's how Employment Consultant Heaven met Karlon last year.
As he had been working before, Karlon knew what he wanted and was motivated to put in the effort. Their work together was therefore very much focused on finding suitable employment for Karlon to enjoy and progress in.
He started an apprenticeship in formwork earlier this year, and so far, is enjoying the experience and the job very much.
"I've worked in construction before, but I didn't have a job for quite a while. So, I'm still getting used to waking up early in the morning and stuff like that. I'm slowly getting the hang of it."
However, before getting this job the 21-years-old was on Universal Credit, which left him with £250 per month to budget for everything apart form rent. "I've been in quite a bit of debt for quite a bit of time... And sometimes you do end up running out of that £250... like two weeks or one week before you get paid." In those cases, Karlon would have to go and ask for help from friends and family, which made him feel a little bit embarrassed.
When Karlon started his apprenticeship, he found his workplace being in one borough and his college being at the other end of the city, facing a potential cost of £6.20 per day in travel only. Being on UC, he would have been unable to commit to the job. Knowing of his financial situation, Heaven preempted this potential challenge and offered Karlon support from the Closing the Gap fund.
"I didn't have that much money for me to afford to go to college and back... When I said that I needed money for travel, Heaven has actually given it to me, without saying anything about me having to pay it back! ... That helped me a lot and I was on time for my college and never turned up late, or didn't turn up at all because I didn't have the money."
Andrea, 21
After a gruelling and intense interview process which involved multiple applications, phone interviews, face-to-face interviews and presentations, Andrea gained a prestigious internship with the Scottish Government Offices in London.
But Andrea's journey hasn't always been that smooth. When she joined Drive Forward, the then 20-year old felt stranded; "At that time, I was stuck; I was at a point where I could not move forward on my own. I needed help." She had just dropped out of university (due to financial as well as wellbeing issues) and had no idea where she wanted to go and what she wanted to do.
"When I met my Employment Consultant Nicholl in January, we immediately got to work. She helped me explore my interests and career aspirations and gain a better idea of where I wanted to go. We began working on my CV and writing role-specific cover letters; and before an interview, we would meet and she would coach me 1-2-1 to help me present the best version of myself."
After only 2 months of working with us, Andrea was offered a paid internship with Hill+Knowlton Strategies -a global public relations consulting company.
"I got to work within the healthcare and sports sector. I got to learn about various pharma companies, was involved with the campaigning of various health care events for things such as Rare Disease Day. I also got to help with the preparations for Adidas campaign for the women's world cup adverts!"
With this and some other experiences in the bag, Andrea was a perfect fit for the Admin Support Internship with the Scottish Government in London.
But after the initial elation, Andrea then quickly realised that she had no money to travel to work before her first pay day. Instead of Andrea having to bring this issue to her brand new employer, DFF were able to provide Andrea with the money through the Closing the Gap Fund.
"It falls within my responsibilities to ensure that everybody within the organisation is able to do their jobs as smoothly as possible. I'm responsible for managing the room booking system; I manage the Director's calendar, keep an eye on stationary stocks etc. I have further gained experience in event management, facilitate well-being activities for staff (Office Yoga!) and administer payments. I even met the Scottish Permanent Secretary Leslie Evans!"
Mercedez, 24
Mercedez is 24 years old, lives in North London, and is currently doing fantastically at a summer work placement with our new corporate partners at Superdrug.
Put into care at the age of 16, the young woman had her fair share of troubles and challenges in life. Nevertheless, she managed to gain and sustain several jobs over the past couple of years including admin, retail and bartendering roles. Her experience, natural and polite demeanor made her the perfect candidate for a brand new internship programme with Superdrug, which has been developed around the needs and career aspirations of each young person. In Mercedez' case, she is working with the Business Development team, to learn more about the ins and outs of a large retail company.
Upon starting the placement, Mercedez had been in touch with her Employment Consultant expressing her anxieties and serious concerns that she may have to turn the opportunity down regardless of how hard she worked to get it (doing a Skype interview all the way from Jamaica!) and what it could do for her future career prospects.
It is thanks to your fantastic support, that Mercedez didn't have to miss out on this opportunity she so genuinly deserved.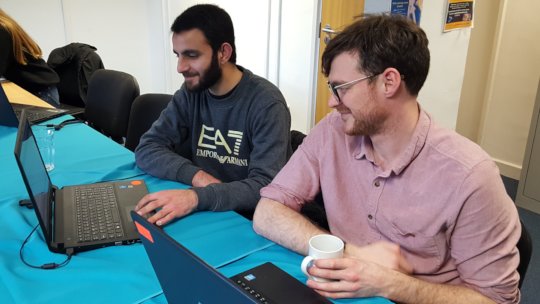 Links: