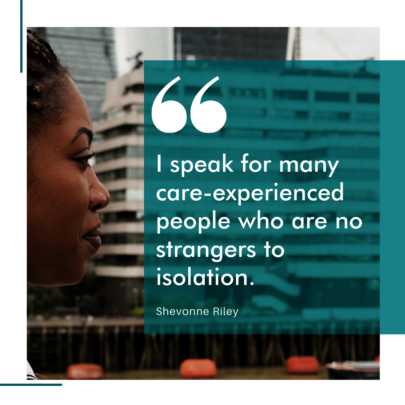 "Thank you so much I was freaking out thinking no one cared. I'm so grateful. You messaging me shows you thought about me in these hard times. I really do appreciate it." – Paige, 19, lost her job at a London cinema
Coronavirus is on everyone's lips and we fully support every effort being made to tackle this global crisis and keep people healthy and safe. This includes putting the necessary support systems in place to help those most affected overcome the challenges ahead of them.
Young people with a background in foster care are particularly heavily affected by the effects of social distancing and isolation. Feelings of extreme loneliness, low self-esteem and helplessness can often become extremely over-whelming.
Many of those working with us have further experienced severe financial hardship as a consequence of the chaos around them. They've lost their jobs, educational bursaries have not been paid, and with almost one million people applying for Universal Credit within just two weeks, they're really struggling to make ends meet.
After having an honest conversation with our partners at GlobalGiving, we're immensely grateful that we're now able to offer these young people a helping hand by using the remaining funds from Closing the Gap.
As a previous supporter you know how eager, driven and dedicated our young people are to find employment, progress in their careers and make a positive contribution to society. Their ambitions and enthusiasm haven't changed and our team is doing everything in its power to continue to support them to drive forward.
But right now, they need your help to get through this crisis. They need your help to stay motivated and keep their eyes focused on what lies beyond.
By contributing to this project, you continue to make a lasting impact on care-experienced young peoples' lives. And for that, we'd like to thank you with all our hearts.
Your Drive Forward Team.
Learn more about how the current crisis affects young people's futures on our website.
Here are some stories from young people you've helped make positive changes over the past months.
Ven: a single mother with ambitions
19-year-old Ven joined Drive Forward in October last year. Eager to move forward in life, this single mother was looking for a job opportunity that would allow her to build her skills and gain experience, whilst still being able to spend time with her child.
Having always had a passion for working with children, Ven was particularly interested in teaching and education. Her Employment Consultant Justin suggested to her to look into teaching assistant opportunities, ideally in a school close to her home. So, they registered with websites and created job alerts, and after only a short while Ven began receiving interesting job opportunities in her inbox.
Ven and Justin put a lot of effort into crating a professional CV and tailoring personal statements to individual roles. One opportunity in particular caught Ven's eye: a teaching assistant role with a school that would see her support children with learning difficulties. Whilst being a full-time job, the school would provide her with enough flexibility to juggle both a job and being a mother. Ven knocked out a brilliant application and smashed the interview. She was super happy and excited about being offered this opportunity!
The only downside was, that this particular school was located a bit further away from her home and Ven needed to get public transport in order to go to work. This would put additional financial pressure on Ven, who was already living a very humble life in order to best care for her child.
With her child always coming first, Ven was prepared to turn down her dream job, due to the lack of funds to travel there!
Lucky for Ven, you have provided Drive Forward with the necessary funds to help out. And so, Justin was able to pay for Ven's travel for a whole month until she received her first pay check!
Thanks to you, she started her job at the end of October. Ven is still there today, able to juggle her job and being a mother and is doing well at both.
Dave: turning his life around
Dave had been involved with gang activity and gang violence for a number of years. The 20-year-old had had his fair share of challenges and disappointments in life and came to join Drive Forward dedicated to making a real change in his life.
He realised, that one of the things he needed to take control of was money. He wanted a stable job, with opportunities to progress, and to earn a reasonable living. At the same time, Dave understood that his past would be a challenge when it comes to applying for jobs. As a former gang member, he isn't able to go everywhere in London, or even just travel through certain areas.
Together with his Employment Consultant, Dave looked into opportunities in construction. Whilst Dave had never done anything like that before, he was eager to learn more about the subject and give it a try. After a short while, they found a training provider where Dave could obtain a CSCS safety certificate.
As the area has to be a safe location for David to travel to, it turned out to be further away from where the 20-year-old was currently living. Out of pocket, but desperate to attend, Dave asked Drive Forward what to do.
With your gift, you gave Dave a chance to complete the course and start turning his life around.
Dan: The early bird catches the worm
Dan has dreams of being a footballer. The 19-yearls-old is already a high-level amateur and was looking for a job that would allow him to pursue both his training ambitions and further his career.
With Dan not really knowing which career path to follow, Justin decided to take him along to a jobs fair, which was particularly promoting different roles within the hotel industry. Dan spoke to many people from various establishments learning about all the many different jobs available in the sector. His curious and approachable nature really came to the forefront and Dan made a couple of good impressions. After a while, he came to talk to the Head of Catering at Park Plaza and was offered a job on the spot!
They were particularly looking for enthusiastic people willing to start their days early and join the hotel's breakfast team. What looks like an absolute no-go to most 19-yearls-olds was just another challenge to be overcome for Dan. Prepared to get up and leave his house by 5am, Dan jumped at the opportunity eager to prove his commitment to succeed.
The only thing Dan was slightly concerned about was how to get to work on time whilst not having to spend too much money as he had to wait several weeks to receive his first salary in the bank.
Thanks to you, Justin was able to offer Dan his first month of travel, allowing him to not only make his shifts on time, but to become a valuable member of the Park Plaza team. Dan was offered another role shortly after starting his job; this time with kinder hours
Thank you for believing in their potential!
Links: