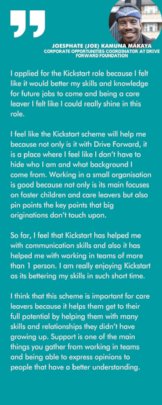 The past three months have been an exciting time for our team as well as the young people working with us. In the face of a continuously challenging jobs market, our Employment Consultants and Corporate Team are putting in the extra effort to find and create valuable opportunities for the young people working with us.
Since the beginning of the year, 129 young people joined Drive Forward; 118 achieved tangible EET outcomes including 37 full-time jobs, 5 apprenticeships as well as 10 flexi and 13 part-time jobs. 25 young people have completed training courses including a Salesforce Business Skills Programme, an exciting film-making course with Kennington Film Studios, as well as coding and CSCS courses. Young people working with us further completed (or are currently enrolled in) some 30 internships, work placements, and work trials.
Here's a flavour of their stories.
Kickstarting his career – Josephate
Joesphate initially joined Drive Forward as a young person looking to find his feet in a career that he enjoys. Having only left care in early 2021, Joe immediately took initiative when he read about a job opportunity that came up within our team earlier this year. As the Corporate Opportunities Coordinator, Joe supports our team to identify and create work and training opportunities where care-experienced young people can live up to their full potential. We specifically developed this role to create an opportunity for a young person at risk of long-term unemployment as part of the government's Kickstart scheme. Soon after Josephate started, we realised how lucky we were to have him on board.
Having recently moved out of London, which means that his travel costs have increased massively. Thanks to your generous support, Josephate can continue to utilise his own lived experience to actively enable other young people to achieve their goals in education and employment.
Prepping for life after university – Lola
Lola studies Accounting & Finance at Kingston University. With one more year to go, she is eager to get some quality work experience under her belt, before being pushed out into a volatile and competitive jobs market. Lucky for Lola, we recently launched a new programme, The Advantage programme, which we developed specifically for care-experienced undergraduate students to support their transition from university into a career.
Lola heard about Drive Forward at university and joined the prorgamme in March this year. Motivated and eager to gain new experiences, Lola made sure to attend skills building workshops, 1-2-1 sessions with corporate volunteers, and apply for internships with our partner network. Off the back of an individual coaching session, our partners at Baringa Partners offered Lola a two-week placement within their finance team. Following on from that, she went on to complete another week with Lloyds Bank Auth and Fraud department.
But what Lola really wanted was a proper summer internship that would allow her to gain real office experience whilst developing practical skills. Together with our partners at The Crown Estate, we weren't only able to cater to her wishes of an 8-weeks long internship this summer, but we even got the opportunity registered with Kingston university, thus, allowing Lola to put a full 300 hours towards an entire module! The finance team at The Crown Estate made sure to tailor this opportunity to Lola's and the university's requirements; including specific learning outcomes, offering her to work at least 2 days a week in the office, providing lunch, and a London Living Wage salary.
In addition, your support enabled us to cover Lola's travel for the entirety of her internship!
From care to... – Precious and Tionne
… the civil service
For the past 6 years, we've been working closely with government departments to develop, implement, and improve the Civil Service Care Leaver Internship scheme. Offering opportunities for care-experienced young people across multiple departments, the scheme provides a fantastic career entry point.
This is what Prescious realised when she first heard about the scheme. A single mum living in Lambeth, she was looking for more than just a job, but something that would allow her to progress and build a life for herself and her child. With the support of her Employment Consultant, Prescious nailed an internship with the Foreign and Commonwealth Office, which she started earlier this year.
With the pandemic still ongoing, Prescious started her role virtually. However, she didn't have broadband in her house. As a care-experienced single mum, Precious had different priorities. Now, she needed a stable and fast internet connection in order to fulfil her responsibilities at work, but she didn't have the money to afford the extra cost; not until she would receive her first pay check.
Thankfully, your gift has enabled her still pay for broadband and start her career with the civil service.
… an apprenticeship
Having joined Drive Forward in the middle of the pandemic, the 22-years old Tionne also felt that the civil service opportunity offered a great chance of finally moving away from retail and starting out in a career that she would truly enjoy. She worked with her Employment Consultant to tailor her written application to the role, practiced job interview situation and questions with professional volunteers, and was eager to succeed.
However, it was Tionne's time to join the civil service. This little drawback didn't discourage her to keep on pushing. She worked hard on finding other opportunities that fit her ambitions and expectations, put in the effort to apply, and finally landed on an apprenticeship in business administration with MCG construction.
As you already know, transitioning from benefits into employment is like walking on a tightrope. You're floating somewhere in the middle, with either end of financial stability being far away. But, thanks to you again, Tionne didn't have to worry about falling off the rope. By providing her with the funds to afford her first month of travel, you helped her balance successfully to the other end!
If you want to learn more about this and other initiatives please subscribe to our newsletter.
Thank you for your ongoing support and believing in the potential of young people!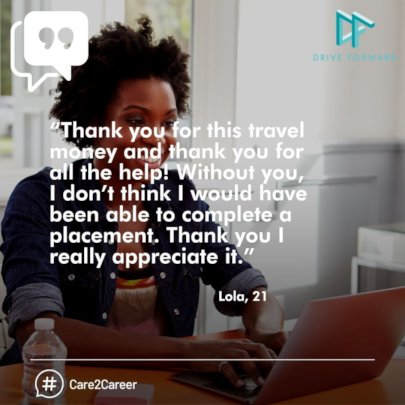 Links: