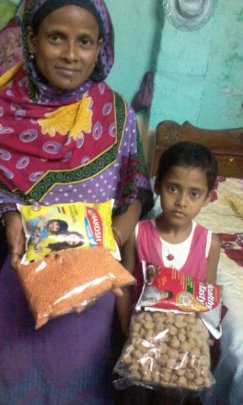 Food rations have been distributed to a number of extremely vulnerable families, thanks to your generosity. With food in their stomachs, the children can concentrate at school and their mothers have more energy to help themselves out of their terrible situations. Tiljala SHED also supports these families through the education programme and through the Livelihood Microfinance Programme. Our aim is to empower these women to change their own lives, but sometimes the basics like food rations have to come first
Anwari resides beside the canal-sewage in Narakeldanga with her family consisting of four members. Her husband died some years back and she had to support their family single-handedly through rag picking. She lives under extreme poverty. She earns around Rs 100 (less than 2 US$) daily. She works 8 to 10 hours daily. Age is catching up and she is finding it very difficult to continue with her work. She is malnourished and needs proper food as she has to go empty on many days when there is no sufficient income. She has 5 family members. With this monthly ration she can sleep with full stomach and would not have to starve.
Afroza's husband was a drug addict and prone to domestic violence. Afroz would often fight with her husband over trivial matters. Her children were also not attending school. Her husband later abandoned the family. Afroz has set up a small grocers shop and earns between Rs 1500 to Rs 2000 per month. Her neighbour sometimes helps her with some food and money. Struggling to stay alive with limited means, this ration support means a lot to Afroza and her family. This emergency food support is a ray of light in their darkness.
Nazma is very weak due to lack of nutrition. Her husband does not care for the family and spends his income on liquor. They have three children who do not get sufficient food. All are malnourished. Nazma is severely malnourished and they are 5 family members.
Moijan is married to a drunkard who very often abuses her both physically and verbally and does not give any money for the upkeep of the family. The burden of looking after the family has fallen on Moijan shoulders and she has been struggling since then. She has 6 members in the family. Since her husband is good for nothing, she has taken charge of her household. This ration will enable the family to survive as they are now going through a very tough time.
Sonali lives with her daughter and mother in a small house measuring about 70 sq.ft small tiny room. She works as a maid servant and earns Rs.1500 in a month. Her husband married with other women and has moved away and deserted the family.
He doesn't give money to run the family as a result the family is struggling to make ends meet. Sometimes, Sonali brings food donated by neighbours or relatives to feed the family but this are not regular hence she cannot depend on it. She really needs regular ration support to sustain the family.
Parveen, aged 28, is a widow and has to take care of her large family all by herself. With five hungry children to feed with limited income. Her children are all victims of malnourishment. Parveen needs all the help available. She is a rag picker. Her husband was an alcoholic and a drug addict who passed away more than 6 months ago.
Salma lives with her family of six members. She along with her husband are involved in rag picking but lately both have health issues hence they cannot work long hours. This has had an adverse effect on their family finances. Now they are finding it very difficult to meet ends. She lives in Tangra along the canal side. This ration will be a great help to this family as they will not have to stave now. Thanks to this project.