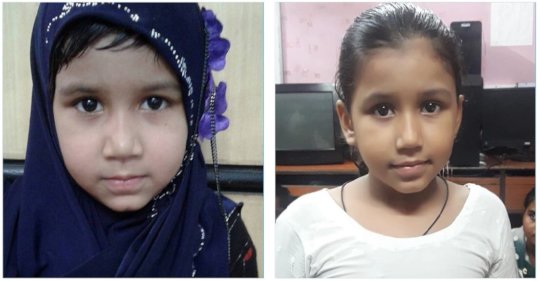 This is Zaira. She joined the Global Giving sponsorship programme when she was just 4 years old. She lives in a 100sq ft rented room in the Tiljala slum with her family of five. Her father earns just Rs4000 (£45 or USD58) per month as a labourer. When the parents approached Tiljala SHED, we thought Zaira was too young. However her mother, Nazni, told us how Zaira was already loving primary school. Her parents were so keen that their daughter should have this chance and that they would do everything they could to support her. All her mother wants is for Zaira to get an education and have a better chance in life than she had herself. How could we say no? I am so delighted to report that 2 and a half years later, Zaira is doing really well. She has just completed class 3. She scored an astonishing 87% in her year end exams and still loves school. She says she wants to be a teacher when she grows up.
For Zaira's family sponsorship means that they do not have to go without food or get into debt in order to provide Zaira with the books, school bag, shoes and uniform that she needs. She'll receive extra tuition where she needs it; she will attend a variety of cultural, arts, sporting events; she is a member of the Gyan Azhar library where she can study, learn computer skills, read and borrow books. The family also receives a small allowance to ensure that Zaira gets good nutrition.
It costs just £27 a month to sponsor a girl like Zaira.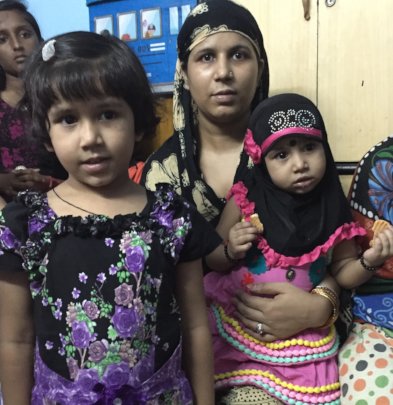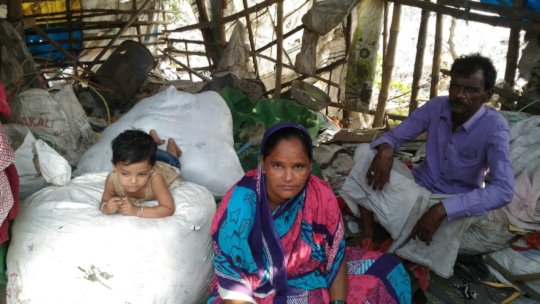 When everything went wrong for Ishrat, she was very lucky that donors like you had supported her through Tiljala SHED's livelihood programme. Ishrat was born into a large rag picking family, had no education and was married off at 14. Ishrat and her husband Nasir have 3 children. They run a sack-selling business: they buy old sacks, sort them and then sell them on. They used to make a profit of about Rs7000 (£78 or USD100) per month which was just enough to feed the family – but they had no way of improving their income without an injection of capital. So Ishrat approached Tiljala SHED for a loan of Rs15000 to enable them to expand the business. They rented a godown (warehouse) increased their stock and improved their monthly income by a further Rs3000
Access to financial services and to credit is one of the most effective ways the ultra-poor can help themselves out of the cycle of poverty. Kolkata's rag pickers are so poor, though, that normal banks won't lend them money. Money lenders charge extortionate interest rates and families can find themselves deep in debt when they cannot repay a loan. Tiljala SHED's livelihood programme exists to help the poorest of the poor – not to exploit them. We understand that things go wrong, people fall sick and need to cover medical costs, businesses don't always grow as fast as people want. In Ishrat's case the godown and all her stock were burned to the ground in December last year. They need to start all over again.
Ishrat will be given a further loan to help her build up her business again and she is on very relaxed repayment terms. She wants to pay back what she owes but she does not need the added stress of growing debt. Mita, Mijanoor and the rest of the team at Tiljala SHED who run this programme with such care and humanity are there to help Ishrat and her family improve their lives.
Thanks to you and other donors Tiljala SHED can give families like Ishrat's a second chance. Please consider a further donation today so that we can help more families like Ishrat's. There are currently 90 families waiting for small loans.
Since April 2016 £48,000 (USD63,000) has been disbursed to 166 families. £28,600 has been repaid so far and loaned out again to a further 116 families. Total 282 families have been helped. The present recovery rate is 97%.
Murshida, resident of Topsia canalside squatter camp is 18 years old. She has just completed her final school exams. Her father is a tuktuk driver who earns about £2.50 (Rs200) a day. Most girls in this community marry at 12 or 13 years old but Murshida and Tiljala SHED's staff persuaded her parents to let her continue her education. Murshida has attended Tiljala SHED's classes since she was small and aspires now to become a teacher. She shows every sign of accomplishing her ambition.
And this is why our work is so important. We have to be there for every child who dreams of something bigger, every child who wants to help his or her family, every child who wants to correct injustice, to teach, to heal, to create, to inform. We need to provide an environment where a child who dreams gets a helping hand, the tools and opportunities he or she needs to change his or her life.
So 600 children of rag pickers, rickshaw drivers, maidservants, vegetable sellers are enrolled on Tiljala SHED's Education and Child Protection programme. They are required to attend their local government school but in the afternoon they attend remedial classes in T SHED's 5 centres, one in the heart of each community where we work. Here they play, sing, complete their homework, attend remedial sessions and child protection workshops. They love the classes and attendance is very high. Their parents are also closely involved - after all it is only with the parents' consent that the children remain in education and avoid dropping out. Tiljala SHED works very hard to persuade the parents that a proper education is worth the sacrifice of anything a boy might earn rag picking or working in a factory. And infinitely better than marrying off a daughter as soon as she reaches puberty.
This is the partnership required to raise a child to be the very best she or he can be: the child's own determination to succeed; the consent of the parents; support from the wider community; Tiljala SHED's amazing work.
And the cost of giving a child the opportunity for a better life…
£11 a month.
WARNING: Javascript is currently disabled or is not available in your browser. GlobalGiving makes extensive use of Javascript and will not function properly with Javascript disabled.
Please enable Javascript
and refresh this page.