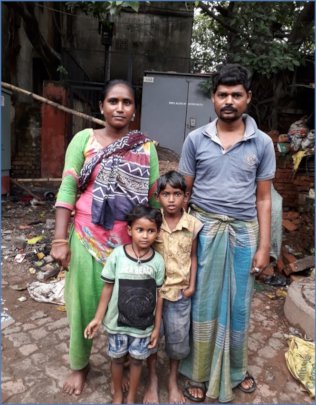 Arjina and her husband are rag pickers. They live on the street in a makeshift shelter with their three children. Last week the police tore down their home. This week, thanks to your generosity, 10 very needy families including Arjina's received emergency food rations.
The monsoon rains have been unusually heavy in Kolkata this year and this has a particularly severe impact on families who live on the pavements, with only plastic sheeting and other scavenged materials to keep out the rain. There are a number of families living like this, dependent largely on rag picking, on the street beside one of Kolkata's biggest municipal hospitals. Last week, the police decided to clear the pavements by ripping down the tarpaulin shelters, leaving families with no homes and no protection at all against the weather. Tiljala SHED appealed to a local benefactor who immediately arranged for tarpaulins to be delivered to the desperate families. And food rations were distributed from this Global Giving project. Both Tiljala SHED staff and, of course, the beneficiaries are delighted that these funds are ready to be deployed in such circumstances. Thank you so much for your generous contributions and please pass this on to your friends and families. The more funds that come in, the more families can be helped in an emergency.
Your donations have given them relief this week – each family received a pack containing dry rations: rice, dal (lentils) chana dal (dry chickpeas), oil and soybean protein. The mothers are delighted – at least the children won't go to sleep hungry for a few days.
Thank you very much from all these vulnerable families
Arjina's Story
"Arjina is 32 years old is a rag picker and lives on the pavement near ESI Hospital. There are five members in the family (2 daughters + 1 son).
Her younger daughter studies in Class IV and her other daughter studies in Class II. Her son studies in Kindergarten. Arjina and her husband work together as a rag pickers. But this income is not enough for running the household expenses. Sometimes the family goes to bed without food.
Without the supplementary ration support the family would starve. They sleep in the open pavement. During the rainy season, the conditions becomes very difficult as they sleep under a tarpaulin. Local goons and police are a daily harassment for this family. The young girls do not have any security. The local political goons drink alcohol nearby their temporary makeshift structure and takes away water which is being stored for the family drinking purpose. With Tiljala SHED ration support, the family will not starve hopefully. But this one of a family who needs regular support as they are more likely to starve. Since they are basically on the footpath, diseases are more prevalent among them. Diarrhoea, Malaria, High Fever, Coughing are regular problems and found in almost all the homes."
It costs Rs 1200 (£13 or USD25) to provide a week's dry rations for a family of 6