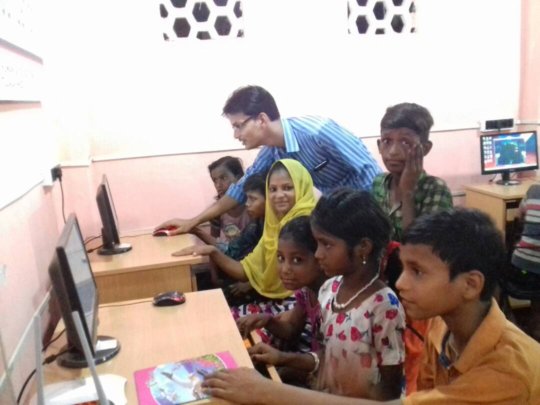 Because of your generosity and the success of this programme, we are now able to make a step up to a properly sustainable programme in Topsia. By providing a nutritious meal to 450 people every weekend over the past 18 months, Tiljala SHED has been able to build trust and co-operation. Visitors have occasionally come along to help out with the weekly "langar" and chat to the families and see how they live. Out of these visits have come offers of help from local benefactors. Electricity is now available to every household and toilets are being built. The community centre where the food is distributed every week has had a complete makeover. There is a new floor, fresh paint on the walls and a computer classroom has been built. The children are now learning computer skills with daily classes. We have also been able to provide more after school remedial support and sports coaching for children in classes 6 – 8. This will help keep the children in education and eventually help them to move out of the squatter camp and into mainstream society.
Topsia no longer feels like a forgotten backwater: things are happening here. And your donations have helped make this major change.
Tiljala SHED's principal aim is to empower vulnerable people to change their own lives and it is with this in mind that we feel the time is now right to hand over the distribution of emergency food and medical aid to the community itself. So while there may still be weekly meals for large numbers of people, the Association of Rag Pickers (the ARP), run by members of the community itself, but facilitated and supported by Tiljala SHED, will make those decisions. The ARP will assess which families and individuals are in most need and will apply to Tiljala SHED for the funds necessary. The ARP already collects subscriptions and uses these funds to support the children's education. This has been very successful, so we know that the ARP members will rise to the challenge and make the very best use of your funds.
Mohan's Story
Things were looking up for Mohan. He was the proud owner of a brand-new cycle van. He had taken out a small interest free loan through Tiljala SHED's livelihood programme and was all set to give up rag picking and start carrying small loads and earning enough to keep his young family as well as pay off the loan. Then in 2016 inside a few days his 31 year old wife, Guria, was diagnosed with advanced TB and his van was stolen. Mohan fell into a depression. Guria was too sick to care for all four of their children. There was no money coming in either for food or for the medical help Guria desperately needed. The staff at Tiljala SHED rallied round; they wrote off his debt and found families to take care of the older children. Guria's medical bills were covered and Mohan given the support he needed. The fortunes of a vulnerable family can change dramatically.
Tiljala SHED wants to change the nature of the project you have helped fund: in future the funds will be reserved for crises like Mohan's
So, on behalf of Topsia's rag pickers, we are asking you to continue to support this community with generous donations, so that they can eat well, be healthy, keep their children in education and their elderly cared for.