This project has for the last 5 years successfully provided emergency food rations and medical care to some of Kolkata's most vulnerable families at times of crisis. Thanks to our generous donors our staff have been able to step in to relieve distress when help is most needed.
In India's current COVID-19 lockdown, almost every family in ALL our target communities is hungry. Our beneficiaries across all our projects are mostly daily wage earners. So if a rickshaw driver cannot go out onto the streets to work, he earns nothing and cannot feed his family. A ragpicker, who depends on daily outings to collect paper, plastic bottle, aluminium cans, cardboard which she then sells to a dealer, cannot earn money if she is swept from the street by police enforcing the lockdown. Factories are closed; begging is impossible. Those who had small savings have used up their resources. Everyone is desperate.
But thanks to your generosity, there are some funds available to help out. Our team has been working tirelessly to purchase, to repackage and then to distribute food rations to almost 2000 families so far. Donations have come from individuals like you as well as other sources. But after this week, we don't know where the funds for the next round of distributions will come from. The lockdown continues and so does the hunger.
Shafkat and his team of volunteers are working under the most terrible conditions in temperatures above 30 deg C. They are wearing full PPE and ALSO are fasting as it is Ramadan, so they cannot even drink water. During Saturday's distribution one of the volunteers fainted and others felt dizzy and unwell. But they are determined to continue this work as long as there are hungry families and donors to provide the funds. So please show your support for some of India's most vulnerable and hungry communities as well as solidarity with our volunteers on the front line and make a special donation today. Rs7500 (USD100, GBP80) buys ration packs for 4 families (of approx 6 people) for a month.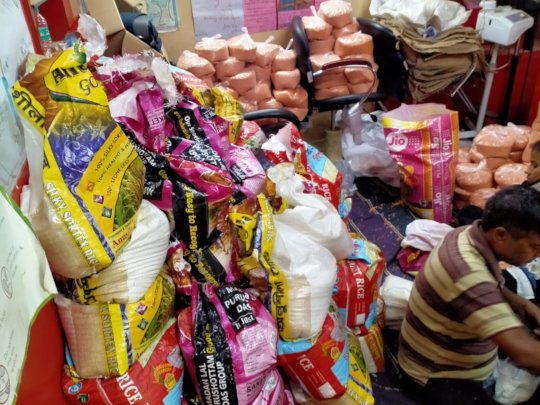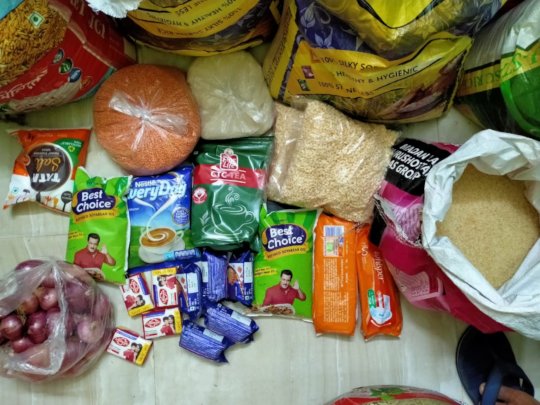 Suman is 16 years old. He lives in a makeshift shack in Kolkata's Topsia Canalside squatter camp. He lives with his parents and two younger siblings. His father, formerly a rickshaw driver, is now a security guard. His mother is a housewife. Family income is Rs5,000 – 8,000 a month (£50 - £80).
Suman has just sat his Class X exams and wants to be an electronics and telecommunications engineer. How can that possibly happen for him?
Suman belongs to Tiljala SHED's education programme, attending after school classes for children aged 12 and upwards. It's a very successful programme, encouraging youngsters to remain in education. There are 40 other young people like Suman in his Evening Class. They all desperately want to make something of their lives. The girls are fighting social and parental pressure to drop out of school and to marry. The boys face the pressure to drop out of school and take up labouring jobs. Many of the boys end up involved in crime, violence and substance abuse. Suman looks at the other boys. He says "They could do so well in studies and in life. But most of them ruin their lives". It is a credit to Suman's parents that all their three children remain in education and that they support Suman's ambitions.
Please consider a generous donation, to help other ambitious youngsters like Suman realise their dreams. My colleague, who interviewed Suman for me yesterday reported "He is sober, nice, calm, peace-loving, gentle, patient and shy." Yes he is. I met him in January and was so impressed.
I was in Kolkata in January, making my annual visit to the projects and meeting the beneficiaries. This is very important to me because I need to know that your donations are being well spent and that they have real impact.
On this day I was very much looking forward to meeting Rehana - one of the beneficiaries who has really turned her life around. But I was not expecting this. Here is an extract from my diary that day..
"Then the BDS (Livelihood Programme) women started to arrive. It became immediately clear that one of them, Rehana, was very sick. She is pregnant but has been bleeding for some time. She had been to the hospital and was told she urgently needs to be admitted. But her husband has run off with another woman and there is no one to take care of the children if she goes into hospital. Rehana is one of the stars of the livelihood project. She started by buying a cycle rickshaw and then bought another 9. She then sold them all and set up a godown (warehouse) for collecting and sorting waste from the ragpickers. She became pregnant with her 3rd child and her husband then started an affair. He and the girlfriend have absconded with most of the assets she had accumulated. The godown is not functioning as she is ill and she is very worried about how she will repay the money she owes. She is a fine businesswoman and entrepreneur, but life has knocked her. She says "When I get well I can restart the business" and I'm sure she can. While we were there she contacted her mother who can come and take care of her two children while she is in hospital. A member of staff will accompany her to the hospital and ensure that her bills are covered by the Emergency Food and Medicine budget. I wrote this as I sat there "I came expecting one kind of story but I got another. This is real life. I want to tell positive stories of redemption but life is untidy and amongst such vulnerable groups, very messy indeed." But thanks to Tiljala SHED, Rehana stands a good chance of getting her life back on track."
Rehana duly went into the hospital where she stayed a few days. She lost the baby sadly. I saw her again about a week later and she was so much better. She was full of smiles and tears - thanking us (you, the donors) for helping her. She was positive about getting back to her business and moving on with her life. Tiljala SHED will relax the repayment terms of her loan whilst she restarts the business.
Thanks to Tiljala SHED and to the generosity of people like you, vulnerable women like Rehana have the opportunity to make a success of their lives. She'll be fine and is probably better off without the duplicitous husband.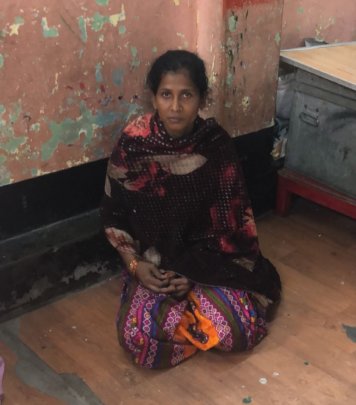 WARNING: Javascript is currently disabled or is not available in your browser. GlobalGiving makes extensive use of Javascript and will not function properly with Javascript disabled.
Please enable Javascript
and refresh this page.