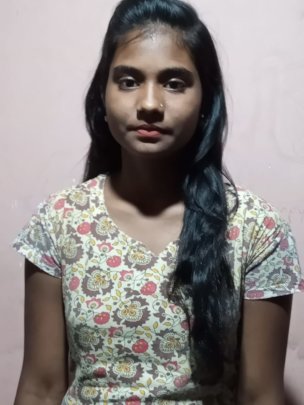 Sita, aged 17 years, of Class X resides with her family in Topsia There are seven members in her family headed by her father. He is a carpenter by profession. Her mother works as a maid servant.
Sita is one of the several students who attend our evening class. She is serious in her studies and wants to become a police officer. Her father is totally opposed to her staying in education. He thinks it is a waste of time for girls to study. Fortunately her mother thinks otherwise and encourages Sita to continue with her studies.
The teachers of Tiljala SHED fully support her in whatever way they can. She gets her text and exercise books free of cost. Tiljala Shed also pays her school and tuition fees. She is also in need of a smart phone so that she could participate in the online class conducted by her school. We feel that if we continue supporting her educational endeavour are sure she will achieve her dreams of becoming a police officer.
1. EDUCATION PRIMARY AND EVENING
Objective of the program: Children from the rag picker community and ultra poor families have access to quality education
Activities done:
Our educational intervention has also suffered immensely. School closure has dealt a body blow to education, the consequences which may unfold in the time to come. We had to stop our classes in all our centers .This was in accordance with the directives of the government.
No one is quite sure when the world will be functional again. We have tried to keep in touch with our students during the lockdown period but it is not the same as physically being in touch with them on almost daily basis.
1. Online classes were being conducted but most of our children could not afford to buy smart phones hence they could not take part in school studies. .
2. From the month of April 2021 all education centers have been closed because of the lock down.
Total no. of beneficiaries: 441
Primary section: Class I to V – 273 students.
Secondary section: Class VI to XI - 168 students.
OUTCOME OF THE PROGRAMME: Lessons of loss can best sum up the present education scenario. The closure of schools for long periods nearly 16 months at a stretch has meant that thousands of children have lost touch with lessons.
Distance learning and online classes are not a solution for large number of of children in lower income families. The crisis has intensified with the second wave. Children are dropping out of school in large numbers. Children often fail to follow distance learning, many forget what they have learnt especially if their parents have not been to school.
The pandemic has exposed the inequalities in the education systems that were taken for granted before Covid struck
2.EVENING CLASS EDUCATION SPONSORSHIP:
Objective of the program: To provide educational support to children from the rag picker community and ultra poor families to have access to quality education.
Total number of beneficiaries:20 students of Topsia Evening Class
14 are girls and 6 are boys
Activities done
• Monthly Mobile Recharge of data pack was given to students of Topsia Evening Class, who have received smart phones from Tiljala SHED to attend their online classes in school. The phones also help them to do their assignments and projects given from school.
Due to the sudden surge in Covid cases, again started the lockdown. The state government had ordered for a shut down of the schools again from April 2021. We also had to stop running the centres keeping in mind the safety of our children. But we, the staff of Tiljala Shed keep in contact with the children on a daily basis trying to know their problems and progress. We have arranged for online classes on English, Arithmetic and fitness classes given by undergraduate college students. This has been very helpful for our beneficiaries. It is sad that other students are unable to do the classes as they don't have access to smart phones.
• School Session Fees: Due to Covid 19 schools were closed down. As a result the Class X and Class XI Board Examination which was supposed to be held in June this year has been cancelled. The entire students have been promoted to the next class. The Class X students are waiting to get their mark sheets from the school based on the mock test and online assignments they had submitted to school. After they get their result, they will be able to get admission in Class XI. Students who have been promoted to Class XII need to get admission in class XII after paying their requisite fees.
• Tuition Fees: We have paid the tuition fees of children under education sponsorship till June.
• Books /Stationery: Evening Class students of Topsia Centre under Education Sponsorship who have been promoted to their next class will be requiring new books and stationery for their new classes in July and August.
• School Bags: Although the schools are closed now and there is no idea when they will reopen, the children will be requiring school bags to keep their books etc. and to take them to th eir tuition classes. Few bags had been given in the first quarter and few will need in July/August.
• Bicycle: Two students Fahim and Rohit of Topsia Evening Class requested if they can get bicycles to use for going to and from tuition classes and for school also after lockdown is over. The bicycles help in many ways.There are two more children from Mir Meher Ali Lane of Class X ,not under education sponsorship but require bicycles.
OUTCOME OF THE PROGRAMME:
With your support the children can now dream of completing their education without which it wouldn't be possible for their parents to bear their children's educational expenses. They are thankful and grateful to their donors and Tiljala SHED for all the support they get.