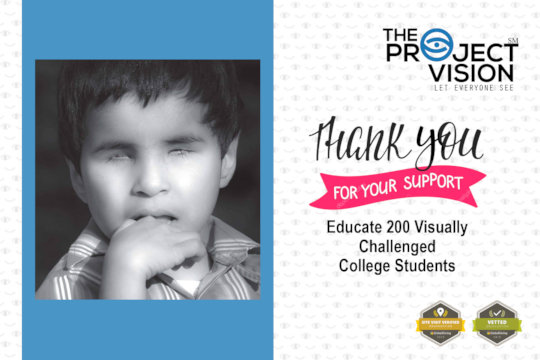 Educate 200 Visually Challenged College Students
The project which started towards December 2015 with the objective of educating 200 visually challenged college students, has been satisfyingly successful in fulfilling their dreams through the funds collected by GlobalGiving. The requested fund amount was $20000 while we raised $14305, which is 72% of the desired amount. From December 2015 till April 2019, we had facilitated support for three academic years.
The Project Vision is an initiative of the HOPE Society, to help visually challenged people. Out of the 39 million blind people in the world, 15 million are from India. Project Vision is the result of this realization. Our Vision is to "Let Everyone See" and our Mission is "To provide opportunities for all visually challenged people and to help them lead a happy life." To realise this mission, Project Vision is focusing on the higher education of the visually challenged, through the present initiative.
Problems Identified and Solved
We understood that the visually challenged individuals are facing a lack of educational opportunities. Project Vision being operational in Bangalore, Chennai and Kerala decided to address this problem, after which we were able to provide facilities to ensure good quality higher education to the visually challenged. This was a big leap towards fostering 'inclusive education' in the higher education system for visually challenged students.
What We Did
TPV promoted the creation of facilities in colleges required for the study of visually challenged students as well as provided basic support for economically weaker students to access them. 80% of such students came from economically weaker backgrounds. They needed support for digital study aids and for their transportation cost, hostel and basic facilities in the hostels. Thus by establishing special centres and empowering students to access them the problem was almost addressed.
A Summary of Activities and Support During This Funding Period
We were able to directly help 50 visually challenged students to continue their higher education.

Aided in funding 32 visually challenged students from Bangalore.
Monetary aid was provided to 100 blind students at the inauguration of the Youth Wing of National Federation of the Blind (NFB, Tamilnadu Branch), on Sunday, 17th April 2016 at Manayarkarasi Narpani Mandram, Adyar, Chennai.
On the 15th of January 2017, celebrating a church youth fest was one of a kind to include the blind students in the fun activities. An innovative cause of involving these special talents in a treasure hunt, in which they themselves were the treasure, teams from around the city took part in it and took good care of the blind. For the first time in the world may be, blinds took part in a " *DUMB CHARADES* " competition helping their respective teams win. Thanks to Suresh and his team from The Project Vision who made this youth fest "Les Fabuleux Asiaa" a success.
On 23rd March 2017, The Project Vision presented certificates for the first batch of visually challenged students who had completed their computer training. Ms Aicha Mokdahi, the President of Essilor Vision Foundation based in Paris distributed the certificates.
On 18th of June 2017, a get- together was organized by the Project vision team along with differently abled children and the children of disabled parents. During this meet, The Project Vision paid out their annual school fees.
Nisha a visually impaired always had an urge to write from her very childhood. With the help of her mother she began writing and completed five books of poems. This is now helping her at this situation for a livelihood. The titles are Shabdam Varachha Chitram (Art drawn by the sound), Oru Vasanthakaalathinte Ormayikku (To the memory of a spring), Akakaazhcha(Inner sight) and Oru Rapadiyude Gadgadam (The weeping of a Nightingale). "Mounavilapangal" (Silent Sorrows) was her latest book, which she found very difficult to publish due to financial constraints. Support was given through The Project Vision to publish her book.
IFS dreams of Anshi, Eleven year old Ms. Anshi, a visually challenged music prodigy, developed interest for learning foreign languages and was able to learn and sing in about 12 international languages.Anshi's dream is to become a diplomat, an IFS officer. Knowing about this, Project Vision adopted Ms. Anshi for her future studies, to help her realise her dreams.
Million Eyes Short Film Festival- the term coined with the intent to get the message of eye donation to a million people. The first-year edition was a successful launch as we reached out to a million people through this festival. We felt promoting a social cause through artists, writers and filmmakers is effective in this modern society who thrive on video driven content. The Shortlisted 15 short films were honoured, and the top three films were presented with cash prizes and awards.
The Kerala Floods had made many families homeless, so we wish to rebuild houses for the poorest of the poor. We continue to work on this mission by concluding this project and starting a new project to build permanent houses for the deserving families.
Thanks for all your support and help which has been our fuel to run this program and activities. We also humbly request your support for our new initiative to build permanent houses for the flood affected families of kerala.
Links: