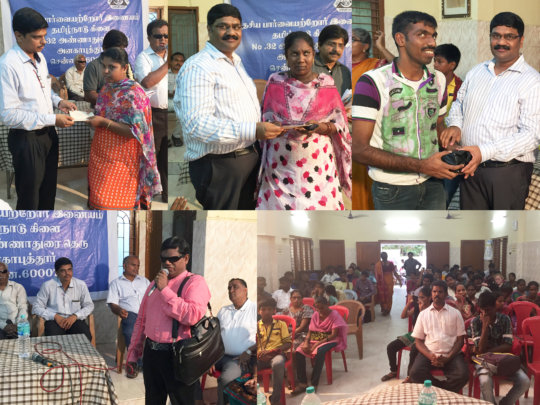 EDUCATIONAL AID PROVIDED
Bangalore, Karnataka
Our Vision is "Let Everyone See" and the Mission is "To provide opportunity for every visually challenged to gain sight and for the permanently visually challenged to live a full life".
To realise this mission Project Vision is focusing on the higher education of the visually challenged through the present initiative. It is important to make them economically viable for the visually challenged students since 80% of these students come from economically weaker backgrounds. We are trying to create a model to bridge this big gap in the education system through this project.
We at The Project Vision further supported students in Bangalore, for paying their educational expenses. With your support the amount we raised we could provide the following to these students:
College Fees
Education Aids like: Braille equipment, Books, Pen drives
Hostel Fees
ARRANGED SCRIBES FOR EXAMS
In the words of Helen Keller, "I have walked with people whose eyes are full of light, but who see nothing in the sea or the sky, nothing in the city streets and nothing in the books. It was far better to sail for ever in the night of blindness with sense and feeling and mind, than to be content with the mere act of seeing. The only lightless dark is the night of darkness in ignorance and insensibility.
The Project Vision understands the anxiety students go through during examinations and were able to provide scribes to teach blind students and take up their respective examinations for this academic year 2015-2016 which concluded in May.
However, while catching hold of a scribe is one thing, securing a reliable associate is quite another. Visually impaired students say that scribes with empathy, who appreciate how much the examination means to the visually impaired student and always give of their best, are indeed rare to come by.
Giving them equal opportunity to perform to the best of their capability is what is needed. There is no denying that every person has the capability to perform like any other.
Chennai, Tamilnadu
Our Chennai co coordinator Mr.Soy Joseph had worked on identifying deserving students from Chennai. We organised an event to distribute aids to the visually challenged students. Mr. Sibu George representingThe Project Vision, Bangalore was the chief guest gracing the event.
Monetary aid was provided to the blind students at the inauguration of the Youth Wing of National Federation of the Blind (NFB, Tamilnadu Branch), on Sunday, 17th April 2016 at Manayarkarasi Narpani Mandram, Adyar, Chennai.
Educational aids like mini digital speaker, pen drives and history text books were also distributed. Your support will enable a visually challenged student to become employable and thus become independent.
A WORD OF GRATITUDE
We are highly encouraged to work on this mission with the funds that you've donated. Thanks for your generosity.

Together we can

'LET EVERYONE SEE'
The Project Vision Team