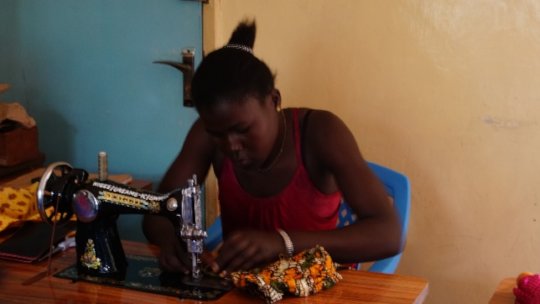 "Whenever I reflect on my past and what I have gone through, I get motivated to thrive for a better future, a future where I would not depend on someone for help, a future where I can make my own decision, a future where I can pay my own bills, a future where I will not depend on a man to be happy." Laurine, a student from the tailoring course.
It has been an incredible quarter with many more beneficiaries accessing training at NIGEE's Girls Empowerment Center (GEC), and bringing with them a vibrancy and sense of value to the Center's activities and classes. We continue to appreciate and thank our donors who are making this possible.
During the period October to December 2017 NIGEE continued to advance the GEC within Kisumu:
So far we have reached 360 girls with the skills training since the inception of the program. In the period under review, we were able to enroll 68 new girls.
Currently there are 12 girls enrolled in computer classes, 44 girls in hairdressing and 16 girls in tailoring; we are purchasing two tents to accommodate the large number of girls for hairdressing; another room has been given over to the tailoring class with new sewing machines ordered and more computers have also been added to the lab.
In December, a total of 112 girls graduated from vocational training: 27 from hairdressing and beauty therapy course, 18 from dressmaking and design course, and 67 from computer literacy and applications class.
Our porridge program is an important part of our activities and currently 15 toddlers are benefitting as they take daily porridge at 10am; knowing that their children are being cared for and are close at hand, our beneficiaries are concentrating on their trainings.
The GEC safe space has continued to provide a temporary haven for girls and young women who have been sexually exploited and are in immediate danger; we provide professional counseling to the survivors who also get mentored by their peers and are linked to appropriate services and nurtured as their cases are processed.
The GEC Coordinator and Training Coordinator are working towards expanding our training capacity by engaging additional tutors to cope with the rapid growth in numbers.
The GEC continues to provide life skills training to the girls who register for our GEC courses as a form of psychosocial support. All the girls attend the sessions on a biweekly basis and as a result become confident in sharing their challenges and successes as they build self-esteem.
NIGEE participated in 16 days of activism against Gender Based Violence campaign. In partnership with other organizations and the County government of Kisumu we had a procession in Kisumu to mark the journey towards ending GBV in Kisumu.
The training coordinator participated in an interview with a local vernacular radio station (Radio Dala FM), and focused the 15-minute interview on creating opportunities for girls through mentorship.
Our Kuria anti-FGM project is also active, and 8 girls did their Kenya Certificate of Primary Education and we are happy to report that all of them attained marks fit for joining secondary school next year.
NIGEE is proud to share a success story of one of our beneficiaries:
Laurine's story
Laurine is a 23 year old, GEC beneficiary who hails from an informal settlement in Kisumu County. She got married at a tender age of 16.
She recalls the struggle she went through in marriage, and says she can vividly count the number of days she was happy as a woman of the house – which were few and far between.
Laurine's life took a drastic turn in the year 2002 when her father died and her mother had to remarry. Life with her step father was never easy. The step father never bothered about her schooling. She had to drop out of school as parental support was never there. When things heated up and she could not withstand it anymore, she decided to go and live with her grandmother. Life there had its challenges as well. She later on decided to get married because she thought her life would change for the better.
In her marriage, Laurine got two children. She was happy to have two boys with the man she wanted to spend her entire life with. She never thought their love for each other would fade. As days went by, her husband become abusive, he would beat her up and use vulgar insults to her. He would constantly tell her to go and get educated like other girls. "My husband would come home in the evening from work empty-handed and whenever I asked him for cash to buy meals he would remind me of how uneducated I was," said Laurine, recalling her life then. "My sons and I went several nights without meals, even porridge for my two sons was by chance," she added.
When it was too much for her to bear, she decided to go back to her parents' home with her children and tried living under the same roof with her step father but it was still not easy so she took her children back to their father and returned to her home alone.
One day, a Field Assistant (FA) from NIGEE went to their home and had a chat with her. The FA took her through some of the programs NIGEE runs. Laurine got interested in joining the GEC and was admitted into dressmaking and design class.
While at the GEC, Laurine's thirst for education was rejuvenated. She interacted more with fellow young women who come over to coach them on career choice, job seeking strategies, job interviewing skills, and life planning skills. The flashback on her marriage struggles also made her desire to learn to be a self-reliant woman in future. "Whenever I reflect on my past and what I have gone through, I get motivated to thrive for a better future, a future where I would not depend on someone for help, a future where I can make my own decision, a future where I can pay my own bills, a future where I will not depend on a man to be happy," said Laurine in a somber mood.
"The only way for me to realize this dream for the future is through education and that is why I also decided to go back to school," she added. Laurine registered as a private candidate for the Kenya Certificate of Primary Education (KCPE) at Nyamasaria Adult Learning Centre in Kisumu. Whenever she was not attending her dressmaking and design classes at the GEC, she would be at Nyamasaria for coaching or revising for her exams.
She took her classes seriously and despite staying out of school for over 7 years, she grasped the subjects pretty quick. She sat for national examinations this year (2017) and scored 286 marks out of the possible 500 marks (pass mark is 250). Laurine hopes to join Secondary School next year (2018) and her dream is to become a celebrated fashion designer in future. NIGEE will support part of her secondary education.
She has also completed her dressmaking and design course and graduated in December (see last photo below). Her apt skills in sewing have earned her customers who mostly send orders for shopping bags. With the ban of plastic bags in Kenya, Laurine has made good fortune from making and selling shopping bags and uses parts of the income to sustain her stay at the GEC and saves part for her secondary school in January 2018.
This is a story of a beneficiary of NIGEE's GEC who obtained both academic and vocational training certificates and will use the training to earn a living, take care of her children, and pay her own school fees. We are proud of her!