Hong Kong Pride Parade 2019 has started the planing process. We have already submitted the tentative date and venus to the Hong Kong Government. But we are still waiting for the government to confirm with us. Hopefully, Hong Kong Pride will be held on mid November 2019. We are planing to anounce the date soon!
Please subsrcibe our newsletter to receive our latest information:
https://groups.google.com/forum/#!forum/hkpride-newsletter/join
Or you can follow our Facebook Page:
Stay tune!
Meanwhile, we are going to join Seoul Queer Parade, which will be held on June 1:
http://sqcf.org/sqpprogram2019/177200
We are joining to show our solidarity and supporting LGBT equal right movement in Asia.
Happy Pride!
Links: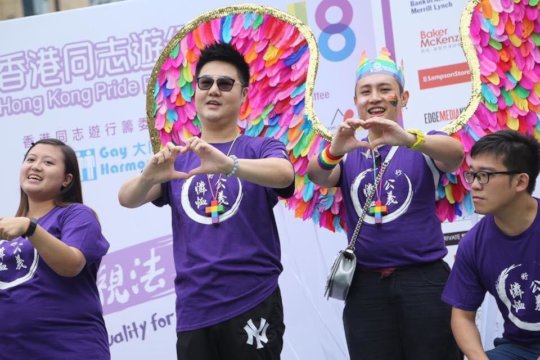 Hong Kong Pride Parade 2018 was held successfully in Nov 17. And we keep the energy going!
We have alreadly started the work of planning Hong Kong Pride 2019. Volunteer training is on the way. Most importanly, we have filed our application of date and venue of the coming parade. This is not easy in Hong Kong to get the approval from the government owned venue, and the Police. For your information, a formal Letter of No Objectioin isssued by the Police is needed for any public assembly and march. The process is not easy and we also need to buy an insurance to fullfil the venues' requirement. We need to pay for 20 Thousand HK dollars solely for the insurance. This is a big amount for us, give that the total budget of the whole parade is only about 200-300 Thousand HK dollars. The insurance expenses is about one-tenth of our budget!
Your donation is so important that makes our pride parade happen!
Again, please accept our greatest gratitude for your support.
Links: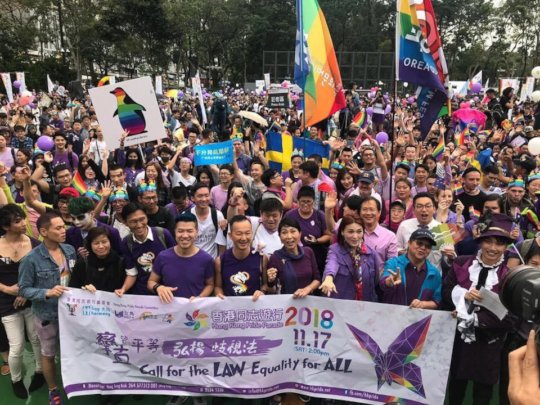 We are very pleased that the number of participants in this year's parade has reached a record high of 12,000 people. Thanks again to all the participants, organizations, sponsors, rainbow ambassadors, guests, performersand volunteers for participation in the parade.
We hope that our voice will be heard by more people, so that the government can face the different genders and sexual orientations and persuade the government to shoulder its to legislate the sexual discrimination ordinance, thus allowing the spirit of equality to manifest in Hong Kong.
Hong Kong currently does not have anti-discrimination legislation covering sexual orientation. A key demand this year has been to enshrine equality into the law through the introduction of legal protections for LGBT+ people.
The parade also focused on introducing more gender-neutral facilities, such as public bathrooms, to create an inclusive environment for non-binary and transgender people.
Links:
WARNING: Javascript is currently disabled or is not available in your browser. GlobalGiving makes extensive use of Javascript and will not function properly with Javascript disabled.
Please enable Javascript
and refresh this page.