Thanks for supporting! Hope that HK can get out from the shadows, and fly proudly in the colours of freedom and equality
Although Hong Kong Pride Parade was unable to take place under the sunlight to spread the vision of equality and inclusiveness, an online gathering was made possible on November 14 under the strong support and persistence from all our allies. And the livestream of the event was broadcasted in hopes of cheering up and encouraging those who fight for freedom and equality.

We give our thanks to everyone who has supported Pride Parade, including all of you who took part with online Hong Kong Pride Parade 2020, our rainbow ambassadors Siufay and Figo, and District Councillors who took their time off to physically support us.

Due to the spatial constrains of our location this year, Hong Kong Pride Parade could only invite some of the LGBT-friendly District Councillors to take part in this year's event. Nonetheless, every single District Councillors has showcased their knowledge and unconditional care towards LGBT+. In the coming year, we hope that under the leadership of the district councillors, along with our combined efforts in support of equality and diversity, rainbow could be brought into communities, and Hong Kong could finally be LGBT+ friendly.

We once again express our thanks to each and everyone of you, and sincerely hopes that Hong Kong can emerge from the darkness of 2020, and fly proudly in the colours of freedom and equality.
May we return to the streets in the years to come, and stride proudly under the dazzling rays of the sun.
Links: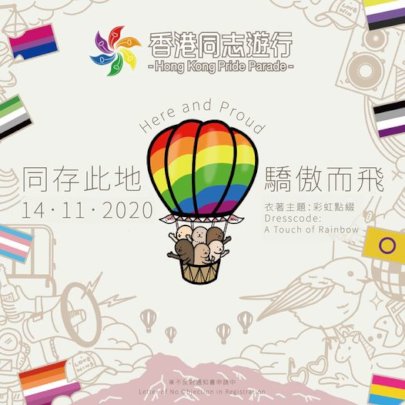 We proudly present the theme and key visual of Hong Kong Pride 2020!
Theme: Here and Proud
Hong Kong should be a liberal and diverse place that belongs to us. All along, the liberty in Hong Kong is renowned for shaping the place into a colourful and vibrant international city with diverse cultures. As such, the development of the equality movement has made LGBT+ into one of the rays of iridescence that Hong Kong, the Oriental Pearl, radiates. The support for equal rights for LGBT+ is ever increasing as the dazzling sight of the rainbow flag can be recently seen waving proudly among at 18 districts. Freedom and diversity are the mutual pride of each and every Hongkonger.
The Hong Kong Pride Parade 2020 hopes that each and every one of you who yearns for freedom and diversity, could support and join our pride parade this year. May freedom and diversity be sustained in our society, may we achieve equality and justice in the future, may each and every of us be Here and Proud.
Key Visual: Rainbow Hot Air Balloon
In 1783, mankind invented the first human carrier that flies--the hot air balloon. The hot air balloon not only allows humans to take flight, it also demonstrates that impossible dreams could become reality as long as we are willing to persevere. Thus, we should let our dreams take flight.
Would a diverse, inclusive, non-discriminative society become the reality? This year will be the 13th year for the Hong Kong Pride Parade to take place. We are thankful and blessed with supporters who are willing to persevere for the dream of making freedom, equality and liberty come true throughout the past 12 years. The key visual this year is the 'Rainbow Hot Air Balloon' as it will carry and allow us to have an overview of the different flags for sexual minorities and the past mascots of the Hong Kong Pride Parade along with Lion Rock, the symbol of Hong Kong.
Sky lantern is the embryonic form of hot air balloon, it was used to spread messages to the faraway in the past, and is currently used for praying. May we rise from the Lion Rock in the 'Rainbow Hot Air Balloon', longing for freedom, diversity, equality and justice to be shown to everyone.
Dress codeA Touch of Rainbow
Some people are categorized as LGBT+, and at the same time others would fall into the category of non-LGBT+. Our society is accustomed to this dualistic way of understanding the world, and forcibly determines one's merits through this rough classification. Are there only two colours in our world? The world has always been beautiful, because of its diversity.
Perhaps we may not self identify as transgender, as intersexual, as homosexual, as bisexual…...but haven't we all experienced criticism due to our supportive attitude towards equality for sexualities? Haven't we all been distanced due to our unique sexual features? Haven't we all been uncomfortable to talk about, or had even been sneered at, due to our interests in sexuality? 'Tongzhi' are not the only ones facing the difficulty of coming out, in fact, there is a private, undisclosed closet in each of our hearts. Or we could understand it like this: there is a unique streak, a touch of rainbow in each of our hearts.
'A Touch of Rainbow' is the dress code for this year's Hong Kong Pride Parade. You are sincerely invited to unravel the "touch of rainbow" hidden in the closet in your heart, wear it on your sleeves, be proud of your uniqueness, and together we fly towards a more liberal and diverse Hong Kong.
-----------------------------------------
Hong Kong Pride Parade 2020
Date: November 14, 2020 (Saturday)
*In the process to get the Letter of No Objection from HK police
Links: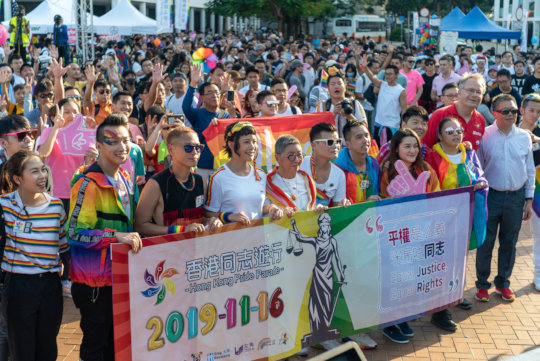 Hong Kong Pride hope you stay safe and healthy. During the time of the COVID-19 pandemic, this is tough for the queer community, and also for the Hong Kong community.
Hong Kong Pride wants to keep the voice of LGBT+ equality loud and clear during, amid the uphevals of HK soicety. We have already started the planing of HK Pride Parade 2020. HK Pride events usually happen during November in recent years.
Last year, we can only held our event in the form of a public meeting, with no parade march. Hope that we can march on the streets in 2020.
Stay tune for our updates on our website and social media platforms.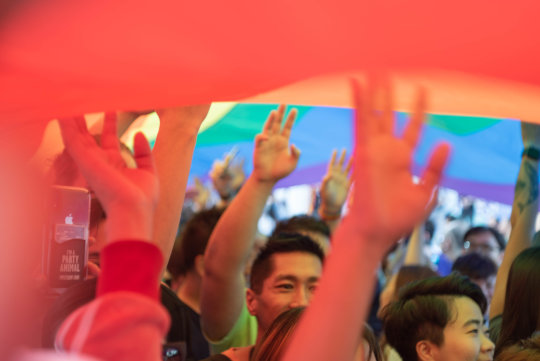 Links:
WARNING: Javascript is currently disabled or is not available in your browser. GlobalGiving makes extensive use of Javascript and will not function properly with Javascript disabled.
Please enable Javascript
and refresh this page.