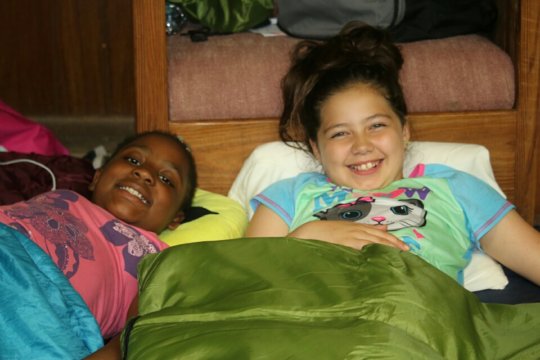 Girl Scouts of Central Maryland has achieved a milestone in 2017 -- 25 years of continuous operation of the Girl Scouts Beyond Bars program. In that time, it has served hundreds of girls, including some who began as 5-year olds and, because of the duration of their mother's sentence, remained in the program for 13 years until the age of 18.
In this 25th Anniversary year, GSCM sought out long-tenured participants for lessons learned. In the words of one of GSBB's many success stories, "JM" provided a most poignant view of life experiences with GSBB. When she attended her first GSBB meeting, she was the youngest person in the room. She felt intimidated by the surroundings and by the older girls. Within a short period, the older girls became a support system to her. They helped her acclimate to her situation of having an incarcerated mother. When she sees other girls in her local neighborhood living with this same situation, she sees girls who have serious problems, or become run-aways. This is when she is most grateful for having the family-like support that GSBB offered. It kept her focused and out of trouble, especially as she was transitioning to high school. She knows that without GSBB, she would have had no way to see her mother. She enjoyed seeing her mom, and having a relationship with her. JM knew her mom loved the program. In a correctional facility, other people try to bring you down. But GSBB helped keep her mom in good spirits. Even if only a few days a month, the moms need it. Over the years, JM did everything that Girl Scouts has to offer. She loved the fashion show they had at MCIW. She got to go to Six Flags with the troop. She went to overnight camp. She was placed into positions of responsibility. She performed kapers (chores) at camp, such as cleaning the cabin. She made a quilt and made s'mores. Over time, she became one of the "older girls" and the younger ones looked up to her. She now knows how to deal with life's most difficult situations. She wants to volunteer with GSBB one day – when she finishes college. She will be a sophomore at a university this fall; GSCM assisted her in securing financial aid to make this possible. She has great plans for a career in the sciences. JM's strongest recommendation to GSCM was "Do what you have to do to keep it. Don't let it go."
Since we last wrote to you, some mothers were released and newly incarcerated mothers were added to GSBB. Their ages range from 26 to 43. Eighty-two percent remained infraction-free during this time. This major accomplishment shows the effectiveness of the incentive provided by the ability to spend time with their daughter. Forty-seven percent of mothers had no contact with their daughters outside of the GSBB program. Ten percent are incarcerated for 4-6 years, and 10% for 7-10 years. Fifty-five percent of the mothers reported that the fathers of the GSBB daughters are also incarcerated.
In addition to enhancing the communication and parenting skills of the mothers, GSCM provided wellness/ stress reduction, problem-solving and other skills to the moms. Ninety five percent of mothers report the development of a better relationship with their daughter as a result of GSBB. Eighty-nine percent of daughters are better students and have maintained good grades since being in GSBB.
In recognition of our 25 year milestone, GSCM is responding to community need in order to reach more children impacted by the traumatic separation from parents that occurs in Central Maryland. Local government agencies have recently released reports on the concentration within certain schools of children whose parents are incarcerated. GSCM already provides Out-of-School Time programming in all 21 of the Baltimore City schools listed. The impact on learning and social/emotional health is just being brought to light. This year, GSCM has expanded its in-school series to address social emotional learning needs of children impacted by traumatic separation issues, while not requiring girls to self-identify as being part of the impacted population. An evidence-based curriculum is being incorporated into programming delivered in specific elementary schools starting in September, 2017.