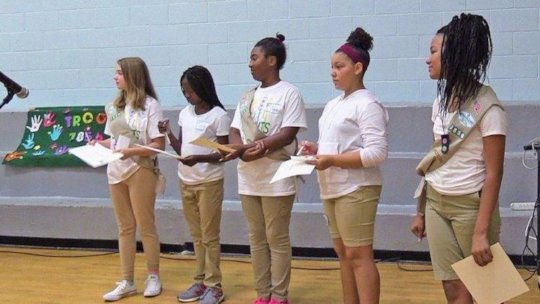 In keeping with this year's World Thinking Day theme "Making an Impact," the girls of the Girl Scouts Beyond Bars Program committed to make an impact in their community by collecting socks for homeless families.
The girls who are part of the GSCM Beyond Bars Program enjoy many of the same experiences as other Girl Scouts – the only difference is they meet in a prison.
This year GSCM celebrated the 25th anniversary of the national-acclaimed Beyond Bars Program founded in Maryland in 1992 through a partnership with the National Institute for Justice and the Maryland Correctional Institution for Women.
On March 1, 2018, the BBC documented a troop meeting at the Maryland Correctional Institution for Women, filming the interaction between the Girl Scouts and their incarcerated mothers.
During this troop meeting, the girls brainstormed ways to make an impact in their communities. They sorted the more than 400 pairs of socks they collected for the homeless and delivered them to Grassroots Day Resource Center, an emergency shelter for families and single adult women near the MCIW.
Every month the girls meet twice at MCIW and at other times go camping, tour colleges, sell cookies, and participate in many other activities like any other Girl Scout troop.
Currently, Girl Scouts Beyond Bars is serving 32 girls and 20 mothers. Over the past 25 years, more than 400 girls have been given the support they need as they cope with the loss of a parent and the isolation that comes from the stigma of their mothers' involvement in the criminal justice system.
Your commitment to Girl Scouts Beyond Bars helps us ensure that ALL girls in central Maryland have the opportunity to be a G.I.R.L. (Go-getter, Innovator, Risk-taker, Leader)™.
Links: