With the 2018-19 Global Classmates program wrapped up, we dove right into the Student Exit Survey responses. These are often filled with great insight into what students learned through the program and what aspects they particularly enjoyed. While this year's program was our biggest yet, with 1,764 student participants from 66 high schools across Japan and the United States, we were ecstatic to see that the student satisfaction rate for the program remained at 95%! We are so thankful for all of the dedicated teachers who worked countless hours with our coordinators to run the exchange program smoothly, as well as our supporters who made this program possible.
Over the duration of the program, students discussed a wide range of topics such as "favorite food," "favorite music," "if you could have any super power," "bucket list," and much more. One of the more unusual topics covered this year was "The most embarrassing experience you've ever had." Students came up with this highly engaging discussion topic and made a game out of the topic. Each student wrote two true embarrassing moments and one that was a lie. Students then guessed which was not true. Sharing embarrassing stories such as a Japanese student having the bathroom door on the shinkansen fly open while she was in it, to several students accidentally calling their teacher "mom" helped students break the ice and bond with one another more quickly.
In addition to bonding with one another and learning about each other's cultures, students also learned important communication skills and increased their Japanese/English language skills. The students are encouraged to not fear making grammatical mistakes and do their best in communicating with their partner students throughout the program. As a result, they learn how to use what they already know and build confidence in their communication abilities. 93% of students said that they learned how to better get their point across and felt more motivated to communicate in English/Japanese.
Below are some testimonials from student participants:
U.S.
I've gained the confidence in my communication skills. Global Classmates allowed me to get over my anxiety of using my Japanese to communicate with others. It slowly and slowly became more of a daily life action as I use my Japanese to communicate with the Japanese students.
A skill I gained by participating in Global Classmates is to be able to better express myself online overall. Previously, I barely posted online and was quiet most of the time in real life. However, getting to post about myself on Global Classmates gave me some practice on how I could express myself to others, which can then be applied to other places.
Communication of ideas across any language barrier is the primary skill that I have gained. This doesn't necessarily mean that I've only learned how to communicate across the Japanese language barrier, though; I have learned what main concepts need to be communicated in order to effectively convey an idea.
JAPAN
I used to be reluctant to communicate in English because I felt that I was not good at it. Now I am not afraid of making mistakes and am able to actively communicate in English.
I don't feel as hesitant to speak or write in English now. In a class, you are expected to use correct grammar and vocabulary; however, when you actually speak to someone, they understand you through nuance even if it is not the correct grammar. And if there are words you don't know, they can explain to you using different words or different combination of words that it made me feel comfortable to participate in the exchange.
I learned to take more initiatives. I used to be uncomfortable initiating conversations and often felt anxious but by participating in Global Classmates, I was able to feel the excitement of communicating and being understood.
These wonderful feedbacks from our participating students have given us so much energy as we prepare for the 2019-20 Global Classmates program. We cannot wait to bring this program to another group of students in September and continue to foster mutual understanding between the US and Japan.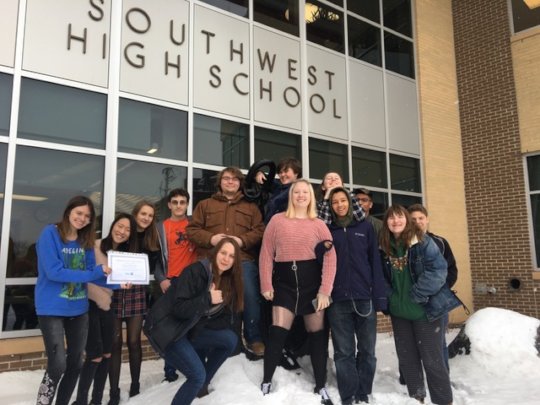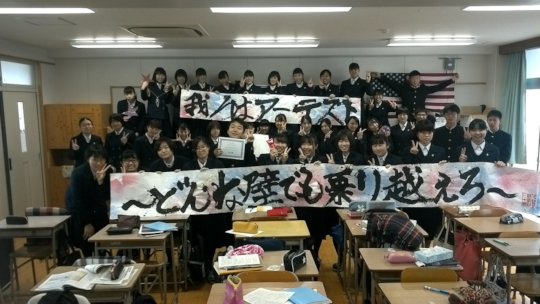 Links: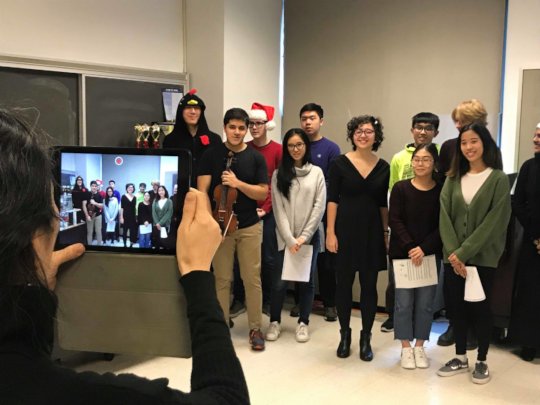 In December KAC Vice President, Shanti Shoji, and I visited Stuyvesant High School and Clarkstown High School North in New York to meet with teachers and students participating in Global Classmates. Through these visits, we get to learn more about how the teachers are implementing the Global Classmates program into their classrooms and see the impact the program is having on the students first hand.
We were so impressed with the fantastic work they are doing! Not only are students enjoying communicating with their friends in Japan, but the teachers are using fun and creative techniques to fully engage their students in the program, such as creating a video of students singing Jingle Bells in Japanese that was shared with students in Japan! Below are some examples of what the students shared with us:
A boy from Clarkstown High School North lit up as he talked about how much he has enjoyed connecting with students in Japan. He talked about his plans to go to Japan after college to teach English and how this program has been a great way to practice his Japanese. He is so eager to use Japanese as much as possible that he is always checking and posting comments even outside of the classroom!
A girl from Stuyvesant High School commented how surprised she was that they were able to talk about so many different topics with the Japanese students with their limited vocabulary. She had to learn to be creative to figure out ways to say what she wanted to say with the Japanese words she already knew. At the same time, she had to be thoughtful in the way she wrote in English too so that it was not too difficult for the Japanese students learning English to understand.
A boy from Stuyvesant High School shared that he enjoyed finding out what the Japanese students are really like and what kind of things they are into, which are things he wouldn't get to learn in a regular classroom. He also liked seeing how the students in Japan write in Japanese and the vocabulary that they use so he can learn how "real" students communicate.
We will be wrapping up this year's program at the end of February and we hope that this experience will motivate the students to continue their study of the foreign language and learn about each other's culture. We can't wait to see what the future holds for these wonderful passionate students!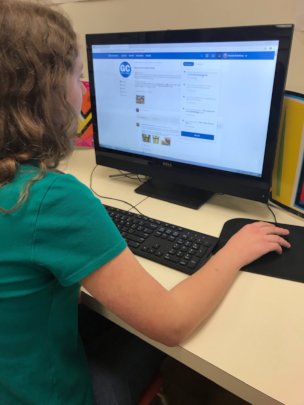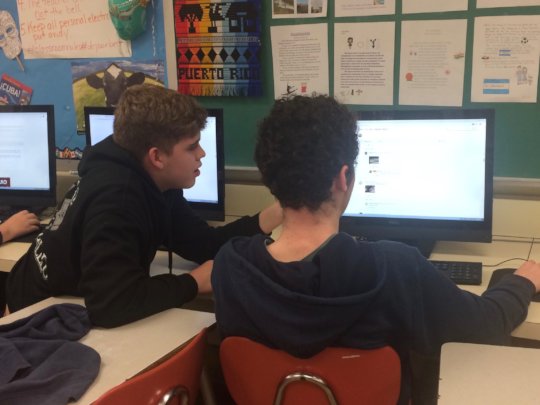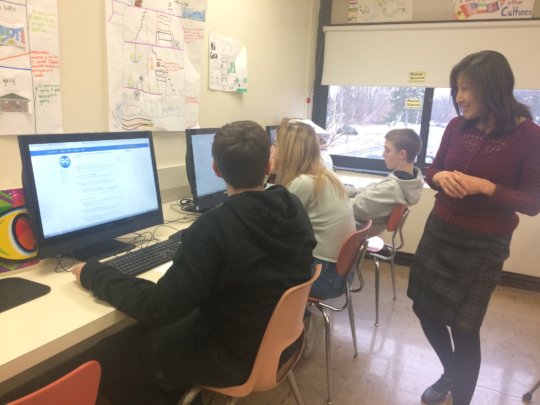 Links: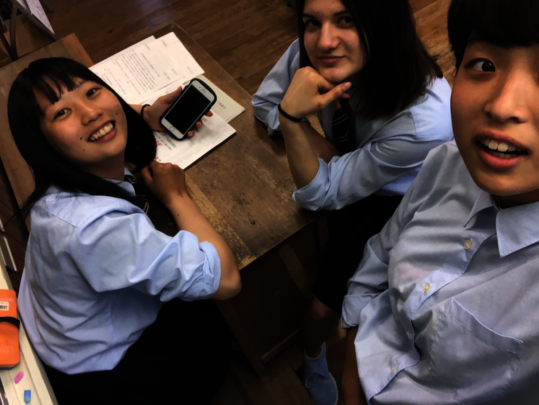 The 2018-19 Global Classmates program, our virtual exchange for high school students in the U.S. and Japan, kicked-off last month and we are off to a great start! A total of 66 high schools are participating in the program, 33 in each country, with approximately 1,800 students connecting with one another. The participating schools come from 18 states in the U.S. and 18 prefectures in Japan, ranging in location from a metropolitan area like New York City to a remote area like the tiny island of Naru in Nagasaki with a population of 2,000. We are very excited to be able to offer our program to a diverse group of students.
The students have been getting to know each other through the exchange of messages, photos and videos on a variety of topics, such as school festivals, favorite music, and what kind of person they want to be in the future. We were thrilled to see that one pair of schools, East Central High School in Indiana and Ueda Nishi High School in Nagano had over 700 posts on their self-introduction topic, averaging 16 posts per student!! We can see that the students are becoming more comfortable using the exchange platform and experimenting with various ways to share information. Some students have snapped quick selfies around their school to introduce to their partner classmates. Some made sure to take a lot of pictures during their school festival so they can share the event with their friends across the ocean. Others have captured a moment from their day on video using their cell phone to share. One student took a video as he prepared udon noodles at his grandparents' restaurant to introduce his favorite food to his partner classmates!
Although the program is part of a class or club activity, students can log into the e-classroom from anywhere, anytime, so despite the time difference, it sometimes turns into chat session. Students from Kunori Gakuen High School in Yamagata were so eager to share and chat with their new friends at Deerfield Beach High School in Florida that they even requested to have a new section to just share their daily occurrences. Some have shared a picture of a strange bug they found or a beautiful rainbow they saw, while others have wished each other happy birthdays. It has been remarkable to see the students share so many things with one another and we can't wait to see these friendships blossom over the next four months.
Links:
WARNING: Javascript is currently disabled or is not available in your browser. GlobalGiving makes extensive use of Javascript and will not function properly with Javascript disabled.
Please enable Javascript
and refresh this page.