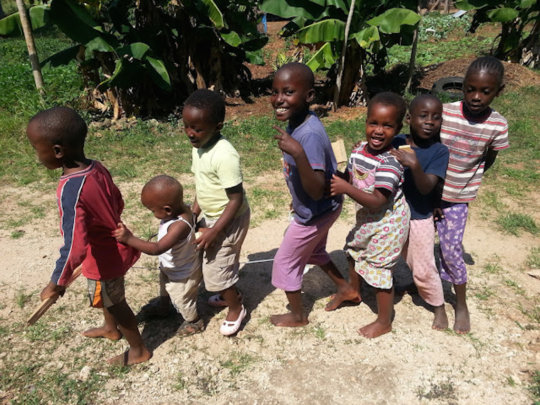 Keeping the Home running is a full time affair. There are various projects that are in place to help with fund raising.
The Workshop is run by Ishmael, who was trained by the Association of Physically Disabled Kenyans (APDK). It is an organization that is well renowned for the craftsmen and women who graduate out of their programs.
There are many customers who order furniture for their homes, businesses and for schools. They have recently complete orders of school desks for schools in Makobe, Samburu and in Kwale.
Ishmael's creations are well appreciated and he has made some very unique pieces to order for customers as far away as Nairobi!
The workshop also affords those youngster who are interested a chance to try their hand at creating their own pieces. There are some very interesting items that have been made by those little hands and super active minds!
Play……some months ago, a group of visitors from Germany visited the Home and brought with them a fabric screen printing set.
They taught the children and some of the staff how to print fabric and now there are whole lot of new designs popping up, and some are very hip!
It is amazing to see how fashion conscious these little kids are.
As with everything, work and play are extended to the daily lives of the different age groups;
Yona has travelled to Tsavo West National Park to do a three month internship at the Severin Safari Camp. This experience will be very valuable for his future career and personal development.
Grace has secured a three month internship with Southerncross Safaris, one of the oldest and most well established safari companies on the Kenya Coast.
We wish them both good luck!
Now it is the long summer holidays and Linda, Joy, Cliff, Freddy, Manu and Henry are all going on a school trips some to Tsavo East National Park others to the Great Rift Valley, where they will stay at Lake Nakuru National Park which is famous for the millions of pink flamingos and the high number of Southern White Rhino.
It will be trip that they will remember for a very long time and make them begin to value what there beautiful country has to offer.
Without the help of all of you who have supported and given a helping hand we would not be able to run the project, many thanks to All!