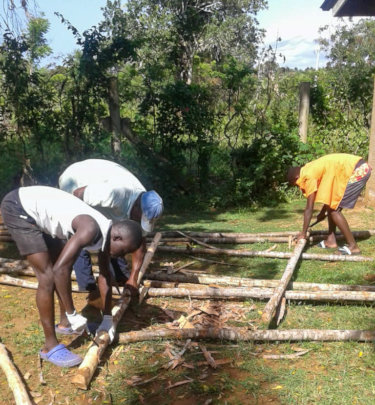 Dear Friends,
The global health pandemic caused by the COVID-19 virus has shown the World how interconnected and interdependent we all are with new variants appearing and spreading with the speed and ease of the East wind. The 'new normal' seems to be here to stay.
The Home has soldiered on and the little projects have been completed. The new kitchen is complete and food is now being prepared in a much safer space both for the staff and the children, particularly the really small ones who often try and see what is on for the next meal oblivious of the dangers in the kitchen! The outside space is more congenial and an ideal place for all the youngsters to gather in their free time.
The adoption program has resumed. Over the last six months, we have been able to find families for two of the small boys, aged three and five. Every adoption is preceded by a vigorous counselling session with professional to ensure that the adoption is successful. There are pre-adoption and post adoption sessions because the life changing experiences for both the family and the children are great and do need to be managed. We are happy to report success in all the adoptions that we have done so far. This month, one of the three year old girls will be beginning her adoption journey, with her adoptive parents coming for their first home visit.
The two children who were candidates for the final exams of their primary education received their results, and scored remarkable well despite the fact that schools were closed for the better part of 2020. They have both been called to very good schools and early this month they began the next phase of their lives living away from the Home for the first time. They seem to be settling down well, though the home sickness still creeps in every now and then.
Because of the havoc caused by the shutdown of schools, there are effectively two sets of school groups; one on holiday while the other is in school. This is because the Government is trying to reduce the number of children in schools in keeping with Internationally recognized COVID-19 protocol of social distancing. One set of boys is back from school and they have been taught about Community Social Responsibility. They are helping to renovate the extension of the chicken project where the new layers are being housed.
On behalf of the Children, the Staff and the Committee, we would like to thank you for your continued support. Without it, we would not be able to provide the Children with the shelter and education that they so deserve. Thank you.
Diani Children's Village Committee