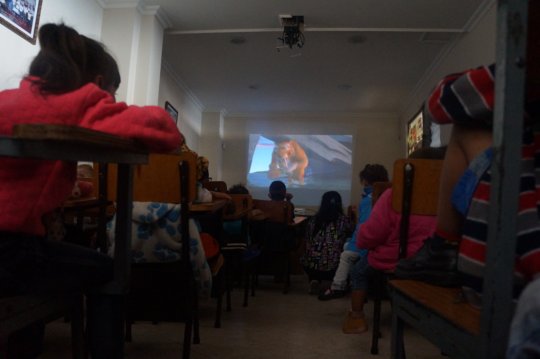 Dear Global Giving Community,
We are delighted to let you hear from our activities in this second report of our project.
The year 2016 has already started a few months ago and in those months a lot of things were going on in Centre COMParte, as they have been witnessing the arrival of new team members and the annual launching of activities.
Since February the children and teenagers of Santa Rosa, Moralba and the neighborhoods have been enjoying breakdance classes two times a week. Hip hop dancing is a discipline that mixes physical exertion, good rhythm and team spirit. With these workshops, provided by a professional hip hop dancer, we want to introduce the participants to an activity of urban culture, a very present phenomenon in the area. These started a cycle of three urban activities, which are break dance, graffiti and rap. The latter will be implemented throughout the year. Your donation enabled us to hire professional teachers with experience, and we hope in the future that it will allow us as well to make team uniforms for the break dancers (also called BBoys) to enhance the team spirit and thus community construction.
The second achievement of this year 2016 is the opening of a participatory textile workshop. Three days a week, people with various experiences in this field meet in the textile manufacturing room in Centro COMParte (providing and sharing lessons to each other). The group began with workshops of pattern construction and cut to learn how to design skirts, shirts and so on. We are proud of their achievement and thanks to your financial support we will be able to buy pieces of textile in order to let them train using the sewing machine.
Then, we have also been supporting children of the neighborhood with tutoring sessions on Mondays, Wednesdays and Fridays. This proposal has received a big welcome from the children and more and more candidates are willing to be backed up in the realization of their homework, either by a team member or by internet access, enabling them to solve their task (for example by identifying what are the three highest mountains in Colombia or what has been the history of the universe).
Finally, we are glad to announce the implementation of a weekly cine club where the children can enjoy the opportunity to escape from daily life in front of the big screen. The whole activity aims at making them discovering different cinematographic universes and at compensating the lack of access to cinema they suffer.
There will be soon more news about our activities in Santa Rosa, Bogota… Stay tuned!