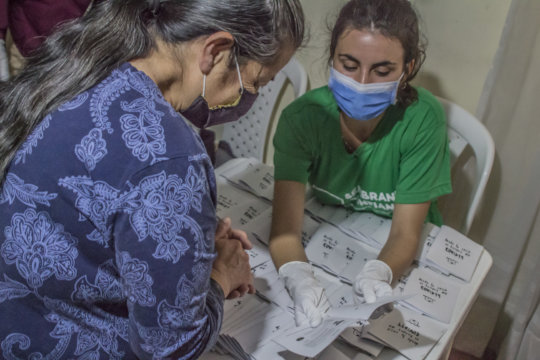 Dear Friend,

Good news: the containment due to the COVID-19 crisis is finally lifted in Bogota! This means that soon, the activities of Proyectar Sin Fronteras with the communities of San Cristobal Sur will be reestablished.
During the last four months, however, our activities have been restricted. As we explained in our previous report, the health situation has delayed our usual visits to the communities of Paseito III, Miraflores and Puente Colorado. Therefore, we continued to communicate with them using audio-visual material and were pleased to notice the autonomy with which some people in the community are taking ownership of the space for sharing that has been created over the years.
This time out of the field has allowed us to reorganize our projects and to realize a territorial diagnostic method that we will be able to apply as soon as we will return to work in contact with the communities in order to take stock of the current state of the project and update our data.

In June we had the opportunity to carry out a food distribution in Miraflores to the most vulnerable families. A total of 80 baskets were distributed, as well as clothing.
The space was also used to distribute a booklet created by the group La Misma Gente, our ally in the collection and distribution of solidarity baskets. The manual, which combines home remedies to increase one's natural defenses, tutorials to make masks or reusable sanitary napkins, and urban agriculture tips, was delivered with a kit of food plant seeds to be sown at home.
This day was also an opportunity to introduce a group of about fifteen women to the use of the menstrual cup through a discussion on its economic and ecological benefits. Interested women were then able to place an order and each received a menstrual cup.

Thank you for all your support! Your donations directly help vulnerable communities in achieving environmental and social peace! Continue to support us to keep strengthening environmental awareness and resilience among youngest and elders.