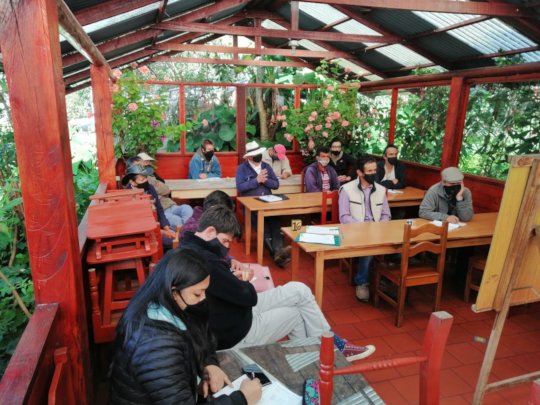 In August 2020, the national government has established a strategy to promote the participation of small-scale farmers in the food purchase market. However, there is still much to do in terms of quality, logistics, technologies, and partnership between private and public stakeholders to achieve this.
To contribute to the fulfillment of this great objective, in the first period of work, we are focusing on strengthening rural socio-business capacities. From November 2020 to February 2021, we have carried out 8 face-to-face socio-business training workshops at the restaurant La Conejera, located in La Pradera, Subcahoque (following all biosecurity measures), did weekly monitoring of 19 rural families and implement 3 certifications within the Participatory Guarantee System (SPG), the only label approved by the Ministry of Agriculture and Environment of Colombia that certifies agroecological production and products.
The different workshops and accompaniment we've done with these 19 rural families attracted the attention of the local authorities because, in their own words they've never -seen a group of farmers so motivated learning about numbers- and as a result of this, we are now creating an improvement plan to integrate this model about rural socio-business and family capacities into the development plan of Subachoque's Municipality.
Thanks to our GlobalGiving generous community and in particular to a generous donation we received, we are able to continue supporting small-scale farmers from the surrounding areas of Bogota by going to visit their two times per week and, if we continue receiving the financial support needed, by the end of June, we hope to be achieved the whole 19 SPG certifications previewed for this semester.
In the photos you will find some of the classes we share and also some photos of Inés, Pedro, and Albeiro, the first three farmers to obtain the SPG certification.
Thank you all for your support, let's continue transforming the conventional agri-food system by promoting safe, nutritious, and responsible food for a better future but also improving the peasant family's present.