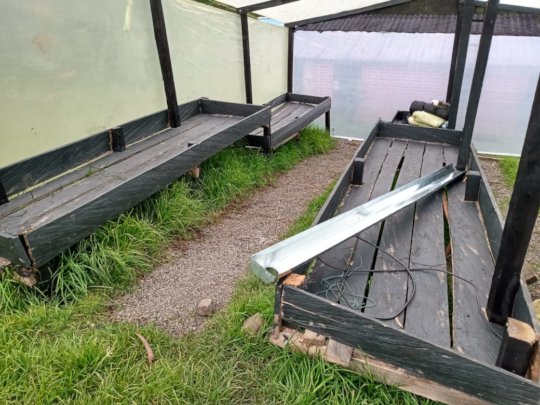 Dear GlobalGiving Community,
It is our pleasure to share with you the good news and progress in our edible forest project.
One of the first steps in being able to build edible forest patches is to have the trees ready and available to be transplanted. To achieve this, part of this project involves the construction of a greenhouse.
To carry out the construction of the 80-square-meter greenhouse, local labor was hired, causing a double impact by promoting the reactivation of economic activity in the sector.
As of today, the work has advanced by 90%. In the month of August, the inauguration of the place will be held and the roles that each of the participating women will have in the activation of this space will be defined.
We invite you to continue supporting this and other projects of our organization so that we all build a greener and more sustainable future.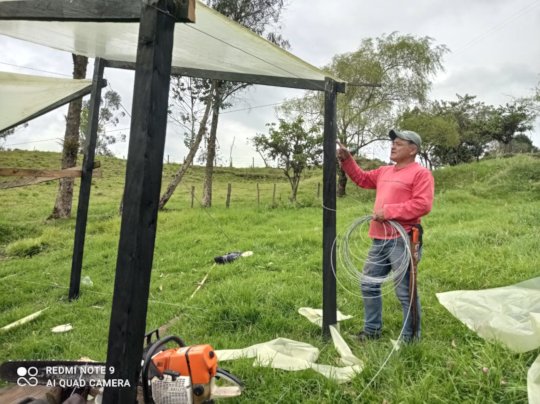 Attachments: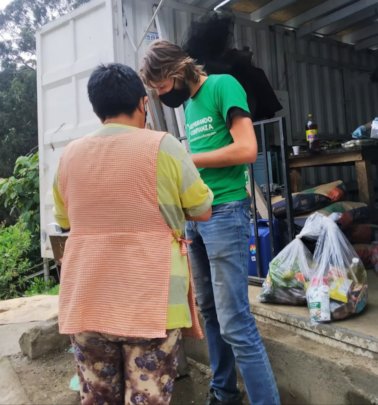 Dear supporters of GlobalGiving,

Thanks to you, we were able to carry out a food basket distribution in the Egipto neighborhood on June 18th, 2021 for 80 women heads of household.

This neighborhood of Bogotá has been impacted for a long time by violence and a difficult
economic situation. Violence has led to the disappearance of many fathers. As a result, many
women in this neighborhood are left as single mothers with the responsibility for their children as their husbands are either in prison, unemployed, or dead.
We carried out the following activities on 18 June:
1. Thanks to the Buena Semilla Foundation, particularly vulnerable women were identified.
2. Thanks to a strategic alliance with neighborhood leaders, we were able to identify the 80 women
beneficiaries and organize the individual distribution of food baskets. These baskets contain fruit,
vegetables, non-perishable food products, and hygiene products.
3. In addition, we have identified 30 women interested in receiving a menstrual cup. This distribution
will take place in July and will be accompanied by a workshop explaining the good practices of
this hygiene system.
The total number of beneficiaries for this day was 80 women heads of the household but the number of
secondary beneficiaries reaches 240 with children and elderly people that make part of these families.
Thanks to your support, we were able to provide food and hygiene assistance to 80 women who are heads of households.

Let's continue to act together to help the most vulnerable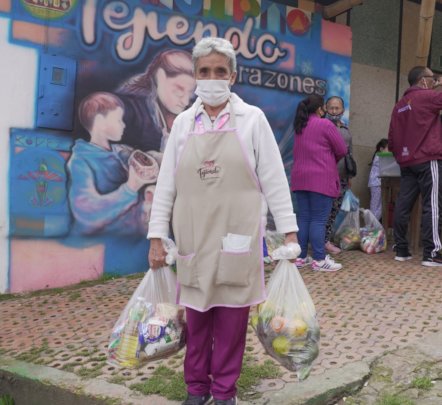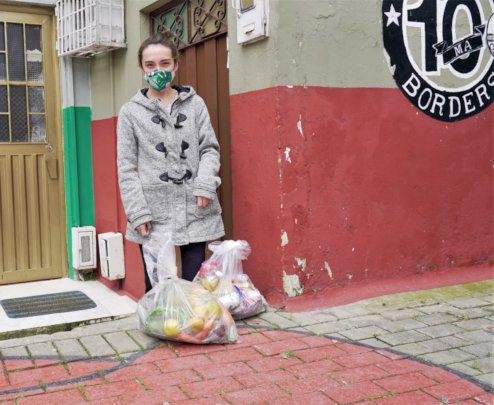 Links:
Dear GlobalGiving community,
Colombia is currently experiencing a third wave of COVID-19 contamination, which is reflected in an increase in death cases. The latest reports from Colombian authorities indicate that there are more than 15,000 new cases per day. According to data from the Ministry of Health, in May 2021, only 5.7% of the population have been vaccinated (with both doses) against COVID-19.

In the midst of this health and economic crisis, the national government decided to promote a tax reform that affects the most vulnerable. To express their outrage, for more than a month, thousands of Colombians have taken to the streets in droves as the pandemic continues to rage, killing 500 people a day. Despite the withdrawal of the tax reform, numerous protests have taken place in recent weeks, some of them marked by violence, vandalism and heavy police repression resulting in the deaths of around 40 people, in major cities across the country.

The political situation doesn't seem to get better, roadblocks continue on highways and city streets, and food shortages have kept prices of first need goods at two to three times normal levels in local marketplaces.
Due to the blockades in the streets, the rise in prices and the uncertainty regarding access to vulnerable neighborhoods, the planned delivery of solidarity markets has not been possible. However, our team is preparing so that as soon as the blockades are lifted in the city and the surrounding area we will make a large delivery of food baskets that will benefit about 2000 families.
You will see the results of this great delivery in our next report.
Thak you for your constant support to strengthen food security in Bogota.
WARNING: Javascript is currently disabled or is not available in your browser. GlobalGiving makes extensive use of Javascript and will not function properly with Javascript disabled.
Please enable Javascript
and refresh this page.