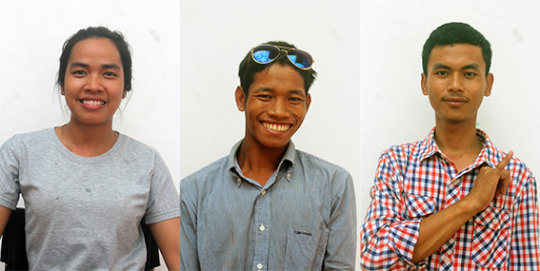 Meet The Students You Funded at Epic Arts – Part 1
Happy New Year from all of the students and staff at Epic Arts!
Over the past few months the students you helped fund have been settling in to life at Epic Arts. Two new students join the Inclusive Arts Course bringing the total number of students to 13. In late December the students completed the first term of their course and the teachers were singing their praises.
A huge part of the first term is dedicated to the students getting to know each other and finding creative ways to collaborate and communicate. The students have a wide variety of disabilities from visual & hearing impairments to cerebral palsy.
Now that they're settled in we'd like to introduce you to some of the students:
Malis
"Malis is a strong leader with clear creative vision, she's great at bringing a group together. She'd make a great Director!" - IAC Dance Tutor
Malis loves to dance and was inspired to join Epic Arts by her friend, Socheat, who works as a professional wheelchair dancer at Epic Arts. Like Socheat, Malis uses a wheelchair to get around because she contracted polio when she was an infant and was left with limited use of her legs. Before she joined Epic Arts Malis studied at a school for children with disabilities (Lavalla School.) Maly went on to study at University of Phnom Penh with the help of a scholarship from Lavalla School.
ChanDoeb
"Chandoeb has beautiful improve skills and a lovely flow to his dance movement. He's very independent and has very creative ideas." – IAC Dance Tutor
ChanDoeb was raised in Kampot Province but went to study at Lavalla School near Phnom Penh as a child. After finishing Grade 5 at 18 years old Chandoeb was put forward for a year-long vocational training course in Farming. He then moved back home with his parents to look after their cow and help with the housework before hearing about Epic Arts' course through a neighbor.
Ly
"Ly is hilarious in his drama performances. He's a talented dancer and he's a very confident performer" – IAC Dance Tutor
Ly is a deaf student from the outskirts of Kampot. Ly was born with a hearing impairment. There are isn't sign language integration in the public school system and hearing aids aren't readily available. Ly spent two years learning sign language with the Deaf Development Programme in Kampot followed by a year of hairdressing training.
"I saw the Epic Arts videos that's why I joined the course. I want to be a star in the next video! I'm excited to study drama, practice and improve." – Ly, IAC Student
These are just three of our students, over the next few months - we'll be sending you updates on their progress and introducing you to the other students that you've helped with your kind donation.
Thank you again for our helping us to get these students onto the Inclusive Arts Course, we're so grateful for your donation
We receive no statutory funding for our Inclusive Education Programmes so we really rely on donations from generous donors like you as well as sustainable income from our social enterprises.
If you can, please consider setting up a monthly donation to help us continue to deliver this life-changing course.