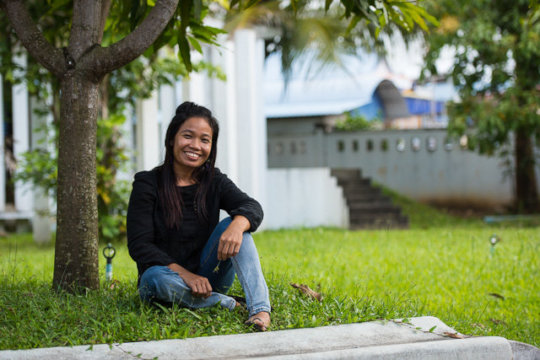 Thanks for supporting the Inclusive Arts Course at Epic Arts. Each year shy and nervous students, who've never taken part in the arts before, are empowered through our creative education curriculum.
But we don't just run courses, our day-to-day programmes are backed up with advocacy and lobbying because every child deserves an education.
The majority of our students come to us we little, or no experience of formal education because of stigma of their disabilities or access to schools. We thought that we'd let you know about an exciting behind-the-scenes update
Country Director Onn Sokny has been selected to be part of the NGO Education Partnership Committee on Primary Education. Over the next two years the committee will work together with the Cambodian Government to create a strategy to reach the 2030 UN Sustainable Development Goal to ensure inclusive and quality education for all!
Growing up with a disability Sokny knows the challenges that children with disabilities face,describing how she felt about her disability as a child Sokny said,
"I used to pretend that I didn't have a disability. I would cover my leg every day with a long sarong. I wouldn't dare to look in a mirror because I hated what I saw and how I looked. Each day I wished that people would be nice to me, that they wouldn't look down on me. I didn't realise that I had the right to dream, that I even had a right to a future. When I think back to that little girl I want make her believe in herself. I want to tell her it will get better, you are unique & valued. You'll find people who will believe in you and eventually you'll believe in yourself!"
Being selected for this prestigious national committee is great news for our Inclusive Education Programme which aims to empower, educate and transform children and young people to lead independent &fulfilled lives.
Your Gift Means a Lot
We receive no statutory funding for our programme so we rely on donations from generous donors like you to fund our life-changing courses and advocacy work.
Please consider setting up a monthly donation to help us continue our transformational work.
From all of the Epic Arts team thank you for your continued support