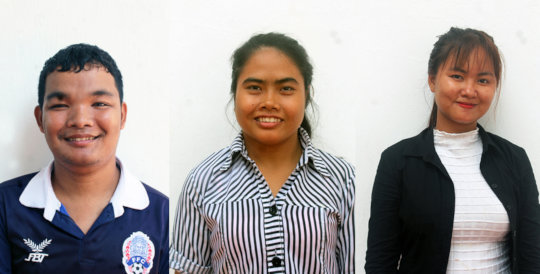 Thank you for supporting the students on Epic Arts Inclusive Arts Course. Have you been thinking about donating again? All donations are currently being matched by 40% - Donate today to help us recieve free money for our students.
We're now almost a year into the Inclusive Arts Course (IAC) and the students that you helped fund have settled in and found their feet. Last week the students held a performance showcase and had the audience in hysterics.
Although the course focuses on a range of art disciplines it's not just an arts course. It's a way for these young people to explore themselves, develop skills, confidence & new attitudes to their own ability.
In our last email update we introduced 3 new students. We'd like to introduce you to 3 more:
Sophat
Is a big character who enjoys performance whether that's in the form of dance or drama. Originally from Pursath province, Sophat contracted polio when he was seven months old.
Sophat has never let his disability hold him back he joined Epic Arts in October 2017 after graduating grade 12 to study the creative arts in a formal space. Before Sophat joined Epic Arts he had a range of expeirience in the arts including; singing with musicians in his hometown for a year and a half, being a radio DJ on a local station for half a year and dedicated 6 months to learning keyboard.

Maly

Maly joined the Inclusive Arts Course after hearing about it from the deaf community in Kampot. Maly had previously been studying sign language at Deaf Development Programme (DDP) in Kampot, where many of Epic Arts staff hang out at the weekends.
Maly had got to know some of the Epic staff members and had come to a few performances in Kampot. She told us, "When I saw the deaf dancers, I thought it was amazing I love to draw and dance so I just thought WOW I want to do that! "
Hang
Hang is from Kampong Thom and was born withcerebral palsy. She applied application to inclusive arts course because she likes to dance.
Hang is one student is one of the student's who we've seen grow over the last year. When she first joined Epic Arts she was shy and made little eye contact, now comfortable in herself and her surroundings she is bright, giggly and can be often seen taking a leadership role.
Your Gift Means a Lot
These are just three of our students, over the next few months - we'll be sending you updates on their progress and introducing you to the other students that you've helped with your kind donation.
Thank you again for our helping us to get these students onto the Inclusive Arts Course, we're so grateful for your donation.
We receive no statutory funding for this course so we rely on donations from generous donors like you to fund our life-changing course and empower young people with disabilities. Please consider setting up a monthly donation to help us continue our transformational work.
Thank you