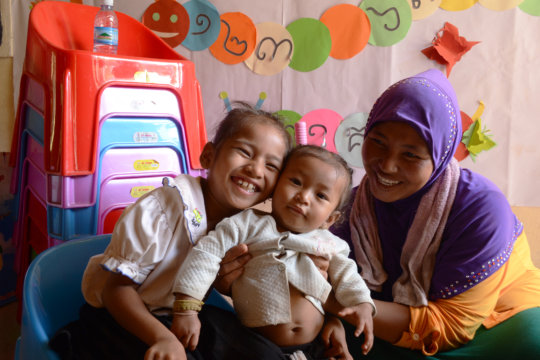 One of our aims of our Special Education Programme is to get children with disabilities into school. We have satellite classes in mainstream schools around Kampot for children with disabilities. Social Worker, Chanthat, speaks about opening our latest class.
_____________________________________________
When I first visited the school, I was shown to a dusty, dark storage room. Turning it into a functioning classroom it needed a lot of work. Armed with dusters and new furniture the Teachers and I transformed the classroom.
We recently opened our new class for children with disabilities in the school. The nine students enrolling have never been to school before. The children range in age from 6 to 13 and they have a variety of disabilities.
On the first day of term 8 year old Socheata* is first to arrive at class. She has a huge smile on her face. I ask if she's excited and her mother replies enthusiastically,
"Oh yes! she always asks me, 'Mum, Mum, Mum Can I go to school?!' She's been asking for two or three years! I've never enrolled her at school because I was worried about leaving her alone. She has Cerebral Palsy and I have to help her go to the bathroom. I was worried Teachers at the school wouldn't understand her. I know the Epic Arts Teachers have experience with children of all types of ability "
To get students like Socheata* enrolled at school is a long process. I can sometimes be talking with a family for up to a year!
First I meet with parents at their homes and chat with them about their children. I dispel the myths they believe a common one is ' My child can't learn because of their disability'
I see a lot of parents keeping their child inside and not allowing them to play outside with other children. Some of them won't even consider enrolling their child in school.
Of course the parents are usually being protective because they are worried. The question, "How will students and teachers treat my children?" comes up a lot.
I have to explain to them that, not letting their child go to school will have huge impact on their child's future. Talking with parents about our current students who are doing well helps give them an idea of what is possible for their child.
We currently have 00 children with disabilities enrolled in our classes around Kampot.
_____________________________________________
We believe all children deserve an education! To help us continue sending children to school donate to our Inclusive Education Programme.
* name has been changed for privacy