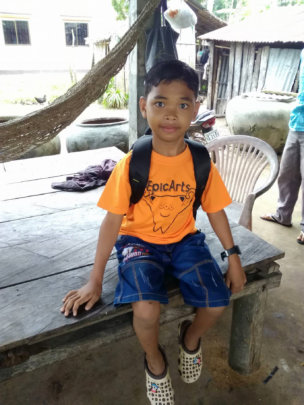 This month we're celebrating some wonderful news at Epic Arts, former student Pektra has been selected for a scholorship to Lavalla School. Lavalla School is the only school providing formal education to children with physical disabilities thatis approved by the government.
We couldn't have helped or supported Pektra's without your generous donation, so we thought we'd share his epic story with you.
________________________________
"My Son Pektra joined Epic Arts Special Education Programme (SEP) in 2008 at age three. I didn't notice anything different about Pektra until I had my second child, Yanni. She was a very independent baby and a lot more physically able than Pektra despite the age gap. I knew something was different because he was three years old but he hadn't begun to walk but Yanni was running around already at only 9 months old. I was very worried for my son and I asked a lot of people about what I could do, I heard about Epic Arts from a friend and decided to meet with them." - Sina, Pektra's mum
________________________________
There is little understanding of disability in Cambodia and diagnostic resources are extremely limited and expensive. Pektra's family assumed he had a learning disability. Pektra joined Epic Arts' Peace Class, a class for young children with learning disabilities to learn literacy, numeracy & life skills.
Staff and teachers soon realised that Pektra learnt at a quicker pace than the other children and he was eventually diagnosed with severe Cerebral Palsy.
________________________________
"I met Pektra and at first he was very shy little boy. At snack time the teachers had to help feed him and hold him to sit up, he couldn't do much for himself, his motor skills were very poor. The longer Pektra stayed at Epic Arts the better his movement became and eventually he was able to do everything by himself. He is a very smart boy and I was always impressed with his literacy and numeracy skills" - Kagna, SEP Team Leader & Teacher.
________________________________
Pektra loves to learn so despite not having a learning disability he continued to study in the class until he was old enough for mainstream education.
Our SEP admin team got to work on advocating for him to join his local primary school. It took a while but Pektra was eventually accepted to a school near his home and just like the rest of the children in his village Pektra began primary school at 6 years old.
Although that's not where our story ends, after a child with a disability is acepted into school we continue to follow up with them to make sure they're getting the best education. Chanthat, our Social Worker, has been working with Pektra, his family & the school for the past five years.
"My job is to make sure Pektra is being fully included in school and to ensure that he is happy. At first it was difficult because the teachers didn't understand his special needs or even the fact that he was able to learn, but eventually they saw how bright he is and that he is just like the other children. Over the years it has become easier but we were still faced with challenges, one of the biggest challenges has been that the school isn't accessible so a big issue was bathroom facilities. Pektra is twelve years old but he has to wear a nappy to school!"- Chanthat, Social Worker
Pektra completed primary school earlier this year but the closest secondary school is far from his home and because Pektra's mobility is limited it wasn't feasible for him to study there. Chanthat worked tirelessly on securing a scholarship for Pektra to join a school specifically for children with disabilities.
"I'm so happy that my son can go to Lavalla, he loves to learn English, Computer and Khmer Literacy. He is a happy child and he loves to play with other children. He is most excited that they have a swimming pool at his new school. Swimming is really good for his mobility and he loves playing in a pool" - Sina, Pektra's Mother

"I'm happy that Pektra has the opportunity to study like other children, his disability shouldn't stop him from getting an education. He is a great student and I think he has a bright future ahead of him" - Kagna, SEP Team Leader & Teacher
"I'm happy because Pektra has the chance to make his life better, he will be going to a school that's accessible and inclusive if he never joined Epic Arts I don't think he would have ever been enrolled in school" - Chanthat, Social Worker
Pektra is now enoroled and boarding at the school and we wish him well!
If you'd like to help us provide education to more children with disabilities please donate to our project.