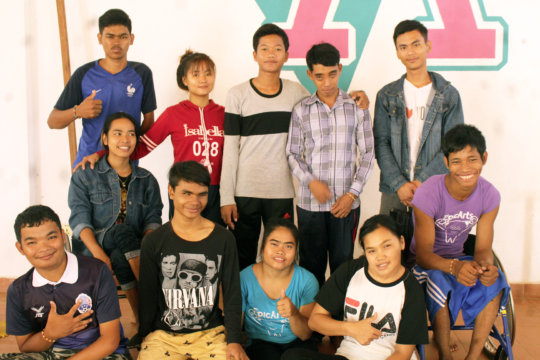 Thank you for supporting students to join Epic Arts Inclusive Arts Course.
Earlier this month 11 young people with & without disabilities aged 17 – 25 came from far and wide from across to begin their journey with Epic Arts. The new students will study together and live in our boarding house together for 2 years.
The course focuses on a range of art dicsiplines from visual arts to music and also features English class, IT & Life skills – which covers everything from wellbeing to CV writing.
The Inclusive Arts Course is not only an arts course it's a way for these young people to explore themselves, develop skills, confidence & new attitudes to their own ability.
The course has proven to be transformative with previous students saying that the course helped them to "see that even though I have a disability I have value to society and I can lead a good life."
Here's what the students have to say for themselves:
"I have cerebral palsy and I want to get stronger. Epic Arts believe in me, it makes me feel proud that they have a someone else with CP working as a dancer & administrator already". – Hang
"I'm happy to be in a place where all the staff & classmates help each other, I want to help other people too! Epic Arts is a good atmosphere for everyone if you have a disability or not!" - Maly
"I saw the Epic Arts videos that's why I joined the course. I want to be a star in the next video! I'm excited to study drama, practice and improve." - Ly
"I want to learn how to dance to songs that I like to listen too. I'm excited to make new friends with students & staff" – Sok
"I played the drums a little bit before and I want to get better. My aim is to learn to be a musician" - Dop
"I love to dance! I'm excited to learn contemporary dance and ways to dance in my wheelchair" - Malis
The students also sent their thanks to everyone has donated so far to the course.
From the global giving campaign we've been able to fully fund 2 students from your donations.
This course receives no statutory funding so we really on donations from our generous donors and income from our social enterprises to fund the course.
If you can, please set up a monthly donation to help us continue to deliver this life-changing course.